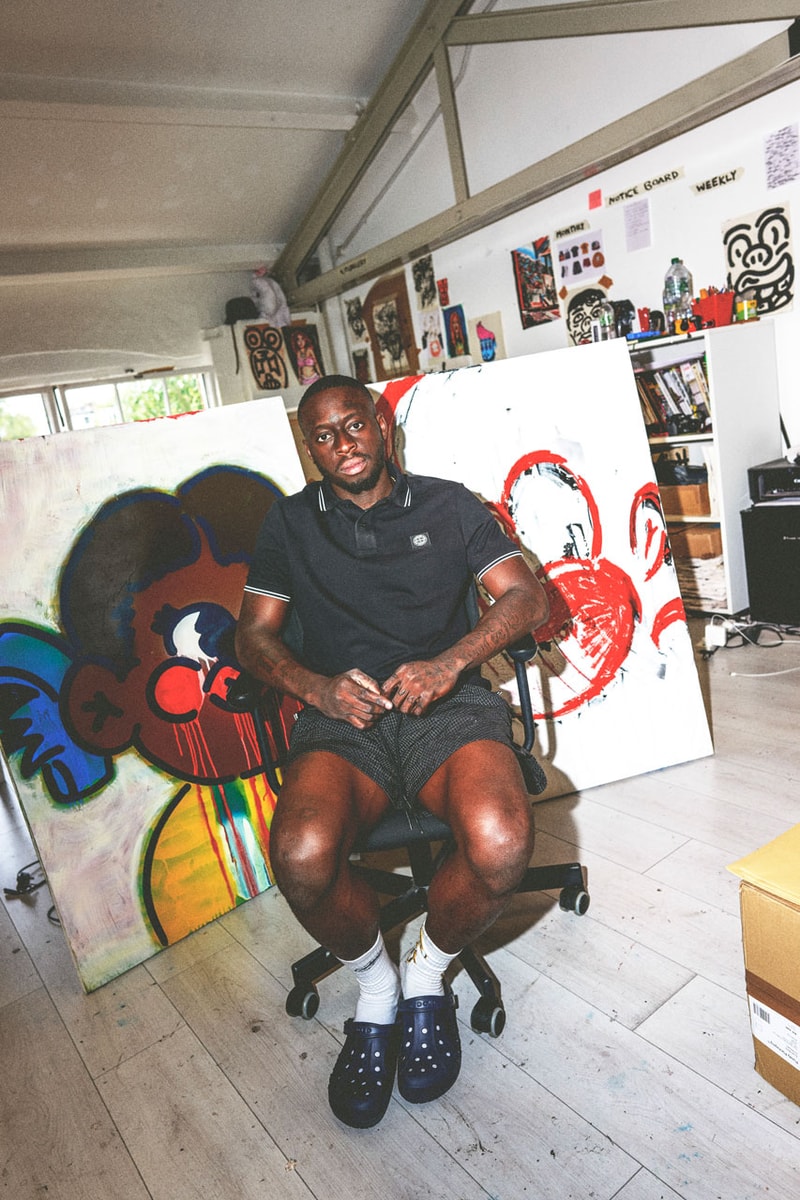 1 of 3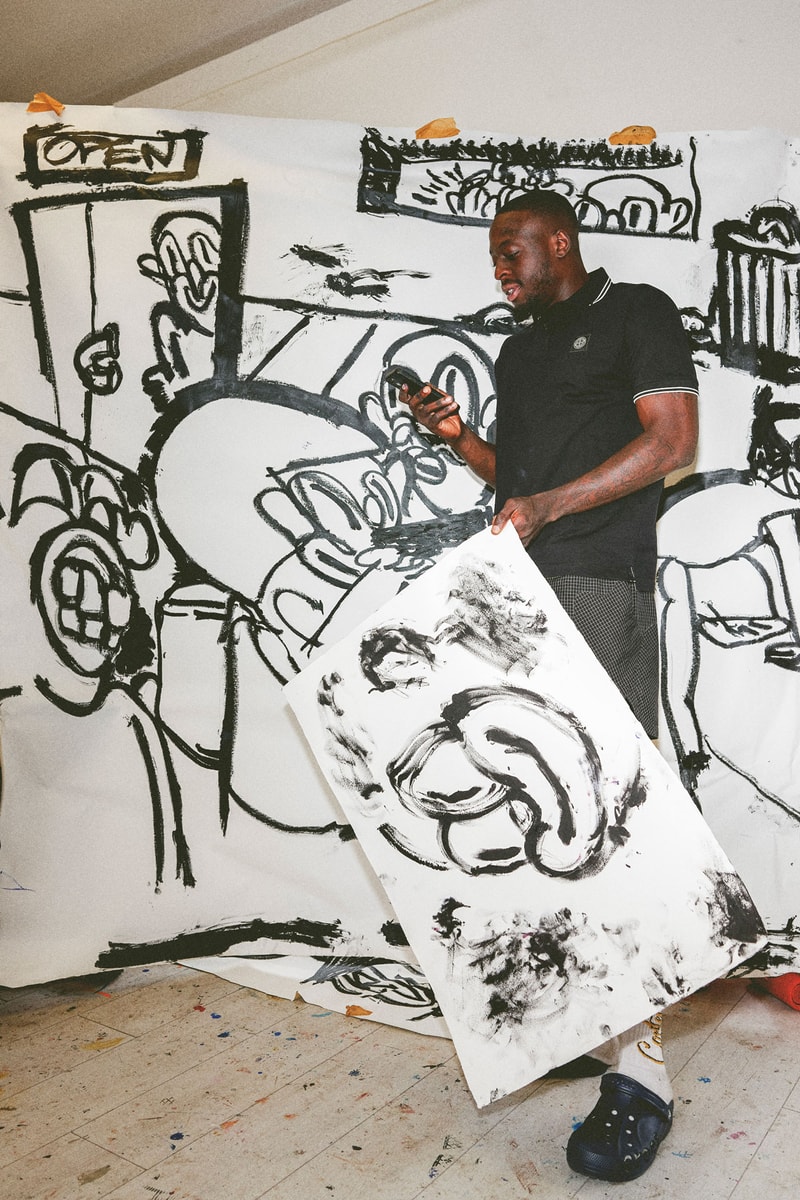 2 of 3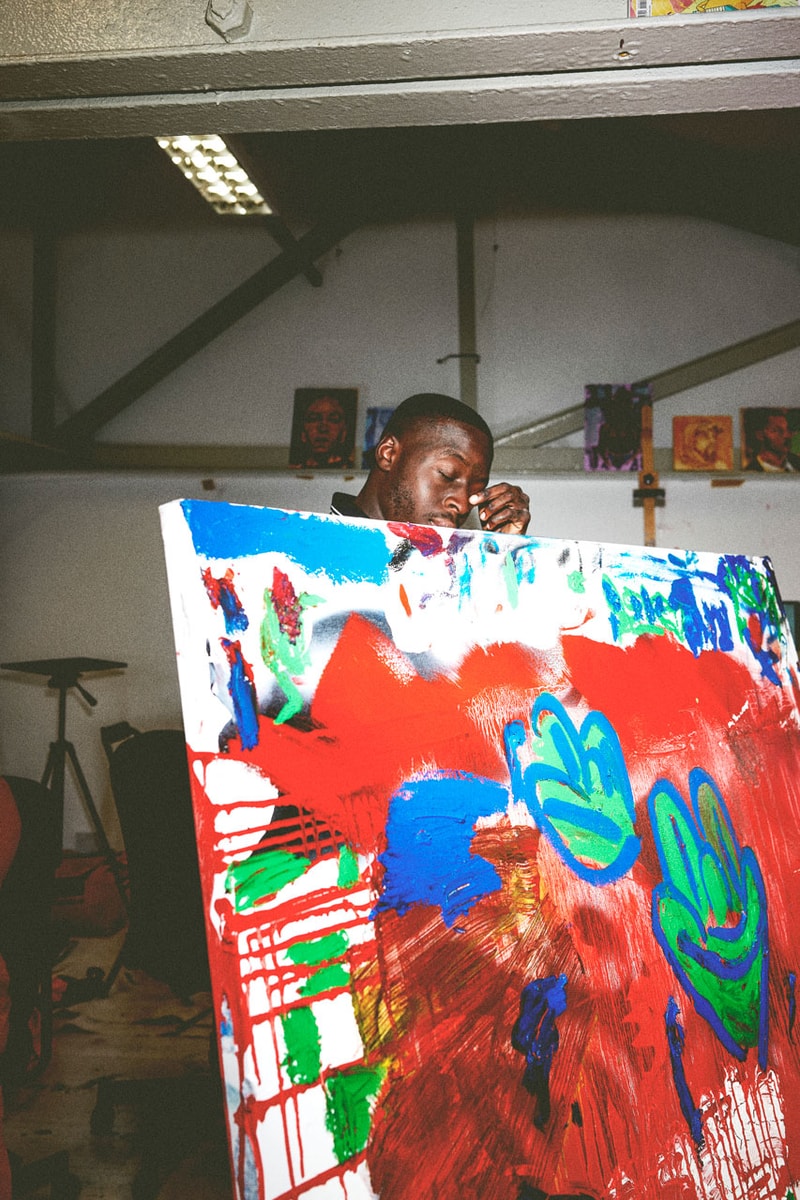 3 of 3
Olaolu Slawn Creates for the Community
Hypebeast caught up with London's hottest artist and coffee shop owner to discuss his latest venture with FLANNELS X and his dream of selling houses on 'Selling Sunset.'
Olaolu Slawn Creates for the Community
Hypebeast caught up with London's hottest artist and coffee shop owner to discuss his latest venture with FLANNELS X and his dream of selling houses on 'Selling Sunset.'
---
For Olaolu Slawn, designing pieces of art is a hectic process.
After moving from Nigeria to London in 2017, Slawn quickly became one of the hottest artists on the planet. Known for his canvases that are complemented by caricature pop figures, bold colors, and clear-cut shapes, his art represents topics of psychology, race, politics, and the issues that come with being part of an ethnic minority community. In turn, Slawn has amassed a loyal cult following that has helped to open the doors to new opportunities, allowing Slawn to represent the environments he's a product of.
It is Slawn's infectious energy that has continued to see him break new ground. Most notably, his unique marketing approach with Clint419 and Corteiz – with the DA SKYDIVE film being a key highlight – brought a new batch of attention to Slawn's work in the fashion industry with innovative video campaigns, ones not seen from a rising UK brand before.
Likewise, Slawn's creation of the BRIT Awards 2023 trophy welcomed a new-found appreciation for his work among the music world, while the opening of his East London cafe, Beau Beau's, acts as a localized hub for like-minded creatives to share ideas and grow personal portfolios, while of course, sipping on the best coffee around.
With the many side quests that dominate his life, Slawn never fails to take things back to his bread and butter: creating best-in-class artwork that is designed to withstand the test of time. Now, off the back of a slew of exhibitions around the city of London – including his first sold-out solo "On A Darker Note" exhibition at Efie Gallery – Slawn is working on his latest project, a collaborative installation for UK retailer, FLANNELS X, titled "The Art Kisok."
The two-week residency sees Slawn debut and sell an array of original works while guest creatives (Soldier, Motherland's Creative Director Onyedi, London-based figurative painter Teoni, and the multi-disciplined artist Cato) will also join in on the fun to produce some live pieces in-store, while also selling some of their best work. Collectively, they take pointers from their surroundings, the visual language of streetwear, and the importance of community to influence the pieces on show.
Now, with the two-week installation launching at Oxford Street's FLANNELS store in London, Hypebeast caught up with Slawn to discuss his work for the event, life as a coffee shop owner, if he feels responsible for the next generation of creatives, and more.
Hypebeast: So, how's life treating you now Beau Beau's is open? 
Slawn: The cafe was something that was in the works for a long time, so it's good to have it open to the public. It's a good spot for the community and a nice place for people to come, but, for me, nothing has changed in my life since the day it opened – I just keep doing what I've always done.
You're now presenting your new collaborative project with FLANNELS. What inspiration has gone into it?
If I'm being completely honest, I haven't really applied a new approach to my new project with FLANNELS. When I work, I often use the same inspirations, I just express myself in a way that I want to during that time. So, as I say, in all honesty, my work with Flannels is the same as usual, but just in a different format.
Fellow UK-based artist and creative, Soldier, will be joining you during the FLANNELS installation, too. What do you think of his work and everything he's doing for London's creative scene right now?
Soilder is great. I love his work and he's doing a lot for the creative scene in London. From his installations that he's done with up-and-coming brands to his solo work, I love his approach to what he does and I think he's the perfect person to work closely with on this new project.
How important is it to you for the next generation of artists and creatives to succeed? Do you feel any kind of responsibility to help?
It's not really that important to me. The way I see it, if you want to do it you'll do it. Have an idea and execute it in the way that you want to, and if it's something that you're proud of – and you've followed that piece of work from idea to completion – then you're bound to be okay.
Do you have any advice for up-and-coming artists that want to turn their passion into a full-time job?
If you want to do what you love for a living, then you need to make sure you always treat it like a hobby. Of course, you need to add a bit of structure to your life, you can't do any work and expect to grow. But, if you keep the same passion and consistency you had from when you first started, it's a good place to build from.
As someone that seems like they have one million different projects on the go simultaneously, how do you manage to balance your workload?
Honestly, I don't. A day for me starts with working from the first phone call that I receive in the morning. Once I've got up, and done what I need to do for my child, I wait for that first call. If I'm told that I need to do an interview, I will start with that and then see what else I need to do with my day. I guess it's an artist thing, maybe.
What does the city of London mean to you and how did you find settling in when you moved over from your home of Nigeria?
London is the land of opportunity. For me, it was relatively easy when I moved over from Nigeria. I have always been a skater and I had friends over here, so the people I connected with helped me out from the jump. I slept on the couches of friends, took recommendations, networked, met new people, and eventually got into the circles I wanted to be in to succeed.
Hypebeast is a big fan of the YOU WASNT DER fitness collective. What're your opinions on the group and how is it being involved?
It's a great community! The whole YOU WASNT DER movement was started by a group of friends that used to go out and party. We saw partying as a way to get out of the house and a way for us all to connect. Now, we're doing the same things, but instead of partying, we're training and bettering ourselves. The group is growing, it's a case of friends bringing friends and it just allows us to meet new people. I try to go every Saturday now, but it's hard because of my child.
What can we expect from you in the future?
I can't really say too much about what's planned and what's happening. I'll tell you what I want to do though: I want to go on Selling Sunset and sell houses. If someone from the show reads this, let me come on and sell some houses for you, man!