Alexander-John and His Roc Nation x PUMA RS-XL "Mixtape Evolution Pack" for Hypebeast's Sole Mates
The veteran designer breaks down his latest collaboration and explains his shift from custom sneakers to creating "actual" shoes.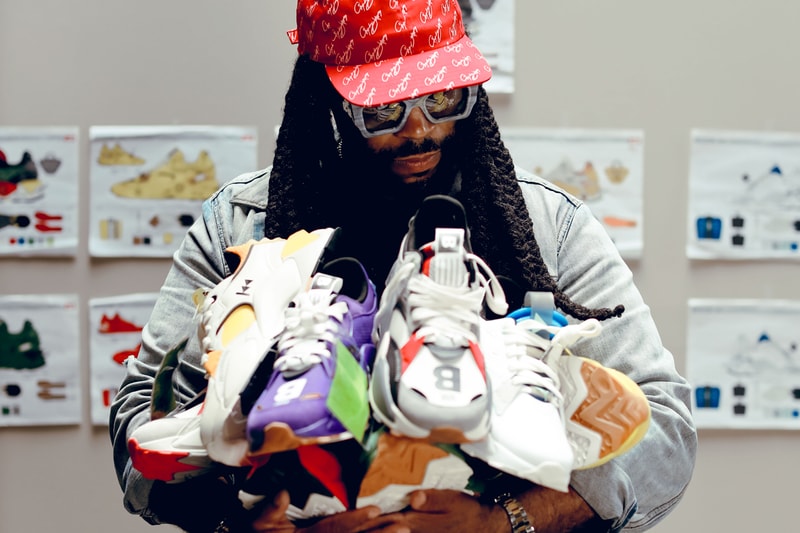 Alexander-John has always dreamed big. Throughout his decades of design work, starting as a custom sneaker creator in 2004, he's established a client list that includes everyone from Jay-Z to Google. However, it wasn't until he locked in with PUMA that he finally accomplished his goal of bringing his vision to scale.
Back in 2018, the German sportswear brand linked with Alexander-John to design a shoe based on the music of the '90s — resulting in the PUMA RS-X "Mixtape." Covered in references to mediums such as cassette tapes, it serves as the foundation to the duo's latest project: the PUMA RS-XL "Mixtape Evolution Pack." Revisiting the theme — and expanding it into three distinctive colorways — it leverages special tech to craft a unique experience for owners, including a brand-new mixtape from Roc Nation with never-heard-before tracks. Pulling from cassette tapes, discs and the digital world of playlists, each has been paid homage to with its own sneaker.
For his Sole Mates installment, Alexander-John dives deeper into this innovative capsule with Roc Nation and PUMA, outlining his favorite details while also illustrating his pioneering come-up from custom sneakers to fully-fledged collaborations with some of the industry's biggest names.
What prompted your initial interest in footwear?
Will Smith wearing the Air Jordan 5 "Grape" in The Fresh Prince of Bel-Air. That was it. The color, silhouette's uniqueness, tongue shape. I needed to have that shoe as a kid. I pride myself on wearing my sneakers but I wore the "Grape" once and I've kept them on a shelf ever since.
Your history in customizing footwear runs deep. Do you feel like the skill came naturally to you?
The knee-jerk reaction from people when discussing custom footwear is that it's never something a brand would sell on shelves. Over the course of time, my friends and I have redefined what customs are, shifting this narrative. When you take things to the next level it changes the conversation. From the beginning, I had been building up towards cementing a relationship with a brand like PUMA. The goal wasn't to make countless pairs myself, but to bring this to scale by demonstrating that my skills can produce designs that will sell.
Five years ago you released the RS-X "Mixtape" and now you're back for the "Mixtape Evolution Pack." How did you bridge the gap between the two releases?
If you look back at the first release, it told the full story of the evolution of how we listen to music. I was prompted to design a shoe based on '90s tracks and it led to me exploring this concept. You see references to the A side versus the B side of a cassette tape, the boombox, all shaping various graphics that tie everything together. This time around, we've extracted this story and have expanded on it with the three colorways of the "Mixtape Evolution Pack." When it came time to design these pairs, I was excited because all of these graphics existed in the very first pair and I could expand on them. 
How have you evolved as a designer in the five years since the first release?
At the inception of the "Mixtape," the mock-up was designed on my iPad with a pencil, I was just learning graphic design. Since then, I dived deeper into graphic design, learning CAD and the intricacies in the design process at a big company. It took a lot of adapting but here I am. We worked on this project for the past two years and it required rapid growth.
Going from the RS-X to the RS-XL, what about the silhouette speaks to you?
Roc Nation's Emory Jones, beyond being a partner, has always vouched for me. In speaking to him about trying to do another "Mixtape," and connecting with PUMA after that, I actually came up with a reworked design for the RS-X. I envisioned something chunkier and more dramatic in its nature. However, by the time I connected with PUMA they had the RS-XL and they told me it's a bulkier silhouette. It has everything I was asking for. The timing was incredible and I love the dramatic nature the new shoe has. On the RS-X, the whole sole was one piece but with the RS-XL, certain components can be made translucent, a point that connects with the culture as this effect has been used across mediums.
What's your favorite element of each colorway?
For the cassette tape, the wheel is my favorite part. We were able to expand on its original inclusion by leveraging the RS-XL's build to include elements such as the lenticular detail. With the disc, the back heel's display notes the release date of the original "Mixtape" — a fun Easter egg. With the playlist pair's digital focus, we slipped in another nod to the day this project started alongside its very modern finish.
What's it like working with both Roc Nation and PUMA at the same time?
It's surreal. Starting in custom sneakers, being able to design at a level that brands co-sign is an incredible feat. To get that from not just one company, but two, is huge. I truly haven't taken it all in and I'm constantly processing it every day. It's humbling to have the trust of these parties and it paves the way for others like me. 
What's been your favorite part of the marketing process for the release?
The biggest thing for me is the mixtape itself. There's never been a shoe that has a label backing it with a mixtape featuring a curated list of artists that's co-signed by a legend like DJ Clue. It's crazy, I often sit for a minute and think "Really, this happened?"
Beyond the fact that this rollout has an actual mixtape for the "Mixtape," there's a technology component. We teamed up with Legitimate, a company in the phygital space, and instead of dealing with NFTs, we wanted to create an experience for the consumer. When you get these shoes, not only do you get an exclusive pair, but there's a special chip in the tongue that kicks off a unique experience for each owner based on the different colorways. This offers first access to the actual mixtape made by Roc Nation alongside video content, exclusive interviews and more.
View this post on Instagram
It's exciting to see all of this come together. Sure, to have a pair of shoes is great, but to be able to live in the shoe's world is another level.
Absolutely. When you look back at certain sneakers, there was a moment in time where it was all about not just having a sneaker but having the shoe do something — from Michael J. Fox with the Nike Air Mag to Reebok with its Pump technology. PUMA's been at the forefront of this for decades with special releases such as the RS-Computer back in 1986, so I wanted to accomplish something similar.
"You can put anything on, but the sneakers are the story that validates your outfit."
Lastly, what do sneakers mean to you?
That's a huge question. They're character-defining, the foundation of the outfit. You can put anything on, but the sneakers are the story that validates your outfit. Wherever I go, sneakers are an icebreaker and it's where I base my decision every day when getting dressed. However I may be feeling each day, I have a sneaker to describe that. 
---
The Alexander-John x Roc Nation x PUMA RS-XL "Mixtape Evolution Pack" has released alongside the PUMA Suede and Future Rider "Cassette Tape" colorways at prices ranging from $90 USD to $130 USD.