Why Outdoor Exploration is Enriched in Personal Healing for Rando Fragile
Discover the true nature of their hikes in "Summer Exploration" with The North Face.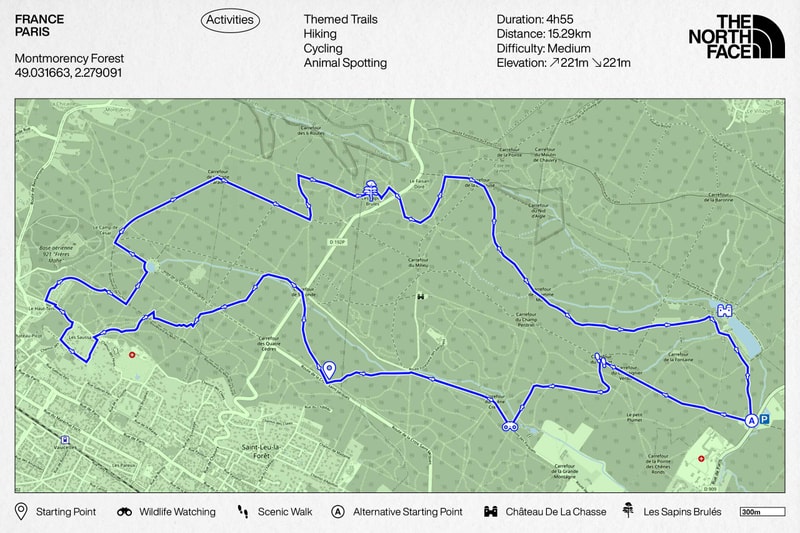 Being surrounded by the outdoors – particularly as an inner-city dweller – can sometimes be a daunting prospect. However, when planned correctly, an open-air adventure can result in a fulfilling experience, unmatched by anything metropolitan hubs have to offer. For French hiking collective Rando Fragile, enriching trips are successful trips. Having organized nearly 94 hikes across their local landscapes, they have become pros at hosting them for their 300-odd members.
"I wanted to experience something deeper with my community – the Fragiles," says founder Yoann Silasi. In the summer of 2021, the French creative started the group as an offshoot from his music and arts-based community RF Lewis. "We tried a hike with a mutual friend and it felt like it was the first time that my activities were having a positive influence on people." Since then, Rando Fragile hikes have been rooted in rich personal experiences, harnessing nature-based activities and scenic destinations to allow members to "reconnect with their inner child."
Discovering the multi-faceted routes that the collective embark upon during the warmer months, Hypebeast teams up with The North Face to present "Summer Exploration." The four-part series, stretching the breadth of Europe, sees Rando Fragile's installment continue on from the Italian-based collective Rayon Vert, showcasing how an assortment of communities explore the outdoors in search of different escapes and experiences.
Highlighting the typical soul-soothing adventures of Rando Fragile, the latest feature follows the group on a route just north of Paris, in the Montmorency forest, where their journey is documented on a detailed map. Though the forest provides an unconventional summer spot for explorers, Silasi explains why it's become their go-to location, "When you head out of the city and go to the forest, you take off your armor," he says. "We touch trees, we learn about plants, stop to sunbathe and play a French game with cards under the shade. It's a good way to create a safe place to heal all together. This is our therapy."
The hike begins at a scenic spot where the group starts at a slow pace. "For us, it's about the art of taking your time, in French we say 'l'art de la lenteur'," explains Silasi as he embraces every second the hike has to offer. They soon find a spot to sit down to regroup where a speaker leads an insightful conversation connecting the sights and sounds of their surroundings with the emotions they may be feeling at the time. "The speaker is important for us to put us in a mood. Not too loud to respect the wild animals because we're in their home, but loud enough [to hear] with some soft music in the background."
Picking up their hike, Rando Fragile heads to the picturesque landmark Château de la Chasse hidden within the swathes of trees. It provides a serene stopping point that allows more experienced hikers to partner up with beginners, guiding them through the final stretch. Sharing why this is useful for the engagement of its members Silasi says, "Our hikes are for everybody. The hikers who are experienced naturally want to help the others. For beginners it takes them to another level." Concluding, "With Rando Fragile, you will never be alone again."
The group reach Les Sapins Brûlés, a large plane once devastated by wildfires. The solemn aura that fills the air allows Silasi to reflect on why he puts on such events for his community. "The outdoors changed the way I see nature and my respect for it as well as improving my behavior as a human. Organizing the hikes helped me to talk to people and taught me that it's ok to be vulnerable around them." In a moment of celebration for reaching the finishing point, he turns on Gypsy Woman by Crystal Waters and says, "We make a circle and everyone has their turn to dance. It's a good way to take away your shyness and feel the love of all the people that came on the journey with you. A true blessing."
Discover the previous installments in the new series on Hypebeast.
To shop The North Face's "Summer Exploration" collection, head to the brand's website now.