Rayon Vert Share the Greater Purpose Behind Their Outdoor Escapes
Join The North Face as they follow the collective's pursuits across Italy in "Summer Exploration."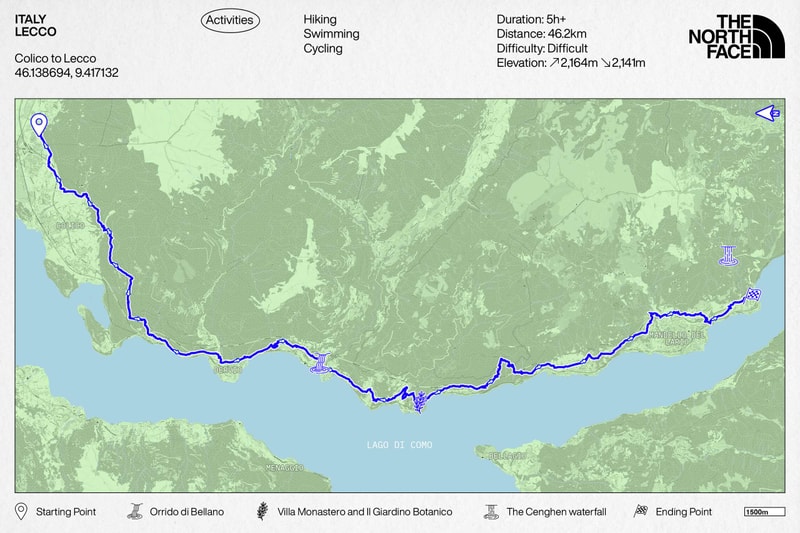 "We're a group of friends – that expands and shrinks depending on the season – who meet, talk and get to know new stuff" is, in the simplest of terms, how Italian outdoors collective Rayon Vert defines themselves. An online platform made up of hiking enthusiasts, trail runners and fabric innovators, the collective is dedicated to the motto: To Produce, Research, Inform and Consult.
Back in 2013, Rayon Vert began their journey after crossing paths on a cycling trip across the Adriatic Coast but wasn't until four years later that the collective became official. Founded by Yuri Kaban, the aim was to "inform and feed the outdoor community" that follows their various social channels. As well as connecting with audiences, they use their trips as a way to understand the outdoors and experiment with the materials that make up their gear. A full circle process.
Extending their learnings across the globe, Rayon Vert has become a growing movement, one that now goes under the microscope in The North Face's latest series with Hypebeast. Titled "Summer Exploration," the new campaign shares a close look at the collective, along with three others that promote the outdoors. Through a conclusive map, it follows their pursuit exploring how their go-to route has defined their story.
Rayon Vert's route starts in Colico, in the northern Italian province of Lecco, where a 28-mile walk lies ahead for the group. "We can reach the destination easily by train and have been using the area as a playground for training, gear testing and more simply, for breathing," says Kaban. Packing for a summer pursuit is a conscious decision by each of the collective's members. "We have always been gear nerds," he explains. "Understanding the specific function of each item of clothing and appreciating its design is a very interesting process. One that has real benefits on the quality of hikes, especially when it comes to many consecutive days without support."
As the collective completes the first stretch of their route, they take a dip in the vast Orrido di Bellano waterfall. Sharing how these experiences with nature play into their adventure, Kaban says, "Exploration has become a central theme to maintain real contact with the planet we live on and with our nature as human beings." However, in Italy, it's not only the natural reserves that offer fresh perspectives. In fact, historical landmarks such as Villa Monastero and Il Giardino Botanico add a rich cultural significance to their work. "In this country history can be felt at every corner. The cultural factor is one of the key points of our wandering, and often becomes a cue for a different narrative, or a reference."
While Rayon Vert's mission is now anchored in driving research and delivering knowledge of the outdoors to their audience, the collective ensures every expedition is balanced with their own needs. "We travel mainly in search of an escape from the city and to have a break from work," adds Kaban. "It can be difficult to find a difference between research and personal gratification but it's important to confront your physical limits. This is the reason why we feel the need to explore." Ending the trip on the eastern side of Lecco he shares, "Go out, learn the code of the mountain, enjoy it and respect nature." After all, it only takes one look at their website to go from outdoors newbie to positively informed.
Stay tuned to Hypebeast to read about more European outdoors collectives navigating the wild this summer.
To shop The North Face's latest "Summer Exploration" collection, head to its website now.