Initials Reactions to 'Fast X' Give All the Praise to Jason Momoa
Though critics give mixed reactions overall.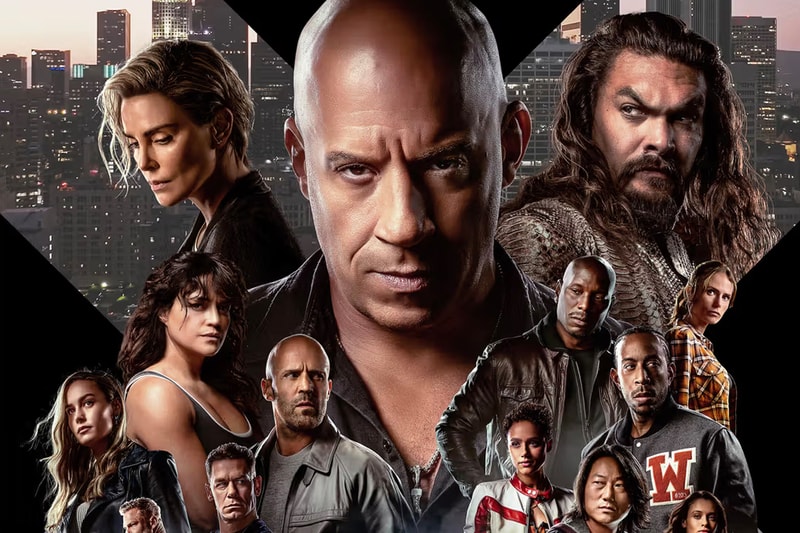 As Fast X gears up to race into the theaters worldwide later this month, some early critics received a chance to watch the the film at early premieres, giving their initial reactions to the saga's finale.
The star-studded cast arrived at the Colosseum on Friday at the Rome premiere. Titular characters including Vin Diesel, Michelle Rodriguez, Tyrese Gibson, John Cena, Charlize Theron, Helen Mirren and Rita Moreno were all their on the red carpet. The choice to host the premiere in the Italian capital honors the city where most of the high octane scenes were shot for this film. On the red carpet, director Louis Leterrier told Variety, "All the action scenes we did in Rome were real. When we rolled that ball in the streets of Rome, that was a real one-ton ball that we set on fire."
Critics who managed to watch the final film called Fast X "stupidly entertaining" and a "visual spectacle." One reviewer even said that it was a "non-stop action thrill ride." The general consensus was that the Fast & Furious franchise definitely knows its audience, bringing continuous action to the film. While the action was expected, all praise went towards Jason Momoa's performance. While some have admitted that there were some "clunky elements" of the film, it was Momoa's performance that brought the charisma and freshness to the film. Mixed reactions from critics saw one call it the worst film of the franchise while others thought it to be just what it needed to cap off the saga.
Take a look at some of the initial reactions below.
Caught #FastX last week! It's a wild, non-stop action thrill ride that delivers the most shocking ending of the franchise, so far. Not perfect (end may divide fans), but it's been growing on me & I can't wait to see it again. Universal's def trying to make this its Infinity War. pic.twitter.com/0EWbLNezOi

— Kirsten (@KirstenAcuna) May 12, 2023
#FastX belongs to Jason Momoa and his decadent bad guy, Dante Reyes. Fierce and flamboyant, his perilous peacocking adds a sharp edge and some refreshing dark humor. The rest is ludicrousness with clunky elements but it is stupidly entertaining. What the Fast were you expecting? pic.twitter.com/9Xeuj2In7z

— Simon Thompson (@ShowbizSimon) May 12, 2023
#FastX is an entertaining thrill ride. It's a visual spectacle with some truly incredible stunts and some wildly outrageous moments you'd expect from the Fast franchise, but what Jason Momoa brings to the film as Dante is magic! His performance oozes charisma. pic.twitter.com/UjOlR77aEF

— Joseph Deckelmeier (@joedeckelmeier) May 12, 2023
#FastX is utterly ridiculous (I loved every second). Action sequences and one-liners left my face hurting from smiling so much. Momoa is hilarious. Ensemble rocks. Cinema? Please. Peak summer blockbuster? Hell yes. Built for a popcorn-filled big screen experience. @ComicBook pic.twitter.com/5XWLT4daQO

— Liam (@LiamTCrowley) May 12, 2023
Fast X gets the Fast & Furious series back on track, and reason #1 is Jason Momoa, who plays Dante like F&F's version of The Joker. He's a gleeful psychopath, and it's delightful. Along with a story that avoids what made Fate Of The Furious and F9 feel stale, it's a win. #FastX pic.twitter.com/fgZy6gjYTR

— Eric Eisenberg (@eeisenberg) May 12, 2023
#FastX has a needle drop I've been waiting yrs for. Almost lost it in the theater when it came on. A Jersey staple (of every party/club ever?), crowds are gonna lose it when it plays. Can't believe this was somehow never in the Fast Saga. They know their audience.

— Kirsten (@KirstenAcuna) May 12, 2023
#FastX is the worst Fast yet. Yes, including [insert your least fave here]. The action is fun but it's the 1st film to not up the ante from the last one & the trademark notion of "Family" is an afterthought.

But! Jason Momoa is God-Level in it and worth the price of admission. pic.twitter.com/zYdDFwSg0T

— Germain Lussier (@GermainLussier) May 12, 2023
In other entertainment news, watch Tom Holland in the new trailer for thriller series The Crowded Room.