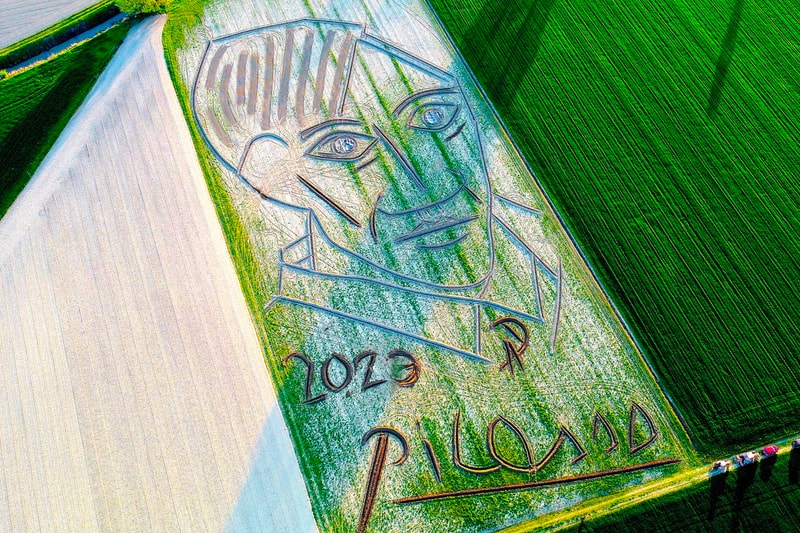 Artist Dario Gambarin Created a Massive Land Art Portrait of Pablo Picasso
"He is one of those masters from whom you never stop learning."
---
Most artists use paint, others prefer light, even coffee and bananas have been used as a tool of choice for creative expression. For Italian land artist Dario Gambarin, his tractor has become his go-to 'brush' in a number of monumental portraits across fields in Northern Italy. For his latest piece, Gambarin created a massive portrait of Pablo Picasso.
Unofficially a part of the 50th anniversary celebration of the legendary Spanish artist's death, Gambarin created the portrait across 25,000 square meters on a plot of land owned by his parents and was notably inspired by a 1907 self-portrait of Picasso. "I wanted to dedicate this colossal portrait to Picasso because he is one of those masters from whom you never stop learning," he told The Straits Times.
Gambarin has previously created land art portraits of Pope Francis, Hilary Clinton, Donald Trump and John F. Kennedy. His latest work falls in line with the worldwide celebrations of Picasso, which sees unique retrospective exhibitions chronicling specifics periods in the artist's work. Learn more about the slate of events here.
For more on art, Kenny Scharf takes over The Journal Gallery in New York.