'Teenage Mutant Ninja Turtles' and 'Street Fighter' Casts Will Showdown in a New Comic
Take a first look at the forthcoming miniseries.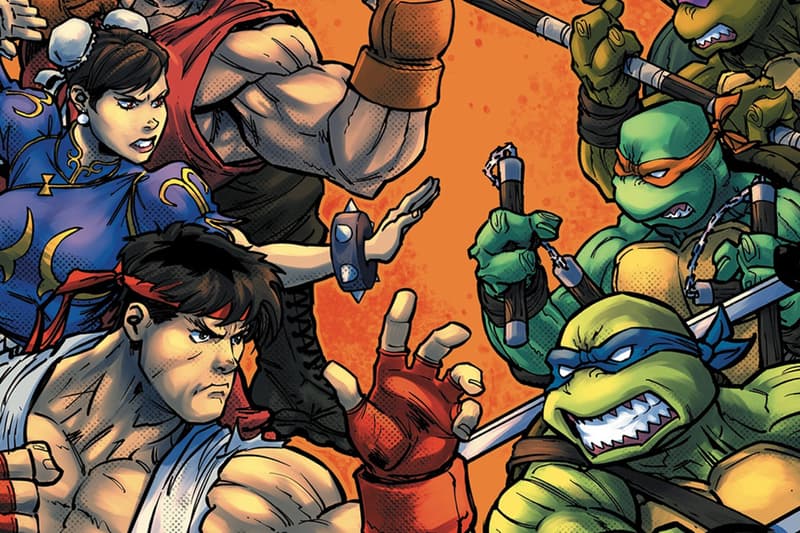 Two iconic bands of heroes will come together in a new comic miniseries. Teenage Mutant Ninja Turtles Vs. Street Fighter will, true to its name, see the Turtles and Fighters go to war in an epic showdown when it launches in May 2023.
The forthcoming series was announced by publisher IDW, which also provided a first sneak peek at the comic to io9. Written by Paul Allor, the series will span five issues. Art comes from Ariel Medel with colors by Sarah Myer.
Donnie, Mikey, Leo, Raph and Jennika trek to Atlantic City to fight in a martial arts competition. Upon their arrival, they find out they'll be facing off against another talented group of fighters, Street Fighter's Ryu, Ken, Chun-Li and Guile.
While tensions between the groups initially run high, they're forced to team up to solve a case of a mysterious string of disappearances.
"It feels amazing to bring these iconic brands together," Allor said in a press release. "I grew up with all these characters, though in very different ways—watching TMNT cartoons on Saturday mornings, and then a few years later, desperately smashing buttons while being absolutely destroyed at Street Fighter II."
"Readers are going to have so much fun watching these characters come together as they face an enormous threat to both teams, from Mikey and Chun-Li's unlikely bond to Raph and Guile's rivalry and mutual—but very grudging—respect. This book has it all: humor, danger, a massive number of twists and turns, and a ton of amazing, brutal, over-the-top, bonkers fight scenes! It's gonna be a blast."
HERE COMES A NEW CHALLENGER

Teenage Mutant Ninja Turtles vs Street Fighter, coming in May 2023!

a five issue miniseries where the heroes in a half shell take on the World Warriors!

check out the full reveal on @io9!

?: @PaulAllor
✏️: @arielmedelart
?️: @SMyerComics pic.twitter.com/cO9jNlPNcV

— ? Ninja Turtle Power Hour ? (@NinjaTurtlePH) February 16, 2023
In other entertainment news, Avatar: The Way of Water surpassed Titanic to become the third-highest grossing film.