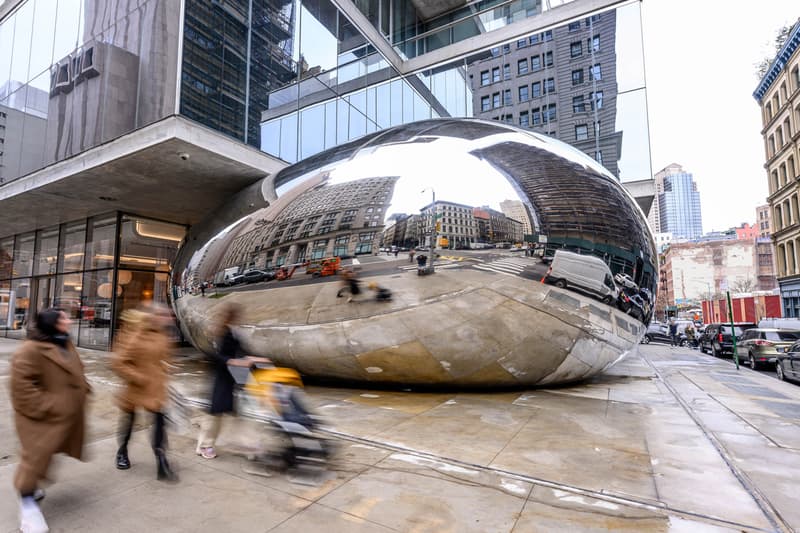 Anish Kapoor's 'Bean' Touches Down in New York City
Wedged underneath Tribeca's "Jenga Building" at 56 Leonard.
---
Anish Kapoor's first permanent public artwork in New York City has finally been completed. The untitled, curvaceous sculpture, which was commissioned for the bustling corner of Church and Leonard Streets in Tribeca back in 2008, largely resembles Kapoor's Cloud Gate sculpture in Chicago, more commonly known as The Bean.
The British artist's latest work, which measures 19 feet tall, is estimated to have cost between $8 million USD and $10 million USD to construct. Where Chicago's Bean takes over its own plaza in Millenium Park, New York's version resides in a less spacious spot: under the entrance to the 56 Leonard, nicknamed the "Jenga Tower" for its modular appearance. The location is fitting for Kapoor, who purchased a four-bedroom apartment in the building for $13.5 million USD in 2016.
The artist first experienced construction delays due to the financial crisis of 2008 and 2009, and he later paused work on the sculpture due to the COVID pandemic. For years, the artwork remained unfinished, covered by scaffolding and missing parts of its reflective casing, as it required a complex production process — now complete, the shimmering artwork is commonly referred to by its unofficial nickname, "Half Bean."
Anish Kapoor's New York City Bean is now available to view at 56 Leonard. Take a look at the sculpture above.
In more art news, Amy Sherald presents The World We Make.