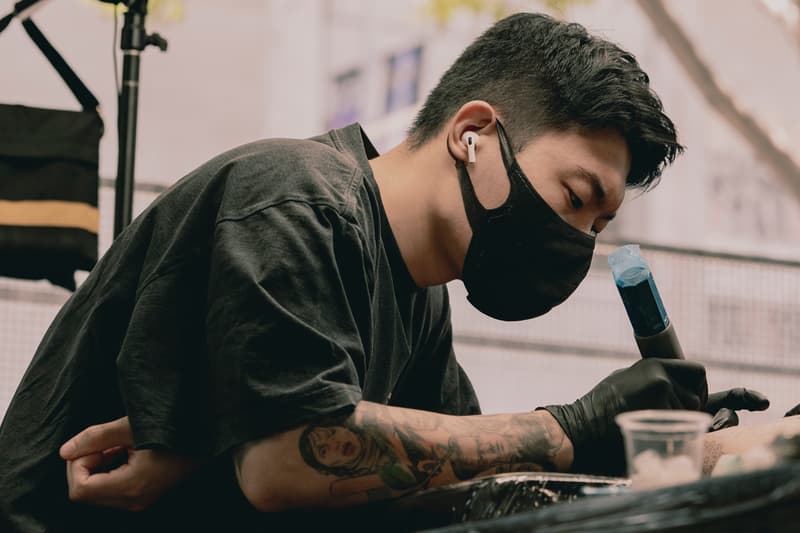 Oozy Is Cementing Korea's Place Within Los Angeles' Storied Tattoo Scene
The sought-after tattooist takes up residence at Vism Studio in the Arts District.
---
Six years ago, Korean tattoo artist Woojin Choi also known as Oozy, entered the cultural conversation. His incredibly detailed pieces featuring gothic and gory takes on East Asian themes spanning ramen to anime, made their rounds on social platforms, and quickly earned him a following that now tops 1 million.
From a bird's eye view, Oozy is representative of a generational shift in attitudes towards tattooing happening across Asia, further propelled by ever-increasing access to international artists via platforms like Instagram and TikTok. In Korea, art school graduates like himself have brought technical skills to the field, forming an incredibly talented class of contemporary tattooists who have been able to develop their own meticulous takes on the ancient art. Despite the beautiful output of these artists, and the high demand for their work, language and geographic barriers for non-Korean potential clientele are significant. For those in the US, fulfilling a tattoo dream could mean 14 hours of travel in each direction, not to mention the cost of flights and hotels — potentially multiples of the tattoo itself.
But last year, that all changed for the better. Allaying the challenges of getting tattooed in Korea, including the legal limbo in which the art form sits within the country, a collective of artists led by ink master, Sol, along with Oozy, Saegeem, E.Nal and others, opened Vism Studio in Los Angeles' Arts District: a sleek black and concrete space that befits the incredible artwork taking shape within its walls. The group's permanent new home kicks open the door for those within the US to discover a top tier of Korean tattoo artists within a city already known for its rich tattoo history.
According to Sol, "Seoul adapts quickly and new trends emerge every day. Compared to that, LA seems to flow slowly and has a very laid-back charm. I'm not yet intimately familiar with the tattoo scene in LA. Still, I understand the culture has an iconic history. I hope Vism Studio will give a new dimension to the LA tattoo scene and become an inspiration to others. Best of all, tattoos are legal."
Check out our exclusive interview with Oozy below. Those interested to learn more about Vism's artist roster as well as inquire about appointments with Oozy, Sol and the rest of the collective can do so through the Vism Studio website.

" I use dots and lines to create a drawing style of a print look using various techniques done by hand."
How did you first get into tattooing?
I first discovered tattooing through Facebook and thought, "Wait, I could do that." As a college student, I studied tattooing through YouTube and turned an empty classroom into a workspace. I taught myself and started tattooing my friends.
How would you describe your style to those encountering it for the first time?
Most of my drawing inspiration comes from animation, often combined with elements of human anatomy or a mix of food ingredients. I use dots and lines to create a drawing style of a print look using various techniques done by hand. I enjoy combining a mix of characters into my designs, which have become a significant part of my work. I always enjoy doing large-scale projects. The bigger, the better.
Your work has become hugely popular on Instagram – Does that translate into long waits for your clients?
There is definitely a great demand through social media, but I prefer to keep a short list of projects and concentrate on them before moving down on the list. I appreciate all the love I've got moving to LA and am focused on working hard to return that to my clients by creating something special for them.
1 of 4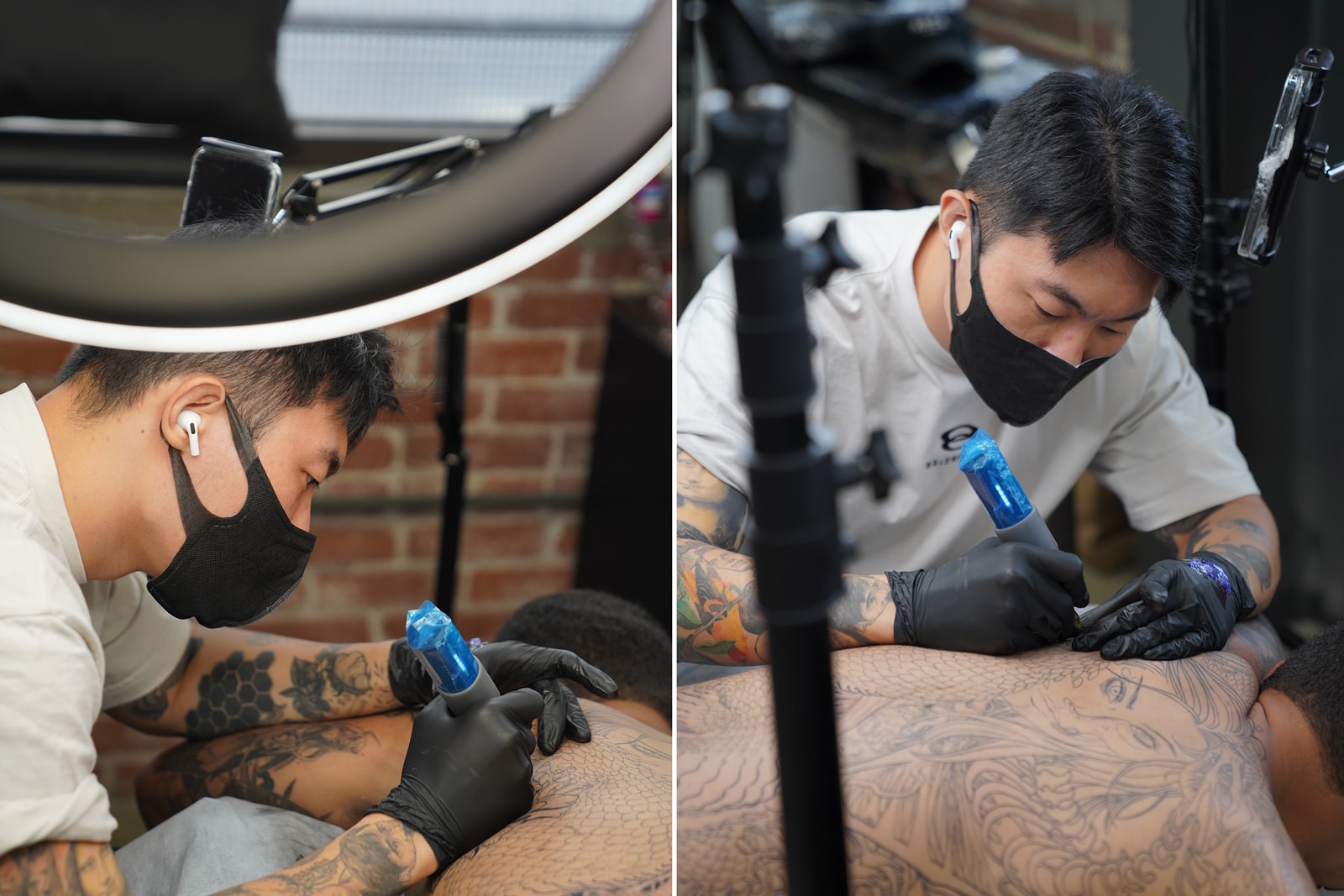 2 of 4
3 of 4
4 of 4
"I am grateful that clients fly in from different parts of the world to get their tattoos."
How does tattooing in Los Angeles compare to Seoul? What about the clientele?
There is a massive difference in how people perceive tattoos in general. The change is that I don't have to worry about the legal issues that might arise while working in Seoul. Sometimes it's the most basic freedom that makes the most significant difference. Most of my clients are working in Korea were from around the world, so not much has changed working in LA. I am grateful that clients fly in from different parts of the world to get their tattoos.
How long do you plan to be in the US? Any plans to work from other cities while you are here?
My initial plan was to stay for three years, but we will have to see what pans out in the future. I would also like to work in different weather than California if the opportunity presents itself.
1 of 2
2 of 2
Are you cooking up any creative side projects at the moment?
The OOZYBOWL series is just the beginning of my creative journey. The bowls are physical interpretations of my signature tattoo designs. The face is placed in a ramen bowl as if it were the topping. I have plans to expand into other products and mediums, so please stay tuned!