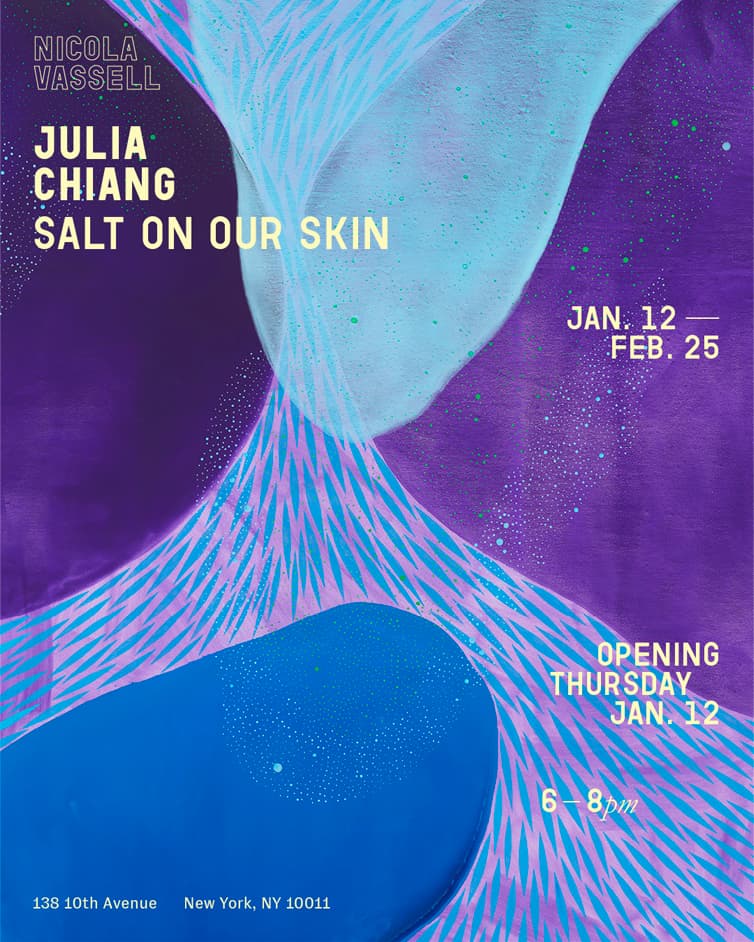 Nicola Vassell Gallery Presents Julia Chiang's 'Salt on Our Skin' Exhibition
Opening on January 12.
---
Brooklyn-based artist Julia Chiang will be opening up her solo exhibition, Julia Chiang: Salt on Our Skin at Nicola Vassell Gallery later this month. Chiang is known for her extensive portfolio of paintings, installations, and sculptures, out of which her abstract paintings featuring petal-like and biomorphic shapes are the most recognizable.
Speaking on the theme for this exhibit, Chiang shared a recollection of her childhood where nothing was ever truly thrown away, as her father often upcycle old and worn-out items by giving them "a new life." This regular practice had Chiang ponder the concept of transformation, which the artist related to her multicultural identity and art-making processes.
In a press release, the artist explained that her inspiration also came from poetry, specifically from reading Odes with her children. "I'm always interested in our bodies as vessels, what we contain and what we cannot. All that comes out of us, all that is within us. The borders both real and imagined. Existing in the in-between." In a concluding statement, Chiang said that "I imagine the millions of tiny bits that make up our bodies and everything around us. I sit with images of plant life, animals, anatomy. How we merge and push against one another, how new forms emerge and how we transform. One bit, one move, slow by slow, marking time and space."
The Julia Chiang: Salt on Our Skin exhibition will be on view at Nicola Vassell in New York from January 12 to February 25, 2023.
Nicola Vassell Gallery
138 Tenth Avenue
New York, NY 10011
In other art news, over $400,000 USD worth of art was stolen from the back of a truck in Colorado.