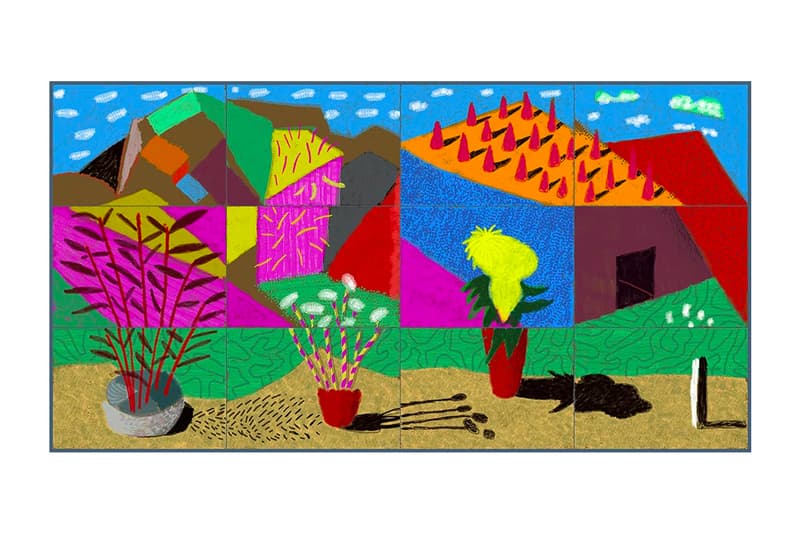 David Hockney to Present Latest iPad Paintings at Pace New York
On view from January 13 to February 25.
---
At 85 years of age, David Hockney is still creating art with a childlike sense of wonder. Never ascribing to just traditional forms of art, such as painting or sculpture, Hockney's penchant for technology has led him to cultivate a keen interest in the iPad over the past decade. Running concurrent to his new immersive exhibition in London, the acclaimed British artist is set to unveil a new solo exhibition of his iPad paintings at Pace Gallery's 540 West 25th Street location in New York.
Entitled 20 Flowers and Some Bigger Pictures, Hockney showcases iPad paintings he created while observing daily life in his Normandy home during the pandemic. The event marks the final iteration in a series of similar exhibitions that went on view at Annely Juda Fine Art in London, Galerie Lelong & Co. in Paris, GRAY in Chicago and an upcoming exhibition at Louver next fall in Los Angeles.
Comprised of a series of editions and signed inkjet prints, Hockney conflates the Normand landscape through a masterful command of color, line and perspective. One of the centerpieces of the show, 25th June 2022, Looking at the Flowers (Framed), exemplifies the artist's tinkering with time and space. "This is photographic but is in no way an ordinary photograph," said Hockney in a statement. "I had been doing what I called photographic drawings, giving a much more 3D effect. This is because you have to look at these through time (unlike an ordinary photograph which you see all at once)," he added.
To accompany the event, Pace, GRAY, Galerie Lelong & Co., Annely Juda Fine Art, and L.A. Louver worked together to compile a new book cataloging the exhibition. David Hockney: 20 Flowers and Some Bigger Pictures will go on view at Pace from January 13 to February 25.
For more on art, White Cube previews its booth at the inaugural ART SG fair in Singapore.
Pace
540 W 25th St
New York, NY 10001