Harpoon Brewery and Dunkin's Pumpkin Spiced Latte Ale Is Back — With a Few Updates
They've also created three other seasonal flavors inspired by coffee rolls, cold brew and hazelnut.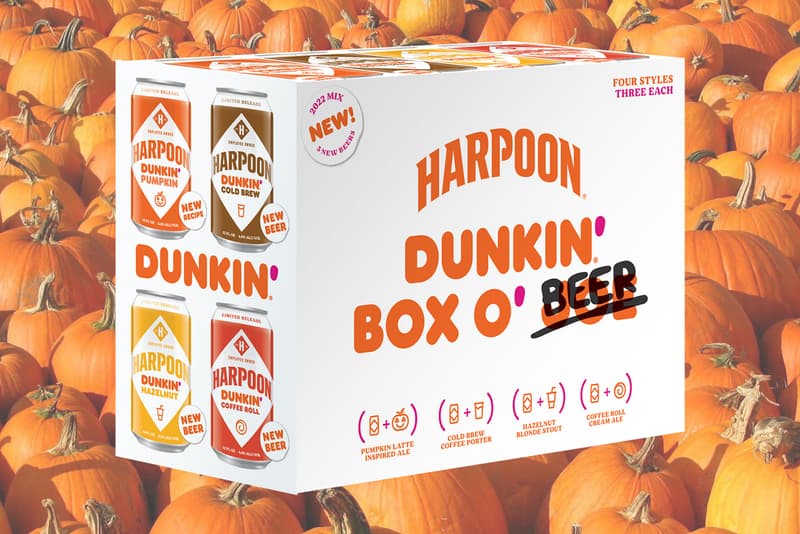 The arrival of fall means flannels, falling leaves, fresh, crisp air, and, for fans of Harpoon Brewery and Dunkin', ice-cold pumpkin spice beer. Harpoon Brewery and Dunkin' have been producing a seasonal pumpkin spice ale for five years now, and for fall 2022's iteration of the partnership they've both revamped their popular recipe and cranked out three fresh flavors to accompany it.
Harpoon and Dunkin's aim for their fifth go-around with the popular pumpkin beer was to more accurately replicate the creamy mouthfeel that pumpkin spice lattes are known for. The new Pumpkin Spice Latte Ale is brewed with pumpkin puree, cinnamon and Dunkin' cold brew like before, but this time around there's a hint of oat milk as well. Three other flavors were produced as well: a Coffee Roll Cream Ale that's brewed with actual coffee rolls and Dunkin' coffee, a classic Coffee Porter and a Hazelnut Blonde Stout that offers an interesting middle ground between a traditional stout and a wheat-plus-oat malted beer.
Each flavor will be sold in standard six-packs as well as a Box O'Beer variety pack that includes three cans of each flavor. The partners have also produced a special IPA Donut, which features Harpoon IPA jelly and will only be available at Harpoon Brewery and Dunkin's launch party on September 16 at the Harpoon HQ in Boston.
If you're looking to score some sweet, frothy goodness for yourself, head over to the Harpoon website and use their beer finder to see stores near you that'll have it in stock.
For more from the world of food and beverage, take a bite of the new collab from Burger King Japan and Diablo Immortal: a towering garlic double cheeseburger.
DISCLAIMER: We discourage irresponsible and/or underage drinking. Drink responsibly and legally.