The Best SS23 Collections From Copenhagen Fashion Week
From Scandinavian stalwarts to emerging stars.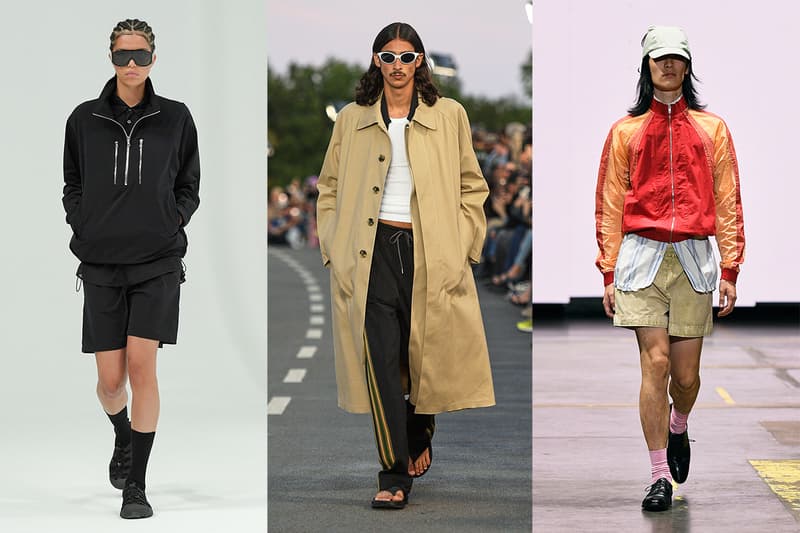 Copenhagen Fashion Week returned for the Spring/Summer 2023 season, showcasing an eclectic mix of brands ranging from the most established names in the region to up and comers from across Europe. As well as championing home-grown talent, the SS23 season once again saw Copenhagen Fashion Week commit to sustainability and host the Zalando Sustainability Award.
With Copenhagen Fashion Week finishing with Ganni's spectacular show, here is your guide to the best collections on show for the SS23 season.
Berner Kühl
Copenhagen native Frederik Berner Kühl returned to open this season's schedule with his namesake label. The Spring/Summer 2023 collection continued Berner Kühl's work of connecting luxury designs with performance detailing, focused particularly on the creation of a modular wardrobe.
Modularity runs throughout the collection, with various pieces introduced in different fabrications, colours and textures. "We open up the discussion of how to consume less by consistently approaching the same shape or item from different angles," the brand explained in its show notes. The theme of modularity was also touched upon through items that served more than one purpose. A stand-out was classically-cut trench coats, finished with performance-orientated details and fastenings so that it can be worn in different situations.
This idea also translates into the longevity of the items, something Berner Kühl stated as a key aim for the collection. "The art of preservation is something that shaped our conversation when creating the SS23 collection," the notes continued. "We are trying to create something that is very long term, and destined to last."
Sunflower
Another local brand that returned to the schedule after time away, Sunflower's SS23 collection saw it continue to tweak menswear classics. Throughout the collection – presented in a standing-only show outside the brand's office – Sunflower updated some of its signature themes, with leather jackets, denim and track jackets all returning for the new season.
Other standouts included a marble-style Japanese jacquard pattern – used on long coats, as well as matching shirts and trousers – and graphic tees featuring the "I Love Sunflower" maxim. The collection as a whole played Sunflower's hits, further developing its stated commitment to create "a wardrobe of contemporary menswear balancing understated, intelligent design with a respect for tailoring traditions."
RANRA
Iceland and London-based RANRA, formerly known as Arnar Már Jónsson, won Zalando's Sustainability Award for its SS23 collection. The collection was titled Huldufólk, Icelandic for the "Hidden People" who were described as "supernatural beings that live in nature. They look and behave just like humans, but are slightly happier, more beautiful and better dressed."
The titular "Hidden People" wore a uniform that furthered RANRA's signature aesthetic that blends technical outerwear with softer pieces and natural fabrics. Throughout the collection, the brand used natural materials, sportswear techniques and artisanal hand-dyed finishes. The collection's color palette was a stand-out feature, incorporating washed-out blues, yellows and pinks alongside denim-effect trousers and references to vintage hiking gear.
Wood Wood
One of Copenhagen's stalwarts, Wood Wood closed the penultimate day of fashion week by taking over one of the city's bridges. The collection was focused on the idea of wearability, with pieces that can be worn in different scenarios and can survive from day into night without the need for getting changed.
The collection's title was "Escape to Paradise," and it took inspiration from artistic communities based near the water, in particular the Palazzo Venier dei Leoni in Venice. The collection attempted to imagine how it would look today and how its members would dress, with artist's workwear including carpenter pants and painters shirts.
For womenswear pieces, Wood Wood introduced floral summer items, elevated tracksuits and heavy T-shirts, while menswear stand-outs included all-over graphic shirts and pants, layering sets and a version of Hampton's camo. The graphics used throughout were a nod to Peggy Guggenheim and her appreciation of sunlight dancing on water, while the Palazzo itself and sunset over Venice were also introduced.
Ganni
As is now traditional, Ganni closed Copenhagen Fashion Week with a sundown show on the city's waterfront. Titled "Joyride," the show opened with BMXers racing the length of the runway, referencing the impact cycling had on the collection, and creative director Ditte Reffstrup's own design process.
Alongside showing its cycling influence, the collection was also joyous, particularly through a color palette that included lime green and teal to hits of pink, purple and orange. Throughout the show, Ganni introduced three new collaborations, reuniting with 66°North and Levi's, and working with Barbour for the first time.
The collection consists of 97% responsible styles – meaning an item which is over 50% certified organic – and also introduces new textiles from Ganni's "Fabrics of the Future." These new materials include Infinna, made from textile waste, and Vegea, a material produced using leftover grape skins from wine production.