New Balance Sues Steve Madden for Making "Deliberate Knock-Offs" of Its 327 Model
Steven Madden's recent Chasen model clearly mimics the Boston brand's lifestyle offering.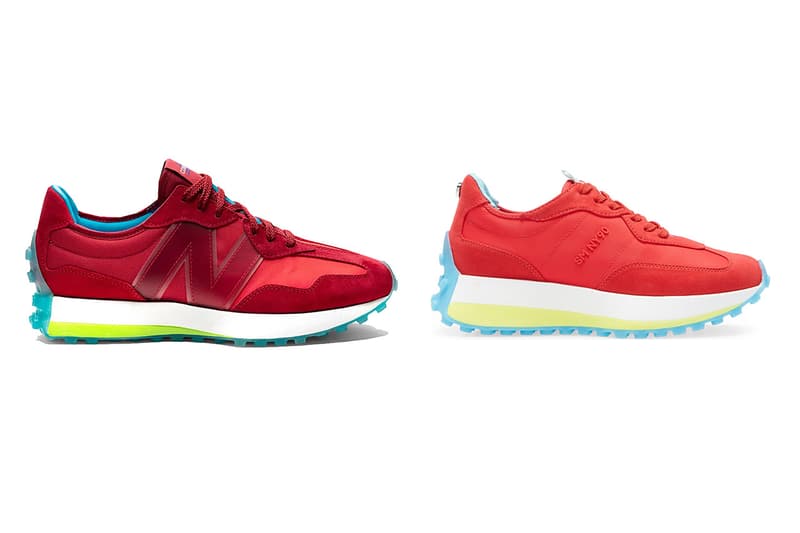 New Balance has recently filed a new lawsuit against Steven Madden claiming that the brand has blatantly ripped off its ultra-popular 327 silhouette. According to the complaint that it filed with U.S. District Court for the District of Massachusetts on Tuesday, New Balance calls out the brand and states that "in late 2020 or early 2021, Madden launched its 'Chasen' model sneaker, a deliberate knock-off intended to free-ride off of the popularity of New Balance's 327."
The gallery above displays a side-by-side comparison of each sneaker, and the resemblance couldn't be any more overt. The left side shows Concepts' craberry vodka-inspired New Balance 327 collaboration from 2020 while the right side shows Steve Madden's Chasen model. Everything from the shape of the shoes to the fluid overlays to the two-toned midsoles and waffle treading has been replicated. Elsewhere in the lawsuit claim, the Boston-based sportswear imprint says that the Chasen "not only slavishly copied the design of the 327 model shoe, including the distinctive outer sole design, but it also utilized two diagonal downward stripes that copied the placement and mimicked the appearance of the two sides of New Balance's famous 'N' mark."
Steve Madden also found itself involved in a trade dress infringement lawsuit by Deckers for reportedly infringing its "Original Universal 90's Multi Colorway Trade Dress," so it's safe to say that the chain retailer is sitting in hot water.
Looking for other news? The New Balance 2002R "Good Vibes Pack" was recently announced.