Sole Mates: Perry Shum's fragment design x Air Jordan 1 High and Gregory Lam's AJ3 "Black Cement"
IMAGE NY's co-founders speak on Queens' creativity, the rarest PE that's been brought into the shop and more.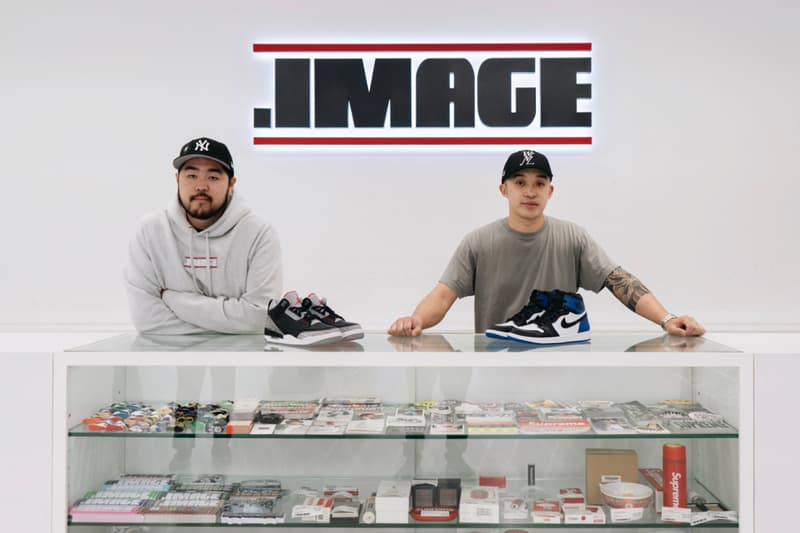 There are many factors to consider when thinking about cooking up your own business, but one can argue that two of the most important are understanding your audience and timing. And if there's anyone out there that can relate to this it's Perry Shum and Gregory Lam, two out of three co-founders of IMAGE NY — a premier destination based in Queens, NY that's become a local haven for buying rare kicks.
Before consignments shops became a dime a dozen in today's sneaker space, both of these business-savvy sneaker connoisseurs realized that there was a gap in the market around the early 2010s. Flight Club already established itself as one of the originators in the industry as it overtook the Manhattan crowd, but Shum and Lam quickly realized that the borough from which they were born and bred had plenty of footwear aficionados with a large appetite. Today, IMAGE NY's storefront lives to bring and sell the most coveted kicks and streetwear pieces around. Now over a decade old and with three retail locations under its belt, IMAGE NY has become a household name for catering to the Big Apple sneakerhead community. Simply, it continues to impress its consumer base with its inventory that consists of nostalgic pre-owned grails, the latest Jordan releases and everything in between.
Shum has expressed a deep-rooted love for the fragment design x Air Jordan 1 High while Lam has a soft spot for the Air Jordan 3 "Black Cement." However, both owners equally treasure the iconic status and stories behind each colorway which is what they shed light on in HYPEBEAST's newest Sole Mates installment.
HYPEBEAST: What got you into sneakers?
Perry Shum: The Air Jordan 3 "True Blue" is what got me into sneakers. I remember back in high school I had a friend that got them early and after he rocked them, I was amazed by them and that's what piqued my interest in Jordans. From there, I just started to gradually make other friends that were sneakerheads and kick started my collection from there. My first job was actually working in sneakers at this store called Active Warehouse in SoHo.
Gregory Lam: I got into shoes at a slightly earlier age back in 1999. I vividly remember walking in a mall one day with my mom and seeing the white and red Air Jordan 13 "Cherry" for the first time and that green hologram really stood out to me. That's the earliest memory of Air Jordans that I have. Fast forward to freshman year of high school in '02, I remember when the Air Jordan 9 "Cool Grey" came out, that was the first pair of kicks that I saved up my own money for and bought. From there I got heavy on the forums as well as eBay. I was actually one of the admins on ISS and would go heavy on the buying, selling and trading there.
"They call us the "world's borough" right? It's so diverse here. There's so many different cultures, everyone brings in their own style and everyone here just seems hungry to create."
Both of you were born and raised in New York. How would you describe the evolution of sneaker culture from when you first got into the game to what it is now?
GL: It's a lot more accessible today. There's so many different platforms now whether it be consignment stores, StockX, GOAT, etc. Back then it was pretty much only eBay and the forums where you could pick up limited sneakers. That's where all the sneakerheads went. In a lot of ways I miss doing meet ups and miss the chase.
PS: To add onto that, it's so much easier to just educate yourself on sneakers nowadays. Back then you would have to be sifting through magazines to find your information. And as far as rare sneakers went, you would have to run from store to store to find rare vintage sneakers, and even go so far as to travel to Japan for them. Back in the day you would also have to go through PayPal, send money orders and go through that entire process. I also want to say that I believe a lot of sneaker culture really originated here in New York because of the amount of walking and the on-the-go hustle and bustle lifestyle.
That's a good segue because I know that the both of you grew up in Queens and a lot of creative people whether it be in music, fashion, art etc. are from this borough. What is it about Queens that you believe spawns creativity?
GL: For sneakers here in Queens, the culture was strong even back then. I know Perry and I both recall the times shopping down at the Jamaica Ave. Colosseum where there would literally be 20 sneaker stores all lined up with heat. They call us the "world's borough" right? It's so diverse here. There's so many different cultures, everyone brings in their own style and everyone here just seems hungry to create.
For your Sole Mates selections, Perry you decided to go with the fragment design x Air Jordan 1 High and you went with the Air Jordan 3 "Black Cement" Greg. What is it that you love about these colorways specifically?
PS: I've always been a fan of Hiroshi Fujiwara and everything he's done with fragment design. He's known as the godfather of streetwear, especially in Japan. I'm super fascinated by his brand from the designs to the HTM collaborations, and this collaboration was really just all of my interests merging together. Everything I love is in this shoe. The Air Jordan 1 is a classic, my favorite color is blue, and it's just such a clean design with the "Black Toe" color-blocking.
GL: For me, the iconic elephant print just always resonated with me. I've always thought that this design element was so different and I just think it's such a clean silhouette. You can dress them up or down and they're actually a super comfortable sneaker. The '01 pair is still my favorite in terms of quality, but I will say that I was super happy when Jordan Brand retro'd them in 2018 because they got super close in terms of the leather and of course, the Nike Air heel branding.
I think elephant print in general also just had such a huge influence on the culture. I remember this brand called Mike 23 made an all-over cement print hoodie and ended up getting a cease and desist for that, as well as Marc Ecko who made a tee that spelled out "Sneakers Ruined My Life" with the elephant print and people would be flipping those.
Talk to me about IMAGE NY. How was it first ideated and touch on how it's grown into what it is today?
GL: We actually started out by making sneaker-inspired phone accessories. No one was really making anything with Jordan's iconic elephant print back then so we threw that on phone straps and other products similar to that. Back in 2011, we utilized all of our money to work on construction of the original store, and used our own collections as the inventory.
PS: As we were finishing up with college I pitched the idea about starting up a consignment shop because the only store that was around was Flight Club and there was an opportunity for Queens to have something like that. To add onto what Greg mentioned, we also tapped a lot of our friends who also had sneakers that they wanted to get rid of and we gradually grew our stock from there.
Is there any significance behind the name IMAGE?
PS: Greg can be credited for the name as he took inspiration from the idea of looking at one's personal style and how those in New York really paid attention to your entire image. So that's what the title represents.
GL: I also remember commuting to school one day and seeing a Timberland ad with the word "image" one day, and seeing that also resonated with me and it just stuck from there.
As a small business, what was it like navigating through COVID for you guys?
PS: We surprisingly didn't miss a beat. For the first few months we closed down for safety reasons and ended up moving our inventory to another location when the riots started to get crazy. Our business was able to sustain itself through online orders for a good chunk of the pandemic, and when it was finally time to open back up we actually found that we gained even more customers and that's what eventually drove us to open up this new location.
I also noticed that the both of you are also somewhat involved in the restaurant business. Are there any parallels that you can draw between the food industry and sneakers?
PS: It's definitely hospitality and bringing people together to talk about our common interests whether that be business, sneakers, fashion etc. It all connects.
We live in an age where consignments shops are pretty much in every major city now, but what makes IMAGE stand out above the rest?
GL: I think what separates us is variety. A lot of the shops that you see nowadays you'll see have the same shoes, all of which are new releases only. In addition, we put out new inventory around three to four times a week so you're always going to find something new here.
PS: Our stock is made up of both new shoes and pre-owned. All of our pre-owned kicks we clean ourselves through our cleaning service, and our stock of pre-owned sneakers is a lot broader than most stores.
Can you recall some of the craziest pairs that you've seen come through the shop?
GL: There was a super rare Air Jordan 9 PE from 1992 and it was probably one of the first PEs for Penny Hardaway. It was black and blue and instead of a number 23 on the back it was a number one to represent his jersey. It came with a pair of shorts and a certificate of authenticity that was signed by both Jordan and Hardaway, and we bought it for a few thousand dollars. The consigner was a huge Penny fan. Can't lie we regret selling that shoe because we sold it for $10K USD but it probably would be worth a lot more today.
"Give people a reason to come back to your store, because there's so many other outlets that people can go to nowadays, and you want to be recognized for giving good business."
If IMAGE was to get its own sneaker collaboration, what models would you want to work on?
GL: If it was a Jordan model, I'd say either the Jordan 1, Jordan 3 or the Jordan 4. If not, I would probably want to work on an Air Max 1 collab.
What advice would you give to someone who wants to open up their own consignment shop?
GL: Location and demographics are very important. You really have to make sure that it's needed in that specific area. It's important to find a way to set yourself apart because like I said before, sneakers are so accessible to everyone nowadays.
PS: It's important to educate yourself on sneakers and the business side things and also to also be very hospitable. Give people a reason to come back to your store, because there's so many other outlets that people can go to nowadays, and you want to be recognized for giving good business.
Why are sneakers and the stories they hold important to you?
GL: I think it's definitely a way for me to not only express myself but to be part of a larger community. And in that community I can find my own ways to be different and share that connection with someone else who also loves sneakers.
PS: I firmly believe that the stories make you fall in love with a shoe even more. When you learn more about a background of a certain sneaker, there's always ways in which you can correlate that to your own personal life and that's what makes sneakers so special.