New York City's Last Payphone Has Been Removed
Replaced by LinkNYC Wi-Fi kiosks.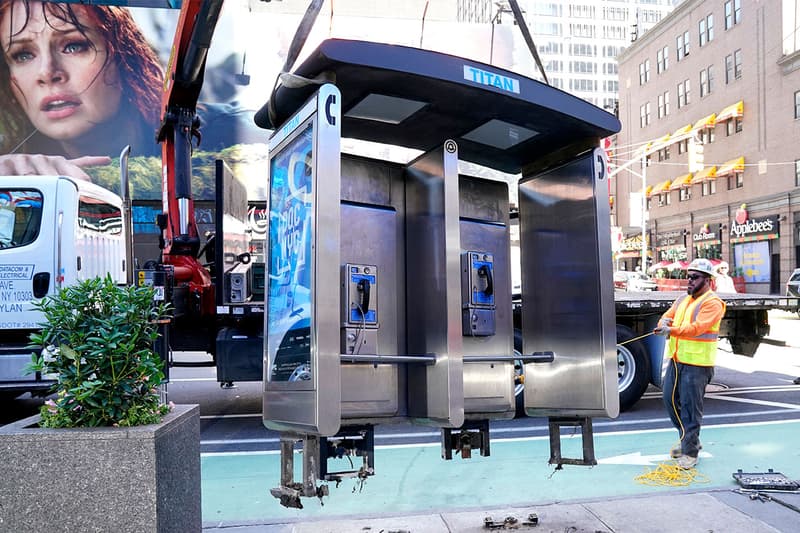 On Monday, workers officially uprooted the last payphone in New York City, situated near Seventh Avenue and 50th Street in Midtown Manhattan. The future relic was loaded onto a truck and sent directly to the Museum of the City of New York, where it will be shown as part of its new "Analog City" exhibition.
The city's once prevalent payphones have now been replaced by LinkNYC kiosks that have begun to scatter around the city since 2015. The stations offer functions that better serve today's world with features including free Wi-Fi, emergency buttons, charging ports, digital maps, and other public services. LinkNYC says that it has deployed thousands of systems across the city and facilitated over 3 billion Wi-Fi sessions.
"As a native New Yorker, saying goodbye to the last street payphone is bittersweet because of the prominent place they've held in the city's physical landscape for decades," commissioner of the Office of Technology and Innovation, Matthew Fraser, said in a statement. "Just like we transitioned from the horse and buggy to the automobile and from the automobile to the airplane, the digital evolution has progressed from payphones to high-speed Wi-Fi kiosks to meet the demands of our rapidly changing daily communications needs."
While there are no longer any freestanding public payphones left, LinkNYC says that there may still be four "Superman booths" (full-length phonebooths) left in the city. Whether they're operational is unclear.
END OF AN ERA.

NYC's last free-standing pay phones removed this a.m. in Times Sq. (7th Ave & 50th St.).

No more fishing in your pocket for quarters.pic.twitter.com/ZtRhzWPp4G

— Mark D. Levine (@MarkLevineNYC) May 23, 2022
Elsewhere, Bombardier unveils its fastest private jet, the Global 8000.