Tay Liam Wee of WatchBox Shares His 10 Most Cherished Watches
From a museum-grade F.P. Journe Souverain to a Tantalum Royal Oak Offshore.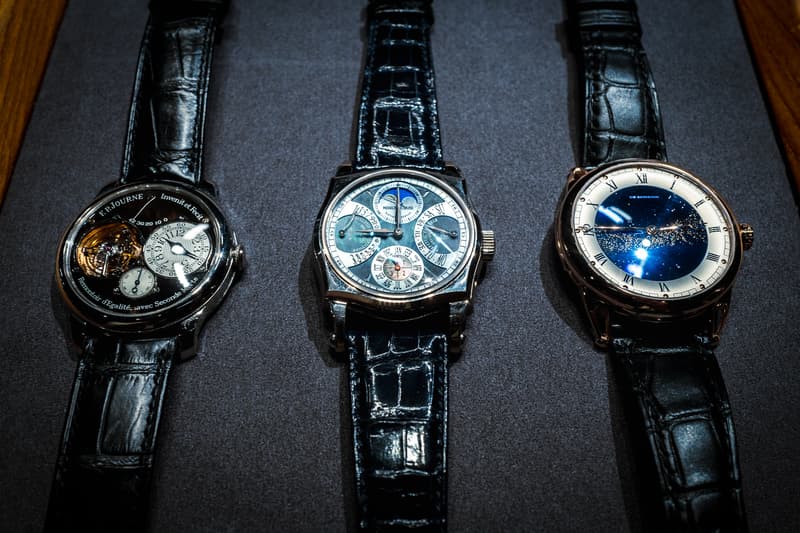 The boom for luxury timepieces is being felt on a global scale. Just head over to your local authorized watch dealer (Patek Philippe, Rolex, Audemars Piguet, F.P. Journe, and A. Lange & Sohne, to name a few) and most likely there will be nothing for you to purchase, minus the occasional ladies diamond-set, precious metal versions of a particular model. This insane demand has left watchmakers short in supply, and consequently, has given rise to a lustrous secondhand market — 2019 saw roughly $18 billion USD in sales with that number estimated to hit $30 billion USD by 2025.
With a yearly revenue of close to $300 million USD, WatchBox is unquestionably one of the biggest e-commerce platforms for pre-owned watches. In 2021 alone, the company saw a 40 percent year-over-year growth in sales which led to a successful raising of $260 million USD. While WatchBox started its journey in 2017, the watch collecting story for one of its founders — Mr. Tay Liam Wee — actually started several decades earlier.
Having started off as early as 1985 — his family was there to survive the rise, fall, and recovery of the mechanical Swiss watch industry — Mr. Tay's experiences with horology reads like an adventure novel. From taking a gamble in introducing A. Lange & Söhne to the Asian market after the fall of the Berlin Wall to traveling to the Swiss Alps to discover the most recluse watchmakers, Mr. Tay's dedication and passion for the business of watches is hard to ignore.
Curious as to what someone who has been in the business for so long has in his collection, as well as his outlook on the current market, I decided to head over to WatchBox while he was in town. In our meeting, I learned that his recipe for success is largely attributed to how one stays on course with their vision. Tay comments, "A watch brand can have all the resources in the world at its disposal, but without a vision, they can't really create a real impact in this business. For example, not getting the right dedicated watchmaker that sees the full potential of creation can really hold a watch brand back. You have to be able to clearly define your brand year after year for credibility. Collectors know what's real, after all, they are the judge, jury, and executioner in this industry."
He uses F.P. Journe as an example: "Look at how true Journe has remained to his craft. He still maintains his production of under 1,000 pieces 30 years later. His integrity and commitment are still there, but what's increasing are his patents and the innovation. High quality and high standards, and only after 30 years are people beginning to recognize it." Mr. Tay also clarified that this conviction for "vision" also stands true at the other end of the spectrum and is not not only reserved for the watchmakers pushing innovation. "The brand could be boring as well but that all goes back into the brand's DNA. This is an aspect that does not go away. It only gets stronger and stronger with time."
Joined at the WatchBox vault, Tay Liam Wee shared with us some of his most cherished wristwatches and the story behind each one. Have a look at his watch rotation below.
Audemars Piguet Royal Oak Offshore
You can't do this anymore, but Audemars Piguet agreed to do an anniversary version for us at Sincere. There was a full tantalum release but we wanted to reduce the weight by just keeping the material to the bezel. Nowadays, especially with how crazy APs have gotten, it is near impossible for a jeweler to get a limited edition.
Franck Muller 18K Master Banker
I have such a soft spot for Franck. When he first started the business in 1992, I took him out to Asia and we built a sizable business here together. This is the Master Banker he conceived when having dinner with an American banker. Franck Muller was always out there getting inspired. This is a patented triple timezone. Two timezones are quite common but a three on a single crown was never heard of before this. This is called the Master Banker because the three major cities for trading at the time were New York, Hong Kong, and London. This idea just came from a conversation over dinner where an idea was just openly discussed and translated into a watch by the watchmaker. He really was a maverick in watchmaking. He brought a lot of excitement to a sleepy industry in the '90s.
Roger Dubuis Sympathie
You can't talk about Franck and not mention Roger Dubuis. This watch is very Roger Dubuis. Both Roger Dubuis and Franck Muller were the contemporary watchmakers trying to make a mark with their brands, and before them, it was Daniel Roth. Everything before this period was classical and traditional — Breguet, Patek, Vacheron. This is all about how they were able to make a name for themselves.
F.P. Journe Tourbillon Souverains
The black MOP dial version was made for Sincere for the 50th anniversary in 2004. The entire dial is made from a single piece of black mother of pearl. This was his first attempt at this kind of dial and I am sure there were a lot of tests made because just look at how thin he cut it. The other Journe is one of the first generations of watches made in platinum from 1999 with an early brass movement. It's a museum-grade piece, and at 38.5mm with a hand-engraved dial, it's the only one in the world.
Patek Philippe 5207P
This is a Grand Complication Patek. This watch absolutely sings when you chime it. It is impressive what the Stern family has done to this institution. It is pretty common for a watchmaker to own a factory today, but early on, Philippe Stern moved all these ateliers together under one roof. This investment was a huge risk but he stuck with it and it paid off. If you visit the Patek Philippe Museum, it is not just important to Patek Philippe as a brand but the entire history of watchmaking.
Trio of De Bethune DB25 Starry Varius
This is just a continuation of the next chapter for us and De Bethune's journey with WatchBox. This captures the watchmaker's full DNA — from the movement to the styling. It is all here. It is in the independents where innovation and creativity are really expressed. This brand just makes 150 pieces a year, and these are all three variants of the Starry Varius.
Rolex 18K Oysterquartz Day-Date 19058
This watch was made for the Saudi market. From the diamonds, the rich dial, and size, this watch just screams '80s extravagance. And, it's a quartz!
In other watch news, an original Gerald Genta sketch of the Patek Philippe Nautilus sells for $727,000 USD.