A Breakdown of Aaron Rodgers' Contract Details Upon His Return to Green Bay Packers
Making him the highest-paid quarterback in the NFL.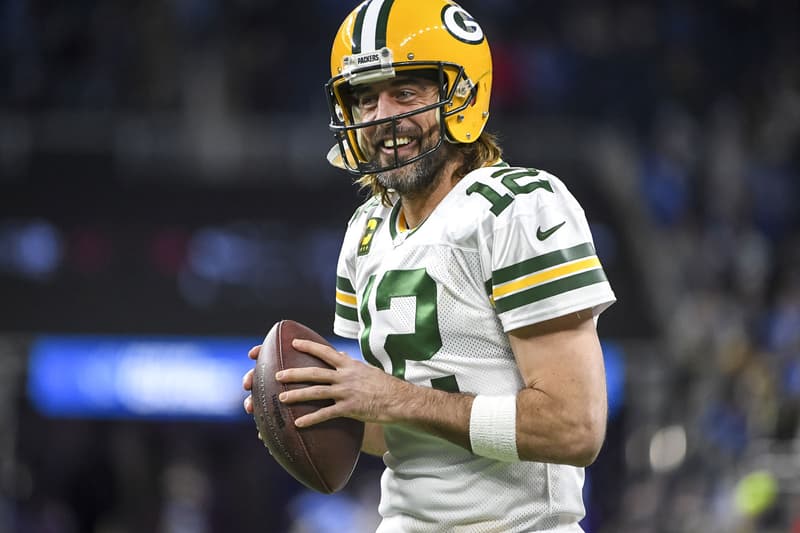 In light of the Aaron Rodgers official return announcement to the Green Bay Packers next NFL season, reports surrounding the details of his new contract have been revealed.
NFL Network's Ian Rapoport and Tom Pelissero have both indicated that the reigning MVP's deal would make him the highest-paid quarterback in the NFL. Rodger's new contract will reportedly pay him $150.8 million USD over the next three years, which averages to more than $50 million USD per year. The terms of his contract are fully guaranteed in the first two years of his contract extension, paying him over $42 million in 2022 and just above $59.5 million USD in 2023.
By 2024, Rodgers will be making $49.3 million USD, however, the salary is not guaranteed at the time. If the 38-year-old QB veteran chooses to remain with the Packers beyond 2024, the contract provides a clause where the two additional years can be renegotiated and reworked. Dan Graziano from ESPN adds that the second-year extension would be too big for the Packers to pay as a base salary, meaning that it is likely the team will have to convert some of the money to a signing bonus in 2023.
Rodgers can officially put the rumors to rest after finally putting signature to paper, confirming his resigning with the Green Bay Packers.
After a week of going back and forth with the #Packers, Aaron Rodgers' complicated contract pays him $50M per year over 3 years — $150M. Plus there are two low-money option years that will be replaced. https://t.co/VlnbubjhxY

— Ian Rapoport (@RapSheet) March 15, 2022
On first read of #Packers QB Aaron Rodgers' new contract, he gets:

$42 million in 2022
$59.515M in 2023
$49.3M in 2024

So that's $150.815M over the next three years, and the first two are fully guaranteed at signing.

— Tom Pelissero (@TomPelissero) March 15, 2022
From @GMFB: The Aaron Rodgers contract numbers are in. What did we learn? The #Packers QB committed to at least two seasons, maybe more, and he'll earn $62M per year over the first two new years. $50M per year over the first three. Big money. pic.twitter.com/X7NlB4wcgz

— Ian Rapoport (@RapSheet) March 15, 2022
Aaron Rodgers' new deal includes a guaranteed base salary of $59.465 million in 2023. Obviously if he wants to keep playing, that will have to be converted into signing bonus. The size of those numbers means the Packers and Rodgers will keep going year-to-year.

— Dan Graziano (@DanGrazianoESPN) March 15, 2022
Aaron Rodgers' cap numbers the next three years for the #Packers:

2022: $28.5 million (down from $46.7 million)
2023: $31.6 million (up from $7.7 million on a previously voidable year)
2024: $40.7 million

— Mike Garafolo (@MikeGarafolo) March 15, 2022
In other sports news, Cristiano Ronaldo has broken FIFA's all-time scoring record.