New 2022 Apple Macbook Air Rumored to Feature Revamped Design and More Color Options
Expected to be even thinner and lighter than before.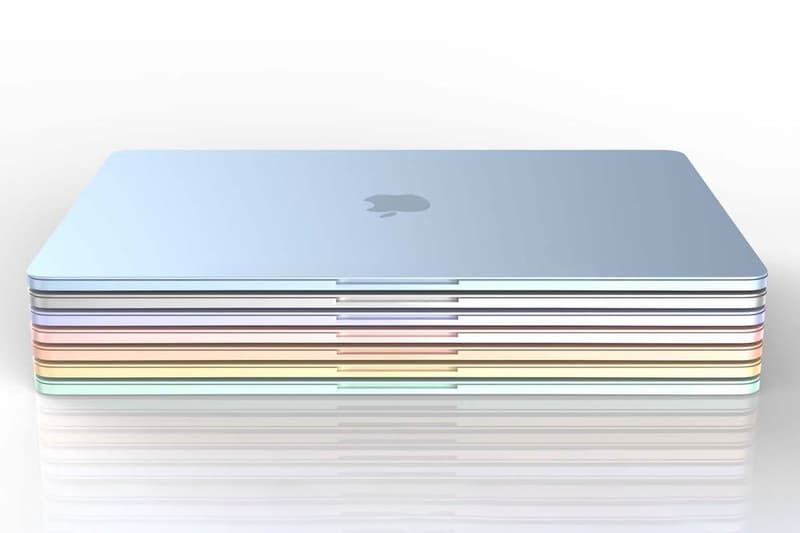 Following Apple's Peek Performance event, more rumors surrounding the MacBook Air have circulated.
Apple insider Ming-Chi Kuo has provided fans with additional details on the 2022 MacBook Air, which is expected to receive a total refresh in design later this year. According to Kuo, this year's MacBook Air will not only have a tapered design, but it will receive a thinner and lighter construction than previous models. Apple is favoring the MacBook Pro-style look and is set to offer various color options, similar to that of the 24-inch iMac. Color ranges include blue, green, pink, silver, yellow, orange and purple. Rumors have also noted that the laptop will feature off-white bezels and a matching off-white keyboard as opposed to black.
On top of the new design, the MacBook Air will come with an M1 chip, different from the rumors heard before. Previously, it was speculated that the laptop would be using an updated M2 chip that features an 8-core CPU and 10-core GPU. The MacBook Air will not be featuring a mini-LED display, which will be reserved for Apple's more high-end products. The MacBook Air is slated to arrive in late Q2 or in Q3 of this year. Stay tuned for more information.
Predictions for new MacBook Air in 2022:
1. Mass production in late 2Q22 or 3Q22
2. Processor: M1 chip
3. No mini-LED display
4. All-new form factor design
5. More color options

— 郭明錤 (Ming-Chi Kuo) (@mingchikuo) March 9, 2022
Elsewhere in tech, eBay recently hinted at a digital wallet for Q2 of this year.