Krispy Kreme Launches First-Ever TWIX Doughnuts
Introducing three "caramelly, cookie-ie, crunchy" doughnuts.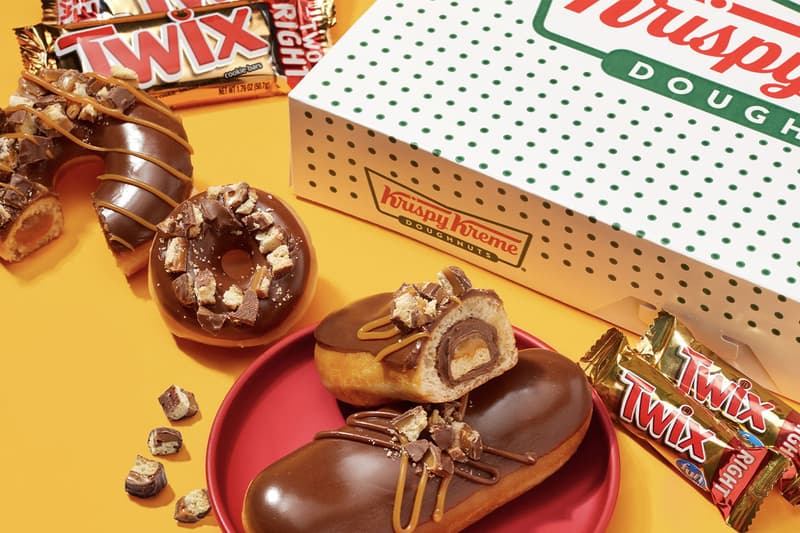 Doughnut and chocolate lovers are in for a treat with Krispy Kreme's first-ever TWIX treats.
For a limited time only, Krispy Kreme is partnering with Twix for three new flavors across the nation. The Caramel Cookie Crunch Bar doughnut is filled with a Twix cookie bar. This bar-shaped doughnut features chocolate Kreme and a full-size TWIX bar dipped in chocolate icing and drizzled with dulce de leche before another dose of TWIX toppings. The Caramel Cookie Crunch original filled doughnut is also topped with TWIX cookie bar pieces and is a chocolate iced doughnut base with salted caramel filling. The mini caramel cookie doughnut, although smaller in size, still packs in the chocolate flavors mixed in with the extra crunch from the cookie bar.
Krisp Kreme and Twix chocolate lovers are in for a treat this month. The Krispy Kreme x Twix doughnuts are now available across stores nationwide. Check out your local Krispy Kreme for more information.
In other F&B news, KFC Singapore brings back its chicken skin in Goldspice flavor.