Best New Tracks: Kanye West, Denzel Curry x slowthai, Conway The Machine and More
Enjoy the weekend with these 10 music projects.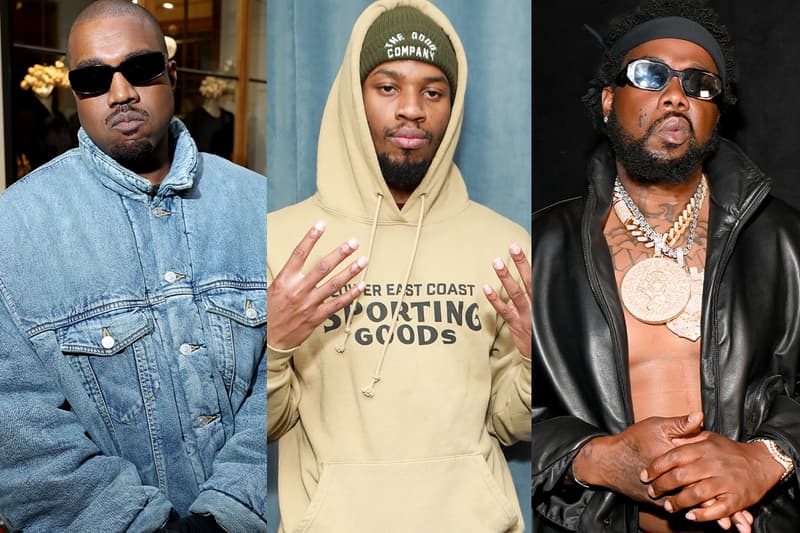 As the week in music comes to a close, HYPEBEAST has rounded up the best projects for the latest installment of Best New Tracks.
This week's list is led by releases from the artist formerly known as Kanye West, Denzel Curry x slowthai and Conway The Machine, who dropped DONDA 2, the single "Zatoichi" and God Don't Make Mistakes, respectively. Also joining this selection are offerings from EARTHGANG, Bakar, Kehlani, Toro y Moi, Deb Never, Baby Keem and Robert Glasper.
Kanye West - DONDA 2
#Donda2 Experience LIVE NOW @kanyewest (https://t.co/T1k9LnSjNs) pic.twitter.com/Hm7sBOxRAm

— Amazon Music (@amazonmusic) February 23, 2022
Almost all the tracks from Ye's DONDA 2 are available now, but exclusively on the YEEZY Stem Player. Earlier this week, the artist formerly known as Kanye West premiered his 11th studio album during a listening experience in Miami, Florida where he shared the stage with the likes of Alicia Keys, Playboi Carti, Fivio Foreign, Pusha T and more.
Listen: YEEZY Stem Player
Denzel Curry x slowthai – "Zatoichi"
Denzel Curry and slowthai join forces for the cut "Zatoichi," which is set to appear on Curry's upcoming album Melt My Eyez See Your Future. The track takes inspiration from 1960's Japanese samurai movie character of the same name and Quentin Tarantino's Kill Bill Vol. 2, and arrives with a music video helmed by Adrian Villagomez. "I like traditional hip hop, I like drum and bass, I like trap, I like poetry, so a lot of that is going to be interwoven in this album including jazz and a lot of genres that I came up on as a kid and just being in my parents' house," Curry said of the album. "This album is made up of everything that I couldn't give you on TA13OO or Imperial because I was going through depression anger issues."
Listen: Spotify | Apple Music
Conway The Machine - God Don't Make Mistakes
Conway The Machine delivers his major label debut God Don't Make Mistakes, which features high-profile guest appearances and production work from Lil Wayne, Rick Ross, Benny The Butcher, Westside Gunn, Jill Scott, T.I., Beanie Sigel, Hit-Boy, The Alchemist, Daringer, Beat Butcha, Bink, J.U.S.T.I.C.E. League, Novel, Keisha Plum, Cosmo Beats and Conway's Drumwork label artists Jae Skeese and 7xvethegenius. "It was tough opening up doors that I haven't opened up in awhile. This is my story and sharing it all with the world is different for me, but I was happy to do it," the Buffalo rapper shared. "I know fans will love it."
Listen: Spotify | Apple Music
EARTHGANG - GHETTO GODS
EARTHGANG's sophomore studio album GHETTO GODS is finally here. Olu and WowGr8's first full-length release since 2019's Mirrorland, the 17-track record also features contributions from the likes of Future, J.I.D., Dreamville head J. Cole, Ari Lennox and more, and explores the search for the "god" within ourselves.
Listen: Spotify | Apple Music
Deb Never – "Crutches"
Deb Never is following up her 2021 EP Where Have All The Flowers Gone? with the new single "Crutches," which is a fierce mix of punk, new wave, grunge and effortless alternative-pop. The Korean-American artist is also set to hit the road with slowthai and Omar Apollo this spring, with dates starting from mid-March to late May.
Listen: Spotify | Apple Music
Bakar - Nobody's Home
Bakar's awaited debut studio album Nobody's Home is officially out. The 14-track record is produced by long-time collaborator Zach Nahome with contributions from SebastiAn and Matthew Tavares, plus guest appearances from Celsete and Maverick Sabre. "So much magic is happening at one moment it can be overwhelming. In those moments I feel invincible. Like I can get off anything, I can make anything and I'm gonna get off my ideas. It's a really enjoyable place to be. Once you get into that zone," recalled Bakar. "I had moved to Hampstead, a nicer area. I had gone from the bottom of the hill in Camden, Chalk Farm, to being at the top of the hill. That's a crazy thing to do from where I'm from. I guess the whole concept is me saying to a girl, 'I think I've found the spot. There's a whole new world up here, the top of the hill it looks different. Come see it.'"
Listen: Spotify | Apple Music
Kehlani – "little story"
With her new album blue water road set to drop soon, Kehlani delivers the brand new single "little story." Executive produced by Pop Wansel of production duo Pop & Oak and produced by Some Randoms and Wes Singerman, the track follows September 2021's "altar."
Listen: Spotify | Apple Music
Baby Keem – "16"
Bay Keem is revisiting The Melodic Blue with an accompanying music video for "16." Helmed by Jonas Lindstroem, the visual is billed as "a pictorial anecdote, which lays bare Keem's feeble and kaleidoscopic love life." The video arrives shortly after the pgLang artist appeared on Ye's DONDA 2 and just before he hits the road for a 28-date North American tour.
Watch: YouTube
Toro y Moi – "The Loop"
Chaz Bear, best known as Toro y Moi, is prepping for his upcoming album MAHAL with the release of its third single "The Loop." Its accompanying music video is helmed by Company Studio and sees the South Carolina-reared, Bay Area-based artist exploring San Francisco by GoCar, skateboard and a customized MAHAL Jeepney — a local form of public transportation found in the Philippines — with friends. MAHAL, which translates to "love" in Filipino, drops April 29.
Listen: Spotify | Apple Music
Robert Glasper - Black Radio III
Robert Glasper is celebrating the 10th anniversary of his GRAMMY-winning album Black Radio with the third installment, Black Radio III. A masterclass in hip-hop, R&B and jazz fusion, the record features high-profile appearances from H.E.R, Meshell Ndgeocello, Killer Mike, BJ The Chicago Kid, Big K.R.I.T., Lalah Hathaway, Common, Q-Tip, Esperanza Spalding, Yebba, Jennifer Hudson, Ty Dolla $ign, Ant Clemons, India.Arie, Musiq Soulchild, PJ Morton and more.
Listen: Spotify | Apple Music