The Best Pieces From Twitter's Corporate Office Asset Auction: Custom Signage, Herman Miller, La Marzocco and More
Elon Musk's misfortune could be your come-up.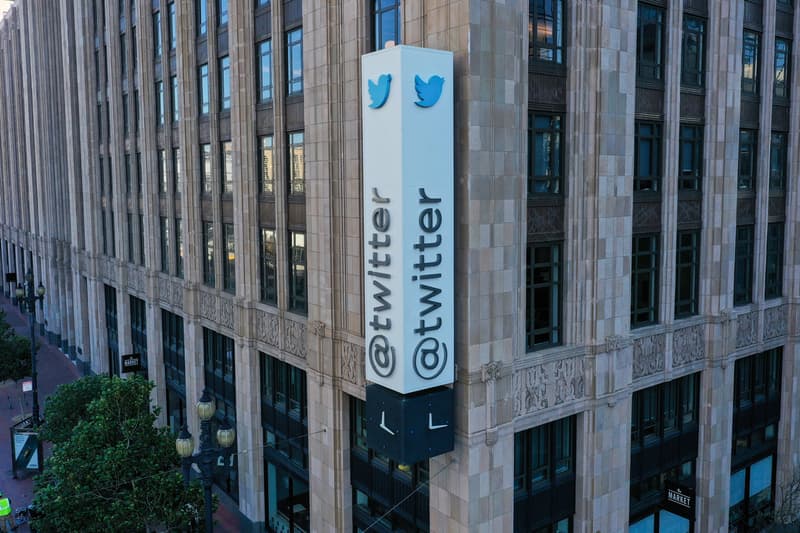 Elon Musk has faced many a storm as he desperately tries to keep Twitter afloat. Since buying out the platform in October, Musk has faced the fallout from mass firings, an exodus of advertisers (who provided the platform with most of its revenue), a widely-mocked new verification system, ad-hoc policies that shift at the drop of a hat and community polls on company leadership, to name a few.
Besides the above-mentioned layoffs, paid verification system and selling billions of dollars worth of his Tesla stock, Musk is also trying to alleviate the company's cash crunch by selling the furniture and machinery from Twitter's San Fransisco headquarters. Heritage Global Partners, an auction house that specializes in corporate liquidation, is aiding Twitter in the sale of their goods and have uploaded 351 lots onto their website — and it's looking like Musk's misfortune could be enterprising design, food and beverage fans' come-ups: the actions include pieces from Herman Miller, Knoll, La Marzocco and more. Check out a few highlights — and their MSRP ranges — below, and head over to the Heritage Global Partners site to check out all the lots and register for the auction before it opens on January 17.
Neon Twitter Bird Light Electrical Display
MSRP: N/A
This display is an absolute unit — you don't just get the neon bird, you get its backing, the stanchions that surround it and even the faux plants that hang from down above it. It's not quite the size of a SpaceX rocket, but at 10 feet tall it's not to be trifled with. Out of all the items up for auction, it may be the most interesting to see where this winds up.
Twitter Bird Statue
MSRP: N/A
If you're looking for some unique decor, want to bring some more blue into your home or simply reminisce about the good old days of Twitter before Jack Dorsey flew the coop, this monochromatic three-and-a-half-foot tall bird sculpture might just be the item for you.
"@" Sculpture Planter
MSRP: N/A
Standing just over six feet tall, this planter is just about the same height as Elon Musk. It may well wind up in the hands of a houseplant aficionado: even though the plants Twitter put in it are fake, just like the spam accounts that hilariously impersonated Nintendo a few weeks back, it can also hold real plants for those with a green thumb.
Knoll Womb Chair
MSRP: $5,165-$8,162 USD
Designed by Eero Saarinen for Florence Knoll in 1946, the Womb chair was created after Saarinen received a mandate from Knoll to design a chair that she could curl up in, similar to how many Twitter employees could likely use a place to curl up after the chaos of the last few months. It's a prime example of midcentury organic modernism thanks to its flowing, enveloping forms.
Knoll Bertoia Diamond Chair
MSRP: $2,645-$3,945 USD
Crafted by painter, sculptor and furniture designer Harry Bertoia, the Womb Chair was the result of Hans and Florence Knoll encouraging Bertoia to follow his interests and show them anything that sparked his curiosity instead of burdening him with an "extremely hardcore" design mandate. The end result? One of the key pieces from the single, highly influential capsule of furniture Bertoia designed for the Knoll crew.
Eames LCW Molded Plywood Lounge Chair
MSRP: $1,195-$2,545 USD
Essentially the Tesla of chair designs, the Eames LCW Molded Plywood Lounge Chair was named the "best design of the 20th century" by Time. Charles and Ray Eames conceptualized it when they were molding plywood in an apparatus they called the "Kazam! Machine," which pressed thin sheets of wood together against a heated membrane that was inflated by a bicycle pump.
Design Within Reach Jens Bench
MSRP: $1,795 USD-$2,095 USD
Designed by Jens Risom in 2008, the Jens Bench is an extension of the designer's famous Jens Chair and Ottoman, made in 1949. With no room for executive bombast or excessively bold statements, the Jens Bench serves up stately-yet-subtle Scandanavian design sensibilities that may be too low-key for this new era of Twitter but would look ideal in nearly any home.
Knoll Portable Sit-Stand Desk
MSRP: Varies
Knoll offers a variety of standing desks — with and without wheels, with pointed corners or rounded corners — in a veritable plethora of colors, shapes and sizes as varied as Elon Musk's slate of companies. The Twitter office has dozens of these desks to dump, and are selling them in everything from pairs of two to lots of 20, meaning you can table your need to buy brand-new furniture for your own home or office.
La Marzocco LINEA 1EE Semi-Auto Espresso Machine
MSRP: $11,060 USD
The best-known machine from one of the world's top coffee equipment producers, there's a good chance that the La Marzocco Linea is used to brew the cup of coffee you get at your favorite craft shop. How Twitter's employees will handle their extensive workdays without its caffeinated balm is up for interpretation, but what's not is that you have a chance to get a great deal on a pricy machine.
Beverage-Air BM23-B Kegerator Beer Dispenser
MSRP: $2,670 USD
La Marzocco handles the coffee, but Beverage-Air keeps the brew chilled and frothy. In Twitter's new corporate climate, there's likely no space for an afternoon pint. However, this unit's portability and quality is sure to keep the drinks flowing somewhere else.
Rock the Bike Fender Pro Recharge Station
MSRP: N/A
If there's one thing in this auction that says "tech company" above all others, it's this duo of Fender Pro Recharge Stations. A stationary bike with a small tabletop surface and charging ports, you can take a trek on a long road to nowhere and stay active while you work — or while you take a break from work. Rock the Bike's hybrid bike-desks retail for several thousand dollars, so if you're looking to pedal on the cheap this is a great opportunity to do so.
---
Editor's Note: All listed price ranges are from Design Within Reach, Knoll, Prima Coffee Equipment and KaTom Restaurant Supply