Stranger Things Day 2022: What To Do, See and Buy
According to the internet, it's also National Nacho Day. A perfect pairing, perhaps?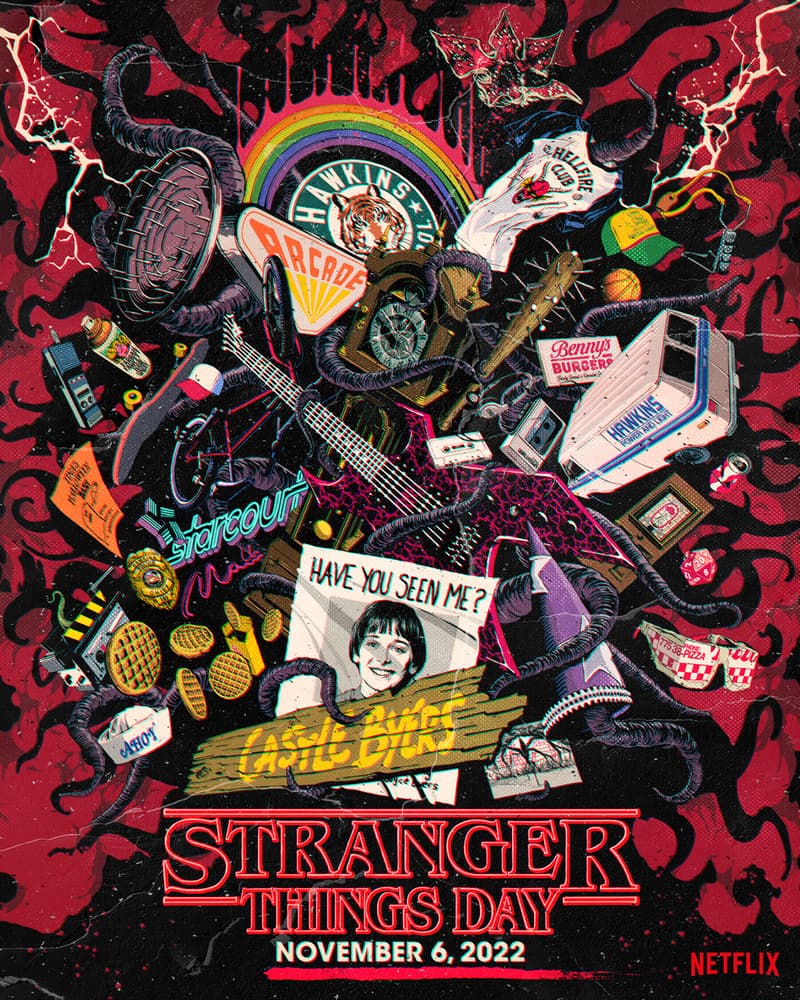 Stranger Things Day 2022: What To Do, See and Buy
According to the internet, it's also National Nacho Day. A perfect pairing, perhaps?
Today, November 6, is Stranger Things Day. Oh, you didn't know? Well, here's an easy way to remember: it's exactly one week on from Halloween, and — the important part — on this day in 1983, in a small (fictional) midwestern town called Hawkins, Indiana, a boy went missing. His name was Will Byers, and his friends — determined to find him when most of the town had given up searching — would embark on a mission that would hook millions of viewers, stretch over four seasons (so far), and introduce the world to Eleven, a mysterious, shaved-headed, hospital-gown-wearing girl with superpowers.
A little over six years ago, in the summer of 2016, the first season of Stranger Things debuted on our screens. It featured a then unknown cast of young teen actors playing parts based in a world two decades before their years. The retro feels of that pre-internet era took some viewers back to a time and aesthetic they recognized, and introduced an entirely other audience to the style, music and sneakers of '80s America: think double denim and Dungeons & Dragons, hi-top sneakers and ringer t-shirts, all supported by a wildly-colorful wardrobe and a heavy dose of brands like adidas, Converse and Reebok (side note: while the show would go on to release a collaborative collection with Nike, the earlier seasons quite accurately portrayed brands that were popular at the time).
So, like any 21st century cultural phenomenon, of course there is a global day of celebration. November 6 — while also National Nachos Day — is, to die-hard fans of the show, Stranger Things Day. And, like any "day" worth its place on your calendar, there are things to do.
This year marks the first time you can watch Stranger Things on the big screen. In select U.S. cities including Los Angeles, New York, Atlanta and Chicago (though, sadly, not Hawkins) fans can watch Stranger Things Season 4 at the cinema (you can find a full list of locations here). For fans who can't make it in person, the show has joined forces with Roblox to host a virtual watch party and immersive experience that kicks off from 11 a.m. PT. (you can get involved here).
And, like any event in 2022, if you didn't get the merch did you even go? The show has teamed up with Brazilian artist Butcher Billy for a capsule collection that's available online now and includes t-shirts, hoodies, art prints and more.
In other Stranger Things news, check out this limited-edition Futura Laboratories "Friends Don't Lie" vinyl figure, and if you know any fans of the show you might find holiday gift inspiration in our Stranger Things themed gift guide.