Supreme's Chicago Store Is Opening This Month
Confirmed by an Instagram Stories post from the brand with a register-to-shop link — plus wheatpasted posters around the Windy City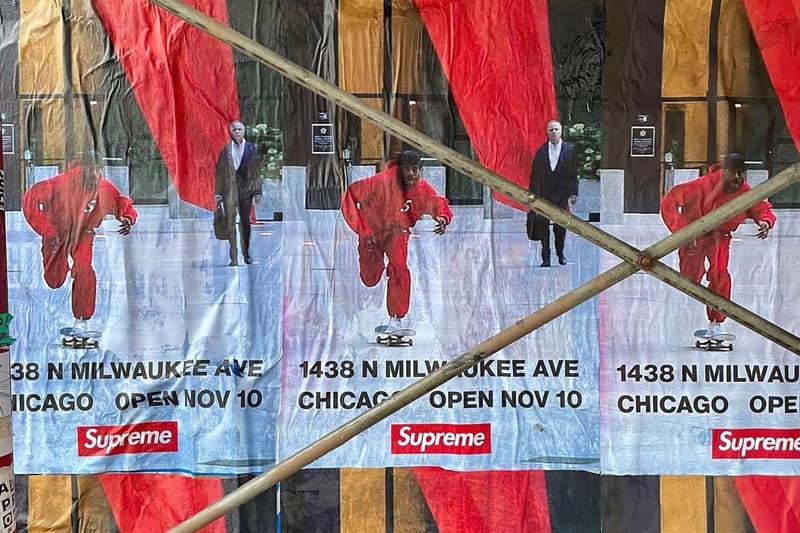 Rumors of Supreme opening a Chicago store began to swirl earlier this year, and now they've been confirmed: Supreme Chicago will be throwing its doors open for the first time this month. Photos of wheatpasted posters in Chicago advertising the store's opening began to swirl on Twitter earlier this weekend, and Supreme confirmed the news earlier today with a post to their Instagram Stories that provided a sign-up link for shopping the store on opening day.
No images of the store's interior have been revealed yet, but it's located steps away from Wicker Park on a major retail thoroughfare that also hosts adidas, Levi's and Carhartt stores. Supreme commemorates the opening of their new locations with special box logo tees, and it's long been rumored that the Pan-African flag box logo tee first seen as part of Virgil Abloh's groundbreaking Figures of Speech exhibit at MCA Chicago would serve as the Chicago store's launch day release. However, just like the store's interior, info on the potential special release is still forthcoming.
Supreme has expanded its retail footprint rapidly in the last few years, opening flagships in Milan and Berlin as well as rumors of stores in Los Angeles' West Hollywood neighborhood and South Korea. Their expansion into Chicago marks their first US store that's not bound to a coast: other Supreme stores in the USA are located in New York City, Los Angeles and San Fransisco.
Supreme Chicago will open on November 10, and is located at 1438 N. Milwaukee Ave.
Stay up to date on all the latest and greatest Supreme news right here.