A Closer Look at the Key Collabs Dropping for Stranger Things Week 2022
From Vans to Balmain, there's no shortage of high-profile brand hookups to celebrate Netflix's most popular show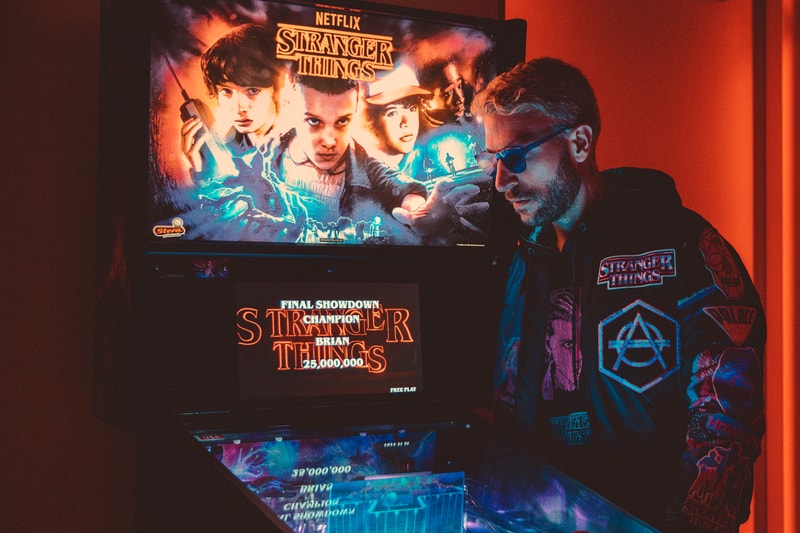 Last Sunday marked an important date in the calendars of die-hard Stranger Things fans. It was November 6th, the day that Will Byers went missing from the fictional town of Hawkins. To commemorate the occasion, Netflix has dubbed it 'Stranger Things Day' with several collaborations releasing over the dedicated week.
These drops range from a hookup with historic high-fashion house Balmain to a tightly curated collection of limited-edition pieces created in conjunction with Dutch DJ Don Diablo. It's fair to say there's something for everyone, and by using Hypebeast's new Gift Index, you can browse all of the action in one place.
One of the most talked-about collaborations has been the latest linkup between Stranger Things and Vans. The complete collection of footwear and apparel includes several themed spins on iconic silhouettes including the Sk8-Hi, the Old Skool and the OG Classic Slip-On, featuring references to the show in the form of vine prints, Hellfire Club insignias and more. Fans also have the opportunity to create their own Stranger Things x Vans designs, using the Customizer at on the Vans website to add exclusive artwork from the show to their chosen Vans shoes.
For fans of premium collectibles, the three-way collab between Stranger Things, Iam8bit and Chocotoy will be of particular interest. For the uninitiated, Chocotoy is a Venezuelan artist collective formed by Luis Alfonso and Karen Guevara. They're all about curved shapes, bold lines and bright colors. Now they've teamed up with purveyor of video-game and pop-culture collectibles Iam8bit to create a quirky 3D caricature of one of the show's best-loved characters.
The 'DUSTIN' figurine perfectly captures the curly-haired teen's infectious charisma, making it an excellent addition to any die-hard fan's bookshelf. And if you like that, you'll probably also be into what is perhaps one of the more bizarre partnerships to come out of the Stranger Things collab machine: a series of two-packs of action figures featuring key ST characters alongside various Teenage Mutant Ninja Turtles. The first set, released earlier this year, featured Leonardo and Eleven, and Raphael and Hopper. Plus, in early 2023, they'll be joined by Donatello and Lucas, and Michelangelo and Dustin figurines to complete the collection.
It's not all sneakers and collectibles though. Even Parisian fashion house Balmain has been sucked into the Upside Down for a collaborative collection. Featuring a color palette and pattern scheme that riffs on the styles popular during the era in which the latest season was set, it's an eye-catching mix of tie-dye, Memphis-inspired patterns and baggy fits.
There's also a two-piece collab with Dutch DJ, producer and visual artist Don Diablo. The collection is made up of a limited bomber jacket and a hoody, featuring patches that reference themes and imagery from the show, and graphic prints of key characters.
"After my Star Wars collaboration Stranger Things was definitely on the top of my list for the next fashion collab," he says. "I've been a huge fan of the series from the very start. We put so much love and detail into both of these limited-edition items, which serve as a taster of what to expect next. All I can say for now is that I am beyond excited for what is to come in the future!"
As if all of that wasn't enough, Netflix and Stranger Things have also joined forces with Moon Boot, Spalding and Lush on an assortment of co-branded products ranging from boots to bath bombs. The official store of Netflix – Netflix Shop – is celebrating all week long with daily drops in collaboration with even more artists and brands to give Stranger Things fans products they won't want to miss.
For a curated selection of the best Stranger Things collab items, head over to the Hypebeast Gift Index to shop it all in one place.