William Bowerman Breaks Down Their Preparations for Post Malone's 'twelve carat toothache' Tour
The WFB Live co-founder and Posty's music director puts a strong emphasis on meticulousness and self-discipline.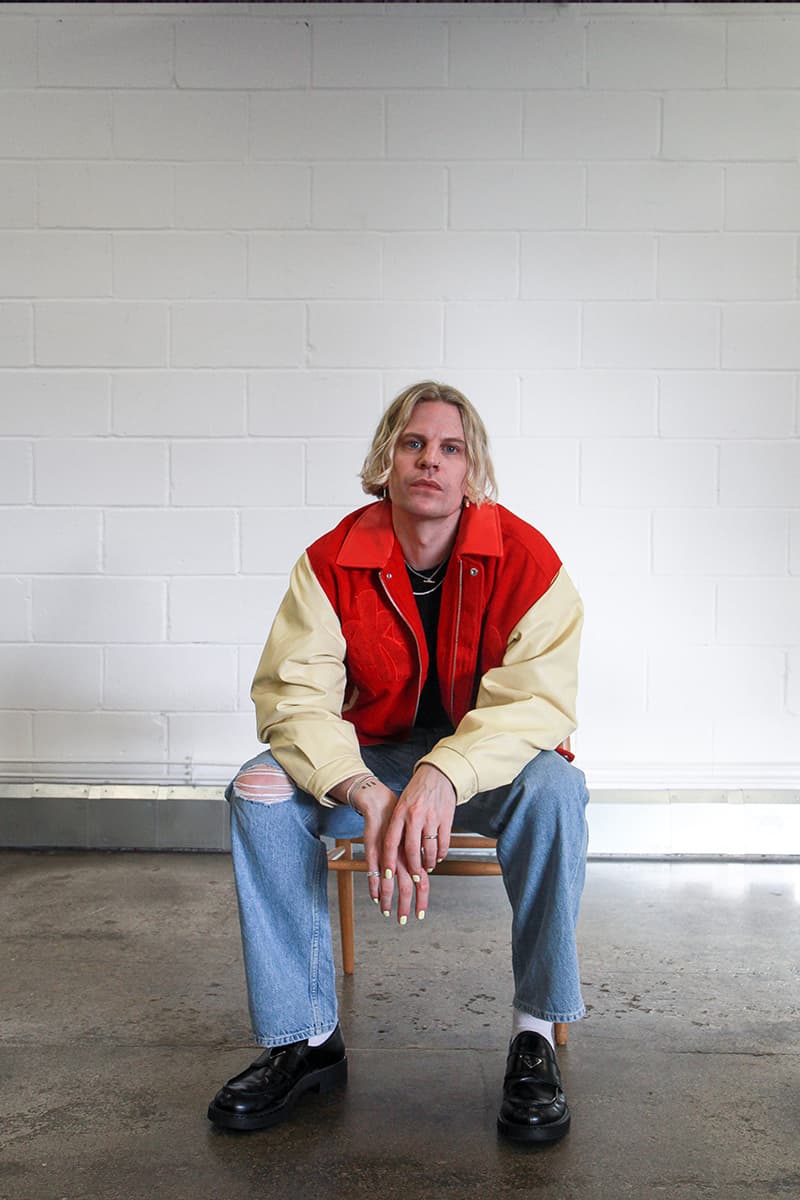 William Bowerman Breaks Down Their Preparations for Post Malone's 'twelve carat toothache' Tour
The WFB Live co-founder and Posty's music director puts a strong emphasis on meticulousness and self-discipline.
For William Bowerman of WFB Live, the most difficult part of his job as Post Malone's music director is slimming down the artist's extensive and impressive catalog for the 90-minute shows of the twelve carat toothache tour. A high level of discipline must be instilled in Bowerman and his team in order to create the ideal setlist for the twelve carat toothache tour, especially when his job entails breaking down and building up different parts of numerous songs, rehearsing with the other teams involved in the tour and ensuring that Posty is comfortable.
WFB Live may have been set up by Bowerman and his wife, Amy, just two years ago, but the former knew he wanted a career in live music when he was 12 years old. It was his interest in bands like Slipknot, Korn and Limp Bizkit that pushed his dreams to be a performer, and his teenage experience as the opening act for touring bands gave him early exposure to what and what doesn't work on stage. By the time he was 17, his band, I Was a Cub Scout, had a deal with XL Recordings that sent him around the world — which opened his eyes to an industry he had to stay a part of. Although his band eventually disbanded, he became the session drummer for GRAMMY winner La Roux, spending his 20s with other artists as either their drummer, band leader or music director. When it occurred to him that he enjoyed being a music director more than a drummer, he decided to hang up his drumsticks for good in 2018 when his work on the campaign for Dua Lipa's self-titled debut album came to an end. "Off the back of that tour, I started getting a lot of work and began to producea few shows a month on my own," he explains of his beginnings as a full-time music director. "However it quickly became apparent that this was unsustainable, so I started hiring other music directors and programmers to help me deliver the shows — and this was the start of WFB Live."
From there, the Bowermans and WFB Live served as an important cornerstone in the tours of Anne Marie, Jesse Ware and several of Dua Lipa's memorable shows, including her GRAMMY and BRIT Awards performances and her ongoing Future Nostalgia tour. But things hit a rough patch in 2020 when all live music was suddenly cancelled due to the pandemic. Rehearsals for the English artist's first ever arena tour were already underway when the first lockdown took place, but promo for the GRAMMY-winning album needed to continue regardless. In a stroke of genius, the Bowermans and Lipa's tour producer worked alongside Lipa and came up with the idea of producing and creative directing "lockdown performances," the first of which was aired on The Late Late Show with James Corden. These performances served as a perfect placeholder for fans who awaited the live and in-person return of Dua Lipa; they tuned in to her Studio 2054 livestream performance and turned it into the highest-grossing livestreamed concert in history. "I knew that mentally I couldn't stop creating, so it was very important to find a creative outlet whilst live concerts were on hold," he says. Post-lockdown, they made sure to show their love and admiration for her by attending her tour in spades: it's grossed at least $40 million USD as of writing.
With the systems for the Future Nostalgia tour in place and the triumphant return of live music, it was time for WFB Live to mark a new chapter with Post Malone. The twelve carat toothache tour marks the first collaboration between WFB Live and Posty, with the latter's creative director Lewis James being the link between the two, "Lewis proposed bringing us in on Post Malone's tour and we jumped at the chance, as we love both Post and Lewis' work." Bowerman added, "We push our artists hard, and I'm proud of that."
Can you run us through a day in your work life?
I'm a very early riser. I wake up at about 5 am to have some me time before the work day starts. I'm quite meticulous when it comes to my schedule and everything is blocked into 1.5-hour sections. This could involve making music for shows, reviewing work, writing setlists, speaking to clients or management, or any internal business that needs looking at that day. If we have rehearsals or a session going on, I'll often go down to check that everything is running smoothly.
Take us through the timeline of preparing for a tour as big as twelve carat toothache. What are some of the difficulties you face as a music director?
The process is super important for me. We have a 15-point checklist for each stage of delivering a show, and these are then also broken down into their elements. With a tour the scale of this one, it's really important to break it down into smaller sections.
It started with listening to Post's albums to learn the structures and feel of the songs. I'll read through the lyrics and talk to the team about our favorite parts. From there we will start splitting the songs into acts, based on what songs feel like they sit together. We'll start going through initial creative ideas, things that should be extended, remixed, stripped back, or built upon, all of which is written down. No idea is a bad idea at this point in the process.
When a framework is established we get to work on the songs. We're supplied with all the individual parts of the songs so we can break them down and build them up in the way we need for the live show. This is a really exciting process, as you can get into so much detail noticing instrumentation within the song that you've never heard before, which can spark a whole new idea. There are constant reviews and check-ins, and we keep building until we are in a place where we feel happy and can submit to either the artist or the creative director. We'll get feedback, make amendments and repeat the progress until we're signed off. This can take time but it's important to enjoy the collaborative relationship between all parties involved as it can bring new and interesting ideas to the table.
The next phase is rehearsals. We'll rehearse with the bigger team, sound engineers, choreographers and lighting director. It's our job to make sure that the music fits the greater picture and language of the show — it's always exciting seeing skilled people making dance breaks and light shows to your arrangements.
After this, our job turns from music director to coach. We work closely with the artist to ensure that they're comfortable on the stage and push them to be their best selves. This can range from vocal technique and confidence on stage to crowd interaction.
What are the necessary first steps a young person should take to enter a career in live music production?
When we're hiring young musicians for our live shows, straight away we look at Instagram to see what they can do. Instagram is almost more important than a resume, so I would recommend keeping yours up to date (and also having a private Instagram for things you wouldn't want your employers to see!). I feel that being in bands and playing for artists is the only way to transition into musical direction, and I also recommend waiting and absorbing the industry for as long as possible before making the jump to MD.
I do believe in Malcom Gladwell's 10,000-hour theory, and though being good at your craft is so important, however, how you act as a person is equally — if not more — important. Take touring for example. You live on a bus with 10 other people for months at a time. You are only on the stage for 1.5 hours of that day so knowing how to be respectful to people, socialize and know when you and others need their space and downtime off-stage always takes priority.
At the beginning of my career, I took every job that came to me as this industry runs on word-of-mouth. Every new job leads to a new contact, which leads to a new lead. It is a very small industry and word gets around quickly.
We push our artists hard, and I'm proud of that.
What lessons did you only pick up after working in the music industry?
The music industry certainly taught me discipline and hard work. Over the years it has also really opened my eyes to the type of people who get the most opportunities in music, and who don't. I believe that music is for everyone and roles within the industry should be open to any person. At WFB Live we will always strive to do better to embody this belief and facilitate making the industry more inclusive.
What is one thing about your job that most people would find unexpected or surprising?
I think people would be surprised how little of the job is actually making music.
Is there a secret to career longevity in this industry?
Being kind, working hard and being respectful are my secrets to longevity in the music industry. It is a tough industry that can really beat you down, so resilience is unfortunately also very important.
What are some habits you follow regularly to always maintain a good headspace for work?
I have a love-hate relationship with my phone. I don't love how anyone has access to your brain at any moment by sending you a text message. About a year ago, I stopped giving anyone my phone number and turned my email notifications off — and I've never looked back. I now get to choose when I am ready to start the day. Structure helps me — things like taking a proper lunch break made a huge difference to my creativity. I've also started giving my hobbies a much bigger place in my life.
What does a day off look like for you?
I love a road trip. Being in the car with my wife and my dog headed off on an adventure is my idea of heaven. I am a sucker for a spa day too, but will also take any opportunity to BMX with my friends.
How do you see your job evolving in the next five years?
We've been working outside of live music a lot more, consulting for brands like Amazon on their online series, and that's an avenue that I am pushing to grow. I want to grow the company into something much larger, and branch out into other industries — WFB Live creating music for fashion shows is a goal of mine. We are also shortly launching the company in America so getting a good footprint in Los Angeles is a real priority.
If not live music production, what would you be doing?
I love this question and I've given it a lot of thought. I would either own a bike repair shop or become a tailor.
Stay tuned for more features with music industry professionals — from managers to sound engineers, stagehands and others; the people who make the music world go round without standing behind a microphone.