Fashion Month Gone Wild: A Look Back at All the Biggest Moments From the Runways of New York, London, Milan and Paris
Including everything from Ye's YEEZY controversy to Rhuigi's Bally debut.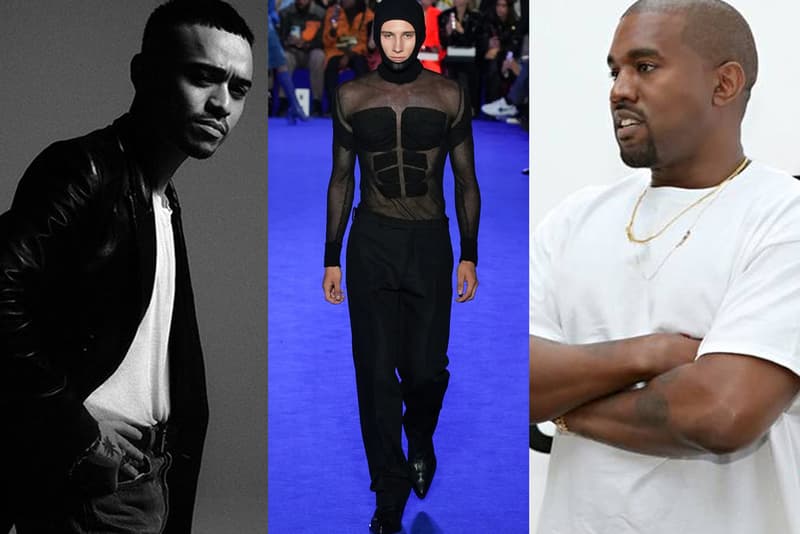 Fashion Month is the time of year when the global press, fashion buyers, retailers, designers, models, celebrities, influencers and on-lookers all converge to present, digest, dissect and discuss seasonal runway collections. It happens twice a year – from February to March, and again from September to October – and leaps between the four major fashion capitals of the world.
For decades, New York has taken the lead in showcasing its designer collections first, followed by London, Milan and then Paris. Moreover, Los Angeles seeks to regain entry into the fold, by reinstituting its once-hyped LA Fashion Week – tagging on right after the Paris showcases.
This year, designers and brands presented ready-to-wear and accessory items for the Spring/Summer 2023 season. Some labels greeted guest attendees with extravagant stage settings (like Balenciaga's mud show), while others opted for controversy on the runway (as seen with Ye's YEEZY Season 9 show).
Besides the two aforementioned events, several other big moments took place over the course of this fashion month, all of which can be seen below.
Designer Runway Debuts
Maximilian Davis for Ferragamo
After being tapped by Ferragamo CEO Marco Gobbetti to take the reigns as the house's new creative director, Maximilian Davis (a previous contender for the LVMH Prize), started with a fresh logo for the brand, and masterfully created a debut ready-to-wear and accessories collection for men and women that featured draping, suiting and relaxed fits.
Commenting on his debut for the house, Davis said: "I wanted to pay tribute to Salvatore [Ferragamo's] start by bringing in the culture of Hollywood – but new Hollywood. Its ease and sensuality; its sunset and sunrise. I want each piece to feel playful, but also desirable as an object – to stand on its own."
Pleasant surprises in the form of barely-there men's shorts and razor-sharp leather helped to ramp up the sexy factor in the collection, while contrast-color sleeving on sports jackets accentuated Davis' appreciation for the bold.
Beate Karlsson for AVAVAV
Beate Karlsson's AVAVAV runway debut presented a nouveau riche collection of ready-to-wear and accessory items that conceptualized the ideal of "success and failure."
Karlsson's collection incorporated a dizzying cadre of falling models wearing blinged-out bathing suits with dollar-sign emblems, sheath dresses that toyed with familiar designer logo implementation, extremely oversized hoodies and jackets, padded shoulders and artisanal denim.
Baseball caps adorned with icy dollar-sign emblems and the phrase "Filthy Rich" – as well as a three-piece, $300,000 USD Rolex necklace – helped to drive home the collection's "riche" theme.
Rhuigi Villaseñor for Bally
Rhude's Rhuigi Villaseñor has garnered the attention and accolades that many burgeoning designers strive for. As the founder of a prolifically rising label, he eventually raised an eyebrow of the Swiss luxury fashion house BALLY, and was asked to sign on as its new creative director.
Overseeing the production of the brand's seasonal men's and women's ready-to-wear and accessory offerings, Villaseñor's BALLY incorporated a bright display of Animalia, leather, plush velvets and airy fabrics in white, navy, yellow and citrus green.
The silhouette for his men's and women's collection veered between a sleek and playful 1970's look and a billowy bohemian, with lounge-style button-down tops and trousers that seemed befitting for the sandy beaches of St. Tropez or the sunny hills of Los Angeles.
Ib Kamara for Off-White™
Off-White™'s new Art & Image Director Ib Kamara frequently collaborated with the late Virgil Abloh, and signed on to the brand at Abloh's behest, to give oversight on the production of men's and women's ready-to-wear and accessories, starting with Spring/Summer 2023.
While still operating in his position as editor-in-chief of Dazed magazine, Kamara's second job at OW proved to be a fun outlet for creativity as his SS23 runway broke away from Abloh's influential design motifs and incorporated new flights of fancy, maximalism, razor-sharp detailing and a range of accessories.
Kamara seemed to draw inspiration from a futuristic theme, with model ensembles resembling a refined Matrix and Blade Runner-esque apocalyptic stylization in the form of long sweeping coats, aerodynamic hooded tops, knitted bodysuits, stack-heeled boots and front-facing leather backpacks attached to lean leather suits – subtly pointing a finger at society while wearing a socially conscious T-shirt bearing artist Jenny Holzer's famed "Abuse of Power Comes as No Surprise" phrase as he took his introductory bow on the runway.
Other big fashion house announcements included Burberry's installment of Daniel Lee as its new Chief Creative Officer, Harris Reed being placed at Nina Ricci, and Haider Ackermann being chosen as Jean Paul Gaultier's next guest designer.
Coperni's Fabrican Dress
Fashion Week can be a tiring affair. Sometimes it feels like you've seen it all – until changemakers like Coperni enter the room. Closing its recent PFW SS23 show, Coperni teamed up with the technicians of Fabrican to create a viral sensation and potentially showcase the future of sustainable fashion — by spray painting a dress on a nude Bella Hadid. Two technicians painted a dress onto Hadid's body before a rapt audience – then she walked onto the runway, displaying the now-dry dress. It was such a momentous moment that it was Hypbeast's biggest story from Paris Fashion Week.
Fendi's 25th Anniversary "Baguette Bag" Multi-Collab Show
This special anniversary collection featured men's and women's ready-to-wear items along with updated variations of Fendi's iconic "Baguette" handbag. To celebrate 25 years of the "it bag," the Italian fashion house returned to New York City to showcase its Resort 2023 collection co-designed by Tiffany & Co, Marc Jacobs, Sarah Jessica Parker and Porter – all before showing its Spring/Summer 2023 collection later in Milan.
An important focal point for Kim Jones (Fendi's Artistic Director of Couture and Womenswear), and Silvia Venturini (Fendi's Artistic Director of Accessories and Menswear), was to incorporate NYC's elements of street style and technical outerwear onto the runway; displaying utilitarian motifs in the form of tonal cargo pants, car coats with exterior zip detailing, moire bomber jackets with double-zip closure and envelope-sized pocket enclosures and leather windbreakers.
Balmain Festival
How do you pull off a fashion show extravaganza like no other? Welcome 12,000 people to a stadium, get Shy Girl to perform, and have Cher close the show – that's how. Balmain's Creative Director Olivier Rousteing told Hypebeast that the "sky is the limit," and for the house's latest collection over 100 looks proved that just so.