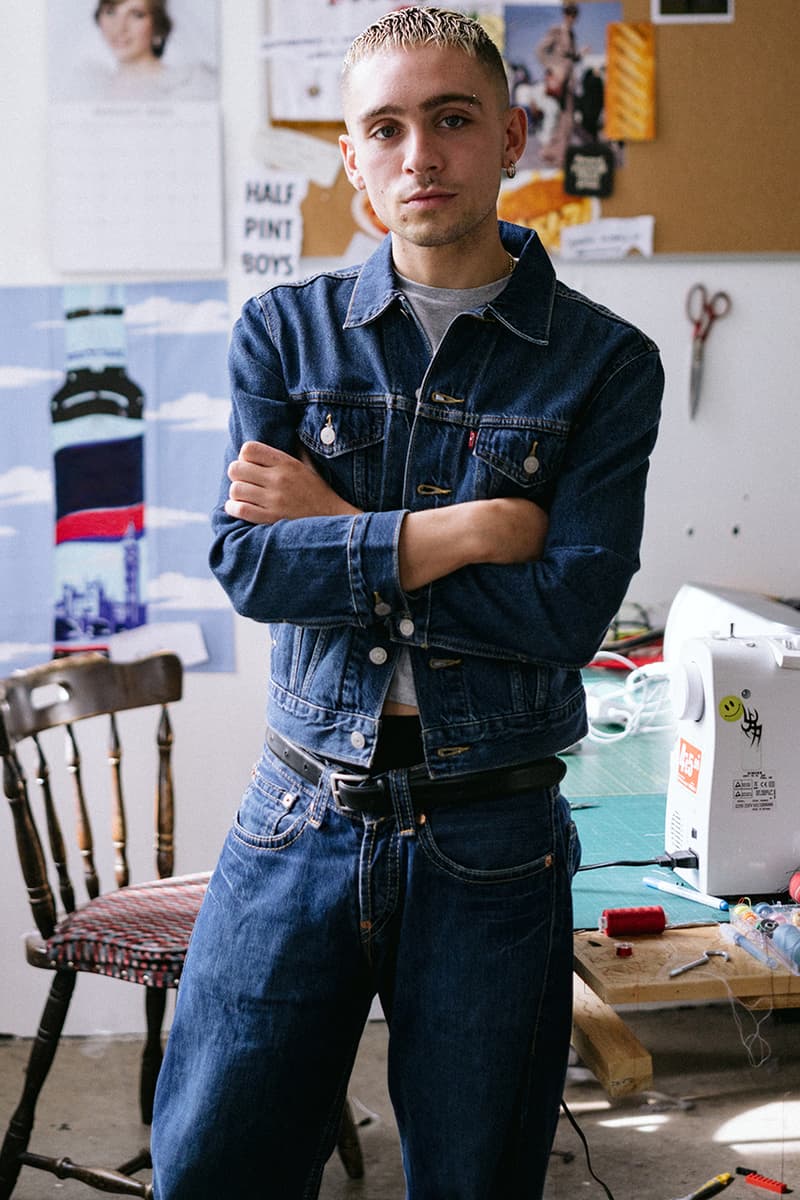 Corbin Shaw Debuts Large-Scale 'London Tapestry' for Levi's
Championing cyanotype techniques to map out his life in London.
Corbin Shaw Debuts Large-Scale 'London Tapestry' for Levi's
Championing cyanotype techniques to map out his life in London.
---
Corbin Shaw is an artist on the rise. Hailing from Sheffield, South Yorkshire, the creative now resides in London and has been at the center of his own uprising in recent months, jumping from the release of his Laws To Live By, Laws To Eat Off editions to fronting Perfect Magazine's cover, and now, working with Levi's.
Unveiled last night at Levi's recently-refurbished Regent Street, London flagship store, Shaw has worked alongside Levi's to create an original large-scale installation aptly titled London Tapestry. Made from denim, Shaw used a cyanotype method that sees the material look as if it's been bleached — however, through the power of UV light, depictions are transferred onto the artwork.
By using the cyanotype method, Shaw is able to ingrain memories of his life in London across the large-scale map. Hypebeast spoke with the artist to find out more.
Hypebeast: How does your artwork translate into the world of Levi's, and what makes the collaboration a good fit?

Corbin Shaw: Working with Levi's was such an easy fit because it's been a part of my life since I was about 13 — I remember getting my first pair of stone-washed Levi 501s with my Dad who told me what to wear to the football. My teenage uniform was made up of a bomber jacket, boots, and 501s. Football, gigs, and dates in the park. I got my life out of them. I still have that same pair back home in the garage. A 501 is a staple, a blank canvas on which we can project our identity onto depending on how we wear them.

Clothes are these 2D objects that cover our bodies and then our bodies imprint ourselves onto the clothes. With the London Tapestry, I wanted to imprint my life experiences onto the denim, so the streets, places, and spaces that have meant a lot to me whilst living in London are ingrained within it. This rich tapestry of my life is made of denim — denim is a fabric that has clothed workers, musicians, and the everyday person for ages. Tapestries are typically a status symbol for the regal, mine is more of a lack of status symbol for everyone.

How have you approached this collaboration?

I'm obsessed with denim and the way that each pair of jeans tells the story of the person who owns them, where they have been, what they have carried with them. Each fade is like a memory.

I moved to London for uni and the city started to become part of me, some of my favorite memories formed in certain parts of the city. The tapestry tells this story, my memories ingrained into the denim in the same way that they are my jeans do.

What does it mean to you?

London is huge. But in reality, my London is small; my people and places, it's basically become my village.
Corbin Shaw's new commission will be on display at the newly-reopened Levi's Regent Street until November 4, 2022. The artist will also release a limited edition set of slogan patches available to purchase from the Levi's Tailor Shop at Regent Street.
Elsewhere, check out some of Palace Gucci's most outrageous items.