What Does a $4M USD Bugatti Chiron Super Sport Actually Feel Like to Drive?
Hypebeast gets behind the wheel of the 1,600 HP monster.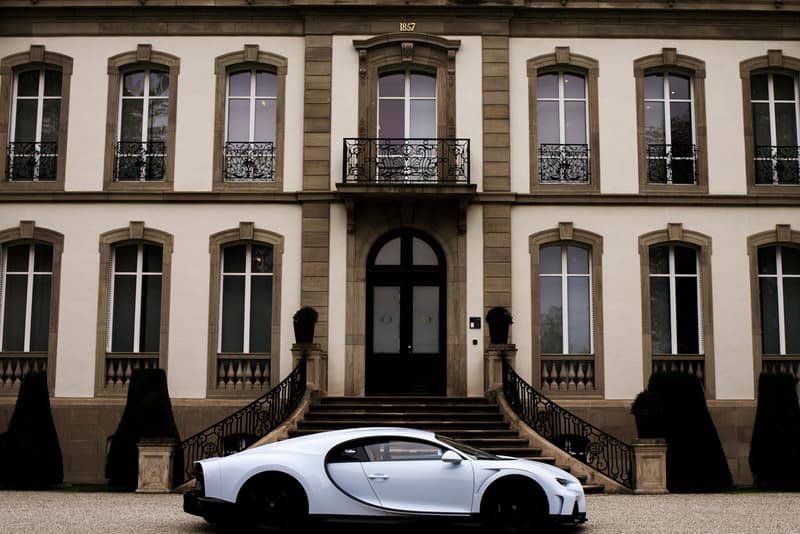 "If it's comparable, it's no longer Bugatti." The mantra Ettore Bugatti lived by, a statement that fulfills more than what is needed; words that don't just set a benchmark (because that would assume something could surpass it) but categorize Bugatti in its own world. Its flagship Chiron Super Sport is not a supercar, not even a hypercar – it is the final word in engineering mastery matched with artistic flair and passion. 
What Hypebeast witnessed simply blew our minds. Nothing can prepare you for what the Bugatti Chiron Super Sport delivers. Packing a quad-turbocharged W16 engine that produces 1,600 HP, 1,600 Nm of torque, and can reach 62 MPH from a standstill in just 2.4 seconds before going onto a restricted top speed of 273 MPH, accompanied by four-wheel-drive and an eyewatering price tag starting at $3,825,000 USD is enough to both whet the appetite of any petrolhead and simultaneously instill the fear of God in them. Fizzing with excitement, anxiety, and a knowing pressure that we were to be sat alongside Andy Wallace – a Le Mans winner and the man who took the Chiron Super Sport 300+ all the way to 304 MPH – we were about to begin our trip with the Bugatti. 
From the minute we opened its door, it all started to feel rather… normal. We had a comfortable seat swathed in fine saddle-brown leather. A minimal driver's display put a focus on the speedometer and a central split offered customizable information, which for us, was set to speed and power delivery. We were told the car could hit 1,615 HP if we were lucky, so that was the target. 
Setting off around town we found ourselves in a spot of traffic; there are worse places to be than sitting in traffic in a give-or-take $4M USD Bugatti. From here, we explored local roads at 30 MPH, roundabouts and speedbumps. It was all rather pedestrian, and the Chiron Super Sport showed us just how capable it is at being a usable everyday machine. 
But, things took a turn as we approached the highway. 100 MPH. 150 MPH. 160, 170, 180, 190, 200. Like nothing. With our foot planted, the car threw us back into the carbon fiber-clad bucket seats and pinned itself to the tarmac, cementing itself as one of, if not the, most formidable car around. We hit the magical 1,600 HP delivery figure with ease, and that in itself was an almost indescribable moment. 
If you haven't guessed already, what we're trying to explain is the capabilities of this car and how easy it makes driving at such speeds feel. It's not just quick from the off, it pulls in every single gear, encouraging you to explore your own personal rollercoaster for the road. Drop it into second and sling-shot ahead all the way to 273 MPH, if you dare. 
While we did hold on for dear life, we needn't. The Chiron Super Sport is a well-oiled machine. It simply hooks up and spits out the competition. When you're done driving like a maniac on heat, the whole thing winds back down to a quiet and tranquil state, giving you time to contemplate the discombobulating speeds you just achieved in the space of 15 seconds. 
Aside from speed and numbers – something Hypebeast promised it wouldn't bang on about on Open Road – aesthetically, you'll find yourself utterly enamored with the Chiron Super Sport. Its size and beauty is something to behold, both dominating and charming. Swooping lines, curvaceous C-shapes, the legendary horseshoe grill, that set of stacked quad pipes at the rear and an exposed engine bay leading the eye to a gargantuan wing command presence and attention, but are equally steeped in Bugatti's history. 
The Chiron Super Sport is Bugatti's tour de force. It understands and respects its ancestors like the Type 35 – a car from the late 1920s that won over 1,000 races thanks to its 130 MPH top speed – and, likewise, this car is the marque's last word in performance (not counting the sold-out 300+). Simultaneously, the car is a true feat of engineering, acting as both a dart for motorway runs and a cruiser for grand touring in comfort and elegance. 
Bugatti's cars are many things, but one thing that few know is that they're designed to be all of the above and still elegant. It started in 1909, and by 1926 the marque had produced the Bugatti Type 41 Royale, the largest, most powerful and most expensive car in the world. Fast forward to the new millennium and we had the Veyron, a hypercar during the day and a cruise ship at night that could be docked outside the Opera. The Chiron, and subsequently the Chiron Super Sport, continues this legacy of cars built to accomplish – and demolish – all.