Montell Fish Processes His Grief Through DIY R&B
The rising New York-based artist speaks to Hypebeast about his debut album JAMIE, its sequel EP and the catharsis he finds in music.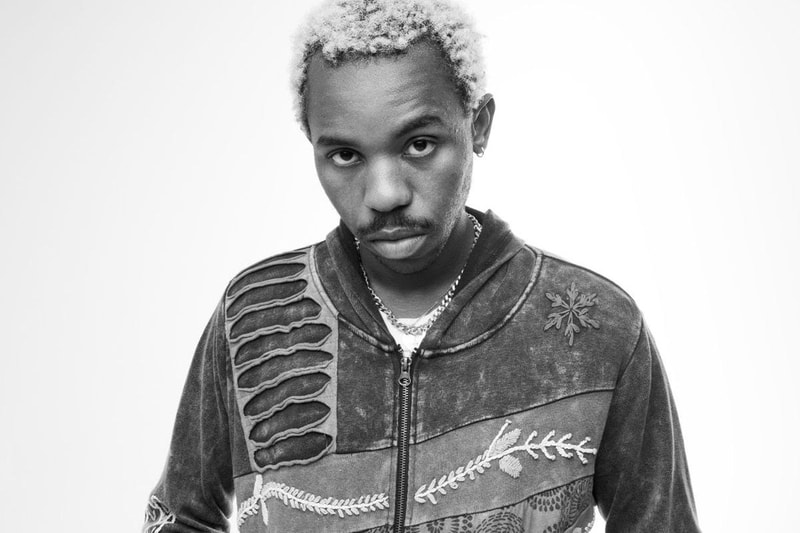 Few singers can encapsulate grief quite like Montell Fish. This summer saw the release of his debut album JAMIE, a raw exploration of the self in the aftermath of a breakup. Across JAMIE's 10 tracks, unedited vocals and poetic lyricism converge to carve out a harrowing musical narrative, opening with songs embodying the initial high of falling in love and closing with Fish grasping at things left unsaid as he mourns his relationship.
JAMIE may constitute the end of one chapter, but it's only the beginning of the 24-year-old Fish' story. The singer, currently based in New York by way of Philadelphia, has two more records in the works: CHARLOTTE and MARSHALL, which will join JAMIE to form a trilogy of albums that chart the various stages of the grieving process.
Before working on this mononymic trio, Fish made acoustic Christian ballads, self-releasing five projects between 2016 and 2019. He disappeared in late 2019 following Bedroom Lofi — a collaborative effort with record label Lord's Child — only to return in 2022 with revived energy and an evolved sound.
Bridging JAMIE and CHARLOTTE is a 7-track EP entitled Her Love Haunts Me Like A Ghost. Described by Fish as a "transitional project," the EP, which is out for streaming on October 28, serves as a sequel to JAMIE and a prequel to the forthcoming CHARLOTTE.
In conversation with Hypebeast, Fish shared that he was inspired to put out an EP because he "wanted more time to figure out how to build the world of CHARLOTTE."
"I like to build worlds around every project," he said. "When I was rolling out JAMIE, I included a lot of weird loopholes, clues for my fans about who Jamie is and where she comes from."
Probing themes of love, anxiety, intimacy, trauma and isolation, the haunting JAMIE ushered in a new musical era for Fish. It also landed him on the radar of a larger audience as listeners resonated with cuts such as "Talk 2 Me" and "Fall in Love with You."
Moving from JAMIE to CHARLOTTE, Fish noted that he took a different approach. "I kind of like building around a project, so while I wanted to work on CHARLOTTE and release it much sooner, I just need more time to build that world out. I had these songs that I felt like were leaving JAMIE and on the way to CHARLOTTE."
By mapping out a full-fledged album trilogy, the singer aims to "represent the process of grief" from different angles.
"Each project is a different emotion of when you lose someone, whether that be in a relationship or an actual death," he said. I wanted to show how I'm, in real-time, processing it through these projects."
Fish foreshadows that his music style will further develop throughout the trilogy. The new EP, for instance, sees him turn towards electronic-infused production, employing robust synthesizers and licks of the electric guitar.
"The sound of the next project is gonna be this more seductive, R&B-sounding kind of stuff," he describes. "That's why I felt the need to release this EP, just to show people that eventually a change is happening, so whenever it does happen, it's not as dramatic, you know?"
While the singer is continuously evolving in terms of theme and genre, his production process has more or less remained the same. All of Fish's music is written, composed and recorded from the confines of his bedroom. He also doubles as the producer for his songs, though that's more of an honorary title: most of what he puts out are his first takes at recording a verse or are minimally edited to preserve a raw "demo quality."
As he prepares to head on his first headlining U.S. tour, A Night With Ghost, at the end of the month — which will kick off with a show on the evening of his EP debut — Fish is contemplating how to translate the intimate DIY feel of his bedroom into a larger venue.
"Sometimes I like to bring a bed on stage and try to recreate my room," he muses. "I think that's something that people find interesting about my music."
"It feels like they're in their own bedroom. That's definitely something I like leaning into a little."