For Instructor Manolo Vega, Teaching Golf Is No Laughing Matter
Our interview with the veteran instructor delves into his upbringing, how golf can be fun, and today's younger players.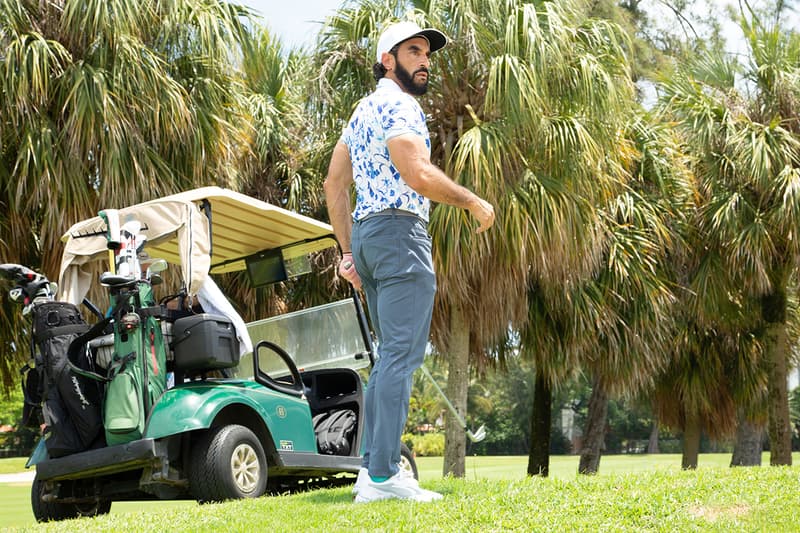 Manolo Vega, pro golf instructor and content creator, became an overnight sensation on Instagram, largely due to his comedic approach and jovial instructions. His friendly persona was first revealed when he started helping his friend Jimmy Tropicana with his game, and the simple advice and suggestions ultimately led to a content series beloved by golfers, new and seasoned.
Vega's popularity continues to grow at a remarkable rate. Luckily, HYPEGOLF was able to witness his charisma and talent on the course firsthand as an invited guest to our Miami Beach Golf Club, during our first ever HYPEGOLF Invitational. With his trademark catchphrases "Dassssit" and "Nasty" turned the event's guests in veritable Manny's Maniacs.
Recently, he was appointed as one of the hosts for Tito's Vodka, the first-ever Shorties Classic Pitch and Putt Match in Austin, TX. Manolo, along with PGA Tour professionals Harry Higgs, Harold Varner III, Pat Perez, and Joel Dahmen was appointed to play at Butler's Pitch and Putt. This event was a loose competitive tournament for charity that featured commentary by the illustrious Vega and former LPGA TOUR golfer, Belen Mozo.
HYPEGOLF was able to chat with Manolo Vega about how his journey started and how he got involved in hosting his first golf event on TV.
HYPEGOLF: What led to your involvement in the Shorties Classic Pitch and Putt Match?
Manolo Vega: Are you ready for this? [Jimmy] Tropicana and I were at the Ryder Cup, on the 17th tee located in the Skybox area. These guys were trying to join us and it ended up being four guys from Tito's Vodka. They roll up like they're tough guys from the streets and address us really quick. I check it out and notice these guys don't have any alcohol and they're not bringing out a bottle for us. I realize they have nothing to bring to the table literally but we were able to joke around and have fun.
They talk to Jimmy Tropicana and me about an event taking place in Austin, TX that we would be perfect for me to host. Their idea was for me was to host a nine-hole golf event so I started listening. The location is a pitch and putt course called Butler's which is a par-three course. Four PGA Tour golfers will play in this televised event but we don't know exactly who will be playing but there's an opening during the tour to grab players who can come and play. I was offered to host this golfing experience and now I'm really listening.
So Tito's get four PGA Tour professionals to play in the event and my job was to keep the cattle together – these "vatos" – and herd them like sheep. Then make sure that it's nasty.
Since you are a golf instructor how is it playing with PGA Tour professionals?
More fun. I've always considered myself a professional athlete in my mind, that's really where it starts is your mental strength and fortitude. I've always believed I can handle situations and be around the guys that do it for a living who are providing for their families. I am observant and see how they roll.
PGA athletes move and they're humans just like us but they're stronger up in here. They understand how to keep it going. This puts me in an arena where being with these guys felt like I was home. Number one: I grew up on a golf course so I'm always at home when I'm on the course. Number two: to be with the "vatos" that know how to do it, how to walk, how to talk, how to move it, and see them in their own arena. It just allowed me to be an even freer, truer, more expressive of who I am. It was easier. It was even more fun. It was the most fun.
Did you ever envision yourself becoming this famous golf personality from your tutorials on your Instagram?
No, I didn't think that but I knew I was that at some point in life, something great was going to take place. As long as I stay true to doing the things that I love doing, which are golfing, sports, fitness, health, embracing humanity, and always finding a way to make someone's life better by making them laugh and love. I want people to enjoy life and bring people together. I've always been that guy.
Every time Tropicana and I would make a video on the course, it's always respect for the game of golf first. You're never bigger than the game and I would always respect that element but knowing I can help people be better. I was helping Tropicana get better at golf so when we decided to post an Instagram, people enjoyed it. I know I obtained a good knowledge of golf since I was a little guy. I know how to teach that sh*t, it was a confidence in myself, the confidence in my abilities, but also knowing that this is nothing other than 'here you go,' 'enjoy,' 'that's it, go play,' 'flap your wings and you will be great,' that's it.
When did you begin teaching others to play golf?
When I was a little kid, my dad put me into baseball a year early. He put me in because he knew I can do it. Even as a kid I could always help people because I came from such a sports family.
Ever since I was a kid bro, whether it was football, basketball, or baseball but in golf, I was getting taught by my grandfather and my father at such a young age. I just believed in my elders and respected my elders. My grandfather especially so when he put a club in my hand and he put my hands in the right way. I saw how he lived in the golfing world, and in his world of real estate, and his profession where it was – I was just in awe. I always wanted to be around my grandpa because I always respected that. I just believed in my heart he wouldn't lead me astray.
As a kid I was never ashamed or never afraid because I knew that my instruction, where I was learning, was coming from the best possible place from the best possible type of people. So I could help my friends all the time in junior golf, I'd be on the driving range during little tournaments and I'd tell the homies that their stance is stupid. I'd instruct them on the correct way to set up. I was playing all sports and we would roll out to play golf with the homies but they never knew I was able to smack that sh*t. I would rip it and my friends didn't know because I was playing secretly. I've been teaching since I was a kid and you know I grip it like that because I'm a nasty "perro."
Who is someone that you have you helped along the way that you are proud of?
Jimmy Tropicana has got raw power. He's one of the most athletic "vatos" that I know. Golf is a different sport and a different game. It's a different mentality and with his abilities, I molded him into 12 to 14 shots better on a consistent basis. Tropicana learns differently than the average player, because he's got a crazy mind. You have to tap into the mind and come up with something that he can tap into.
Whether it's music or art or whatever he's into, just know that that's the biggest thing for teaching is finding what the person enjoys or connects with the most. I have to connect with that and then use the metaphors and use the "movida" that's for them to understand. For Tropicana, it's always a creative excitement for me and watching his scores drop, [or the] first time watching him shoot par the first time. A lot of times the instructor doesn't get to see what you do in life. They'll see you once a week on the range and you're making progress. But can you f*cking play golf? You can smack that sh*t, right? But what happens when you're in a bunker? What happens when you're short? What happens when the going gets tough? I don't know that. For Tropicana, I've been able to see it because we spend so much time together.
"Whether it's music or art or whatever he's into, just know that that's the biggest thing for teaching is finding what the person enjoys or connects with the most."
Are there any new professional golfers on the rise that you are currently working with?
I'm not working with any professional golfers at all. Now could I help a professional athlete? I believe in my heart that I can help any human being be better than they already are. Absolutely, and not even with their swing. Just their thinking can change in how they do what they do. It's like, you don't start from the tee, you start from the hole. Don't be nasty. You start from the hole and you move backward. You got to put the ball in the hole bro. Now let's maybe lag but now let's learn how to chip. Let's learn how to bunker. Now let's learn how to hit a 40-yard stick and then we move back. I see what you have, smack that sh*t. … So, [those are] my "movidas."
Anytime someone comes to me, I feel like there's a way that I can get into the mental aspect of them and unlock something that might be holding them back or actually instill a thought that will certainly help them.
So to answer your question, no, in terms of a professional golfer, I am willing and have the desire to one day do. That is the possibility and I would love to have that opportunity.
What is your greatest gift as a golf coach?
Patience, because golf is something that you can do forever. It's something you can constantly get better at. If you're working on an element of your golf game, like your swing or your chipping or your putting, it doesn't matter. It's going to take patience from somebody who will be your coach or instructor, guru, or whatever.
So patience is something that I've always been blessed with because I respect students and how some humans learn faster than others. I may be over-aggressive or antsy to get in a place where it's going to make you feel uncomfortable. I don't get down like that and you learn at your pace. I will instill the amount of practice I would like to see out of you and I will know immediately whether you've been doing it but at the same time, you have to manage your own life. You have kids, you have a business, you have work, there are things that take over and lead.
Now I am going to say that I am passionate, and I want the best out of us as fast as possible, but at the same time I have so much patience… I combined the two and try to instill and get out of you that desire to go and be great. Practice more and be better and I know the better I do my job, the sooner you'll do that.
What type of kicks do you prefer to sport on the golf course? Also, what equipment are you gaming for this short course?
I just always loved fly kicks. Old school stuff like Jordan releases. I am a fan of AJ4s, AJ3s and also see some Air Maxes here and there. The aesthetic to me is very important because it has to look good. Just like when your clubs look good, you have a fresh pair, a fresh set of clubs that already looks good to the eye. If your putter looks good to your eye, automatically it creates a change in your psyche and you feel more confident.
Anytime, I played any game I was always decked out fresh and ready to go. Anytime I step out of the house, I like to feel the same way. I like to be fresh-pressed and have it be good. I coordinate and get out there and there's already another element that takes place in terms of the things that I can control. I control my ability to be thinking even higher and vibrate higher all the time, since I always get down like that. I know that that's just who I am and the more I stay true to myself, the better things will be. So shoes are important. If I see shoes I like they must be got.
I'm playing Miura wedges now since a dear friend of mine down in San Antonio, TX custom-made them for me. The three wedges are a 60 or 55 and a 50 that he bent to my specifications, because those are very important clubs for my game. The lie loft and angle need to be in order for the golfer to be successful. I have a little bit of a longer arm so I need my clubs to be flat, so he bent them there. The metal is beautiful and sexy. I believe that these are the best wedges that I've played in terms of my ability to score, to have the shots come off the way they're supposed to.
Then I always take my 7, 8, 9, or pitching wedge as blades. Those are always going to be blades because I don't need to have a big miss. I don't need to have a big cavity back because those shots I don't necessarily miss too much. I want the ability to create and move the ball around and hit the shot that my mind has come up with the creativity. Blades allow me to do that. That's not for everybody though. You got to practice like a psycho and know what the ball is doing.
Thankfully I've logged thousands upon tens of thousands of hours of practice. That is what feels sexiest to me. In correlation with my shoe game, my belt game, my shirt game, and how I get down; everything coordinates and that's what makes Manolo.
"I control my ability to be thinking even higher and vibrate higher all the time… I know that that's just who I am and the more I stay true to myself, the better things will be."
Define today's modern-day golfer and why golf is becoming a more trendy social activity.
Today's modern-day golfer is hip, fun, and powerful. They have the ability to connect and be more in tune with the outside world. Also, they understand the possibilities with technology, Instagram and other social media outlets. Even in the PGA tour now, the more you are in tune with social media, they're going to lace you up and pay dividends. Phil Mickelson kept it so real that he still has that youthfulness because golf is youthful.
Golf is a game that can keep you having fun. You can always play even though when you get older you're not going to smack that sh*t as far as you once did. As you grow up, now is the time if you can take the game of golf as a young professional golfer and understand just how hard it is to win a golf tournament. Respect it in that way, and realize that we're on nature. This is out in thousands upon thousands of yards of expensive nature that God has blessed us with on this planet Earth. This isn't an arena and this is wide open for you to be as creative as you want to be and as nasty as you want to be. I see that the kids that are coming up have the respect that they will have for this and what they will instill in the youth.
The upbringing and how the game of golf [is played] didn't only survive the pandemic, it thrived in the pandemic. Things were collapsing literally, [and] for something to thrive in that I think people need to take a step back, smell the roses and look up to the stars. There's something far beyond what we see out here in the 3D world of how special this thing is. I think that people want to get out there and realize what's the allure? Why? It's because you're with your family, your homies and your "vatos." You're with your ladies and you're with the people that you want to spend time with. You get to just have fun smacking that sh*t but you're doing it by yourself.
It's like 'how good can I be? Okay, do this better, do that better.' Go out and get better every single time you play. Every single day of your life the better you're going to be. Golf does that if you think about it the right way. Sometimes you'll be great and sometimes you're not, but you learn from each movida and you keep it going for the rest of your life. Just continue to get better and learn. Keep growing as humans. Golf is the one game on the planet that you can do until you're dead. That's it.