TOMM¥ €A$H Cooks up a McDonald's "Sad Meal"
Ba da ba ba bah, I'm hatin' it.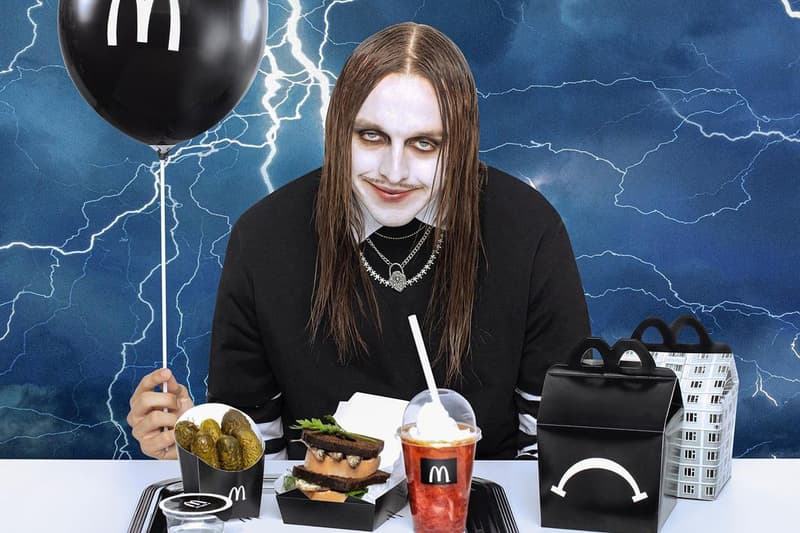 1 of 2
2 of 2
After dropping the longest pair of adidas Originals Superstars in the world and a pair of Maison Margiela "loaf-ers," the Estonian rapper TOMM¥ €A$H is now taking on the fast-food world with a potential McDonald's "Sad Meal" release.
Taking to his Instagram account, the artist shows off a full custom McDonald's "Sad Meal" set-up that gives the food chain's Happy Meal a dark twist. Coming in a black box with an upside-down smile displayed on the front, the "Sad Meal" features a serving of gherkins instead of fries, a twist on an Estonian open-sandwich that combines anchovies with dark rye bread, and a shake that's somewhat similar to borscht, but is instead just a red-colored iced drink with cream.
Rounding out the meal is a pot of water for dipping, aptly branded with "I'm hatin' it," and a switchblade knife that follows in the dark theme.
In the Instagram post, Cash says, "so mcdonalds told me that if we get atleast 15000 comments under this post then they will drop the sad meal… !!! so lets show em!!!" As of writing, the post has over 27,000 comments on it, so stay tuned to HYPEBEAST for more updates on whether or not this parody meal will officially release.
In other news, Panda Express has entered the "Chicken Wars."