Chris Bosh and Paul Pierce Among 16 Inducted Into 2021 Basketball Hall of Fame
The biggest class ever.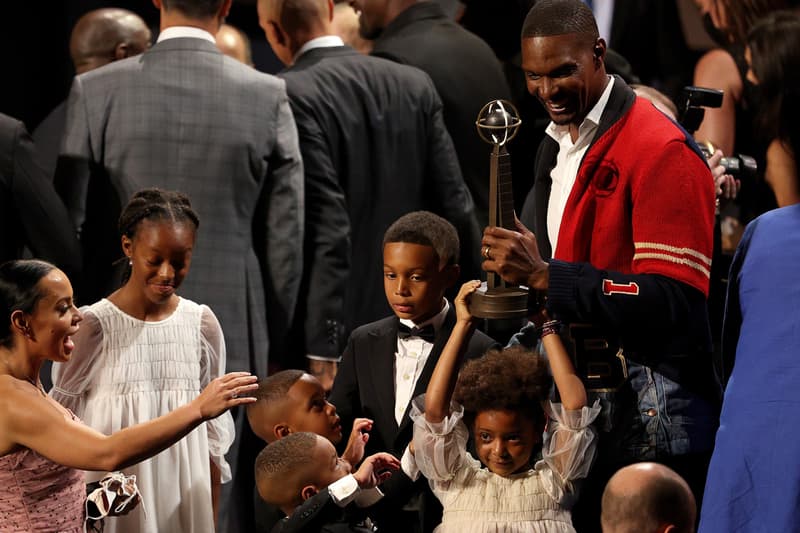 The Naismith Memorial Basketball Hall of Fame enshrines 16 players, coaches and contributors for its Class of 2021. The star-studded roster is headlined by players Chris Bosh, Paul Pierce, Ben Wallace, Chris Webber and Tony Kukoc while Rick Adelman, Bill Russell and Jay Wright are honored for their coaching careers.
Highlights of the celebration include Chris Bosh's heartfelt speech in which he thanks his Miami Heat coach Pat Riley and speaks on the abrupt end of his career due to blood clots, and how he turned that setback into a strength. "Legends aren't defined by their successes, they're defined by how they bounce back from their failures," said Bosh.
In his speech, Paul Pierce had a message for the teams that passed on him in the 1998 draft. "I appreciate that. Thank you for passing on me. It added fuel to my fire, to this day, I don't understand how I slipped to No. 10. But you know, everything happened for a reason. Going to the Celtics, I'm grateful," he said.
Bill Russell, who was inducted into the Hall of Fame as a player back in 1975, was honored for his achievements as a coach, becoming the fifth person ever to hold both honors. Russell was the first African American coach in NBA History and guided the Celtics to Championship titles in 1968 and 1969. In a video tribute, President Barack Obama recognizes Russell for his efforts as not only a legendary player and coach but also a leader during the civil rights movement of the '60s. "As tall as Bill Russell stands, his example and his legacy rise far, far higher," said Obama.
Two-time Olympic gold medalist Yolanda Griffith, Australian hooper Lauren Jackson, WNBA president Val Ackerman, college and NBA coach Cotton Fitzsimmons and high school basketball scout who ran Five-Star Basketball Camp Howard Garfinkel were inducted as contributors. Clarence "Fats" Jenkins was selected by the Early African American Pioneers Committee, Pearl Moore from the Women's Veterans Committee, and Bob Dandridge by the Veterans Committee to round out this year's historic class.
"Thank you for passing on me and adding fuel to my fire."

Paul Pierce really called out the 9 teams that passed on drafting him in his HOF enshrinement speech ?

(via @NBATV)pic.twitter.com/UEPXP7Ha9g

— Bleacher Report (@BleacherReport) September 12, 2021
Chris Bosh gives something back to Pat Riley. ? pic.twitter.com/oVhf8Y6tJe

— NBA (@NBA) September 12, 2021
Ben Wallace reflects on his long road to the @Hoophall. #NBAHOF pic.twitter.com/3PaxWz0umR

— NBA TV (@NBATV) September 12, 2021
"As tall as Bill Russell stands, his example and his legacy rise far, far higher."@BarackObama honors Bill Russell at his @Hoophall enshrinement ceremony. #NBAHOF pic.twitter.com/RRhhqLDAGB

— NBA TV (@NBATV) September 11, 2021
Ray Allen.
Dwyane Wade.
Chris Bosh.
LeBron James.

Former teammates at #21HoopClass Enshrinement Ceremony! pic.twitter.com/ljwQ9dzBbz

— NBA (@NBA) September 12, 2021
In other news, Stephen Curry was announced as Global Brand Ambassador for crypto trading platform FTX.