Magic Johnson Claims Kevin Durant Is the "Most Unstoppable Offensive Force in the NBA Today"
Giving KD his full stamp of approval.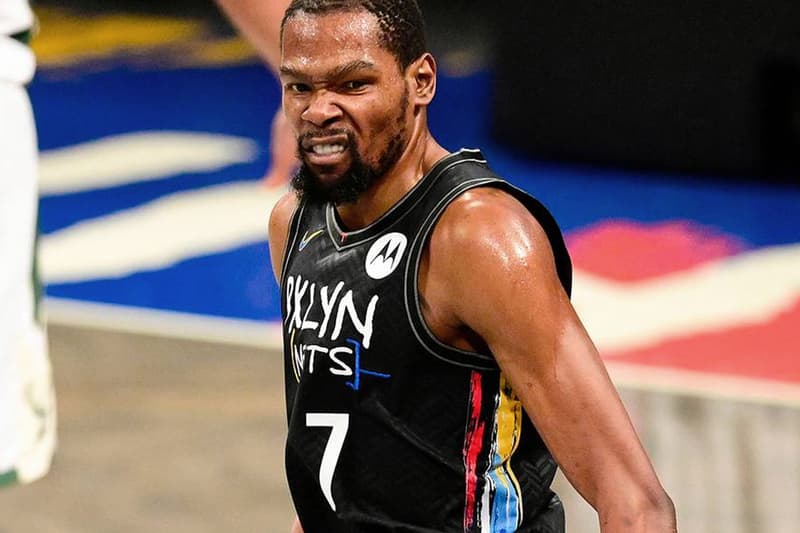 Kevin Durant is coming into the next NBA season as one of the players to keep an eye on. Sports analysts are predicting that Durant and the Brooklyn Nets will be NBA Championship Final contendors.
Being an 11x All-Star, 9x All-NBA player and 2x NBA Champion, Kevin Durant is considered one of the best players in the league and the sport. Though his ranking is continually up for debate, Magic Johnson has offered his insight on the snipe shooter, taking to Twitter to call him "the most unstoppable offensive force in the NBA today." According to the tweet, Kevin Durant and his business partner Rich Kleiman had dinner with basketball legend, Magic Johnson, which led to high praise from the NBA veteran.
In a recent conversation, NBA analyst Rick Kamla also commented on Durant's ability on the court, calling him the "best player on the planet right now."
Right now, heading into the 2021-22 season, is Kevin Durant.

I thought going into this that I might go with a younger guy, a Luka, a Zion somebody like that. But I'm like "Wait a minute". Kevin Durant has 6 more prime seasons left. 6. Not 3 or 2. He's about to turn 33.

My historical research has shown me and proven to me…Age 39 all bets are off. But these all-time great guys, the Garnetts, the Reggie Millers, the Michael Jordans, the Kevin Durants. Through age 38, I have found that there is not a major dropoff. Age 39 is when it gets weird for a lot of these guys.

If that continues for Kevin Durant, that's 6 prime seasons left. He's the best player on the planet right now, the most unstoppable player on the planet right now.
Expectations for Durant for this upcoming season come at an all-time high and if all goes well in terms of health and injuries, the Brooklyn Nets are looking to come back stronger and more dominant.
I had a fun dinner meeting last night with Kevin Durant, the most unstoppable offensive force in the NBA today, and his business partner Rich Kleiman. @KDTrey5 pic.twitter.com/CqhH20fzve

— Earvin Magic Johnson (@MagicJohnson) September 22, 2021
In other sports news, Conor McGregor's viral off-target first pitch draws comparisons to the worst to ever do it in MLB history.