Jordan Henderson Is Making a Stand
The Liverpool captain has won trophies on the pitch, and an MBE for his activism off it.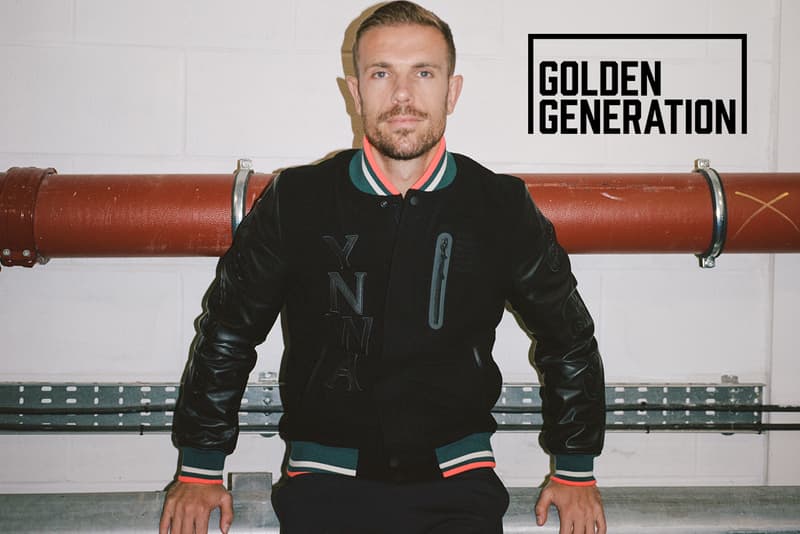 Golden Generation is a new series showcasing how footballers are making change off the pitch. Now more than ever, players are blurring the boundaries between football, music, fashion and politics. This new generation of footballers are more than just athletes: they have become role models with a passion and a purpose. The era of "stick to football" is over.
---
In April this year, Liverpool captain Jordan Henderson posted a video to his Instagram account. In the video, and the statement that accompanied it, Henderson was passionate and defiant — characteristics Liverpool fans will recognize from his on-pitch performances. "I've seen friends, team-mates, other players within football and in wider society be on the receiving end of horrendous online abuse which is now out of control," he said. "The platforms should be doing more but as a society we need to be kinder to each other – that's where it starts and stops."
Adding that he had considered deleting all of his social media accounts, Henderson instead vowed to use his platform for change. The statement concluded by announcing that his account — and its millions of followers — would be given over to The Cybersmile Foundation to "raise awareness of the impact that cyberbullying and online abuse can have on people."
"I've seen the effect this can have on players, especially younger players, and experienced players like myself," Henderson tells HYPEBEAST of the campaign. "It can be hard to deal with. I think it's important that people can speak and that they have a voice. If I'm passionate about something and I feel as though I can help people, it would be a sin not to."
"If I'm passionate about something and I feel as though I can help people, it would be a sin not to."
His work with The Cybersmile Foundation is just one example of Henderson's activism. Since he was appointed Liverpool club captain in 2015, he has grown in stature both on and off the pitch, where he has become an important ambassador for change. His charity work earned him an MBE earlier this year, while his support for the LGBTQIA+ community saw him named one of the top 10 allies in football.
Perhaps the first time that people were aware of Henderson's influence was in the early days of the COVID-19 pandemic. Seeing the tragedy occurring throughout the U.K., Henderson spoke to captains of other football teams across the country, leading them into the #PlayersTogether initiative, which donated money to Britain's National Health Service. "When my dad was battling through cancer he got support from the NHS, and I have family who work in the NHS," Henderson explains. "It's something I'm passionate about, and I felt that they could do with some help, especially with the times we're going through."
The motivations for Henderson's activism and charity work are simple. "To help people," he says unequivocally. "People look up to footballers, young kids love footballers, so to set an example and try and help people is the least we can do. The more people that can do that the better."
Through his work with other players, teams and captains — which also included leading the players' response to the now-aborted European Super League plans — earned Henderson the title of "captain among captains." Looking back on this now, though, Henderson bristles at the label. "I don't really see it like that to be honest," he says. "I've worked with other captains and representatives from across the league and they were all fantastic. All the work that we've done together is something that we can be proud of, but it certainly wasn't because of me. It was because of everyone involved, and I'm just a very small part of that."
The problems of online abuse Henderson has spoken out against were brought into stark relief this summer. In the days following England's defeat in the final of Euro 2020, the team's Black players — particularly Bukayo Saka, Marcus Rashford and Jadon Sancho — were subjected to sustained and widespread racist abuse. Yet in the aftermath of the abuse, England's team were a united front, demanding social media companies change, while also receiving support from politicians, actors and, most importantly, the wider community. It felt like football's new racism scandal had crossed over into the mainstream, and that this could be a turning point.
Henderson, who played in the final, isn't so optimistic. "I'm not sure if it is a turning point," he says. "[The abuse] is something that players are used to, and you see it all the time, it wasn't really anything new. But it highlights that there is still room for improvement, and how much needs to change. We'll keep going, we'll keep fighting against all discrimination and we'll do it together. Hopefully we can keep improving this."
"I've worked with other captains and representatives from across the league and they were all fantastic. All the work that we've done together is something that we can be proud of."
Henderson's response to the abuse suffered by his teammates shows the team spirit at the heart of the England team that made history in the summer. Speaking after the tournament, Marcus Rashford described the bond between the players. "A brotherhood has been built that is unbreakable," he said on Instagram. "Your success is my success. Your failures are mine."
For Henderson, this is part of the reason England got so far. "Team spirit is massive in sport," he says. "Getting to know each other off the pitch, getting to know each other on a deeper level, that can have a big influence on the pitch, and we've seen the benefits of that at both Liverpool and England."
As Henderson alludes, the Liverpool team is also known for the strong connection between the players. Last season, as the team suffered a downturn in form and results, this is what eventually carried them over the line to a third place finish and Champions League qualification. With the 2021/22 season now underway, Henderson thinks those difficult times offer lessons for this year. "Last year was difficult for many reasons, but hopefully we can learn from it and be better for it, from the experiences that we've had," he explains. This season we want to be competing in all competitions, we want to be fighting for everything, we're going to give it everything and see where that takes us."
Liverpool will also have an added weapon this season, as fans are allowed back into Premier League stadiums for the first time since March 2020. Many observers believe that the team will benefit more than most from the return of supporters. Henderson agrees. "The fans are very passionate about the club and the players," he says. "That transcends onto the pitch, it gives us a lift. It makes a huge difference, because of the passion and the emotion they put into coming to support us. I think we repay that by putting in performances on the pitch and showing the same emotion while we're playing."
In case you can't tell, Henderson didn't enjoy playing football in empty stadiums. "It's been totally different without them, everyone can sense that and see that," he continues. "Football isn't the same without them, it brings all the emotion back into football and that's really important."
The connection between fans and players is important for Liverpool at the moment, with the relationship serving as an inspiration for the club's recently-launched third kit. A particular influence has been the club's famous European adventures. "It's very special," Henderson says of Liverpool's Champions League games under the floodlights. "It's hard to replicate those nights at Anfield for a lot of reasons, they have a unique feel to them. I'm looking forward to playing them again with the crowd. Hopefully we've got many more to look forward to in the future."
Those European nights are important to Henderson. It's been two years since he achieved his childhood dream of winning the Champions League, and he's hungry for more success. For Liverpool to get there, Henderson will need to show the same leadership on the pitch that he is becoming known for away from football. "I'm just trying to help younger players feel comfortable and feel as though they can express themselves, whether that's for Liverpool or England," he says. "I try to be myself, I try to lead by example, and I try to help as many young players as possible."