World Cup Qualifier Between Brazil and Argentina Suspended After Health Officials Storm Pitch
Objecting that four Argentinians failed to comply with quarantine rules.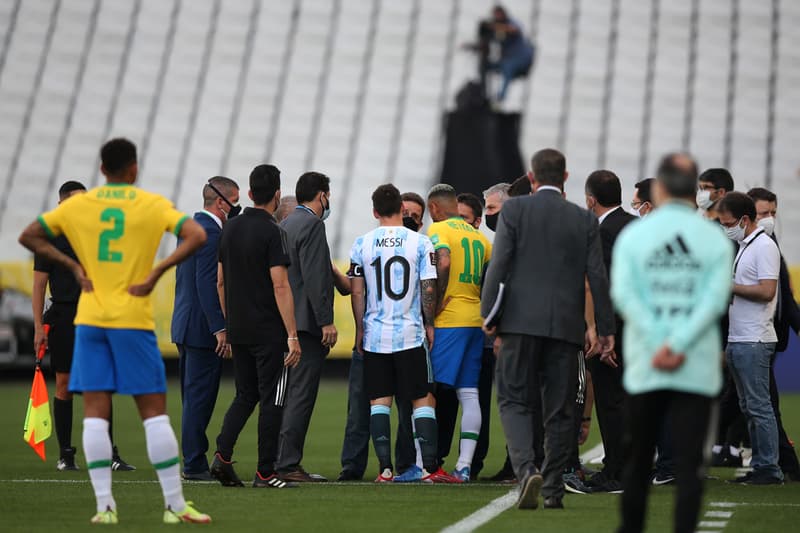 A FIFA World Cup qualifier between Brazil and Argentina was suspended today after Brazilian police stormed the pitch minutes after kickoff. According to health officials on duty, four Argentinian players who play in the English Premier League failed to adhere to federal quarantine rules, which states that anyone who comes from the UK in the past two weeks must quarantine for 14 days.
The four players include Aston Villa's Emiliano Buendia and Emiliano Martinez, to Tottenham Hotspur's Giovani Lo Celso and Christian Romero. According to a report published by ESPN, Brazilian health regulators were tipped off that the information given by the four players was indeed false. The players were allowed to go back with their team to the hotel, but no disciplinary action has been determined by FIFA or CONMEBOL, as of yet.
Naturally, Twitter and Instagram exploded as the news broke live:
Martinez, Romero, Buendia and Lo Celso arriving in Brazil: pic.twitter.com/VX4gJ6pFKG

— Footy Humour (@FootyHumour) September 5, 2021
In a statement on the matter, ANVISA, a Brazilian health regulatory agency, considered the situation a "serious health risk and so has asked local health authorities to determine the immediate quarantine of the players, who are stopped from participating in any activity and should be prevented from remaining on Brazilian soil."
Amongst the countries playing in qualifiers, South American teams have arguably been hit the hardest. Brazil alone is without nine key men due to regulations imposed by some clubs in Europe.
Messi and Neymar could only watch and discuss as the bizarre turn of events unfolded. Brazil v Argentina — perhaps one of football's biggest international rivalries was set to be a massive rematch that recently saw the latter lift the Copa America title on Brazilian soil. We'll have to wait to see what the next match holds.
In other news, Reigning Champ has partnered with Everlast on the limited White-Out capsule.