Mutaz Essa Barshim and Gianmarco Tamberi's Decision to Share High Jump Gold Warms Hearts
"Talk about Olympic spirit."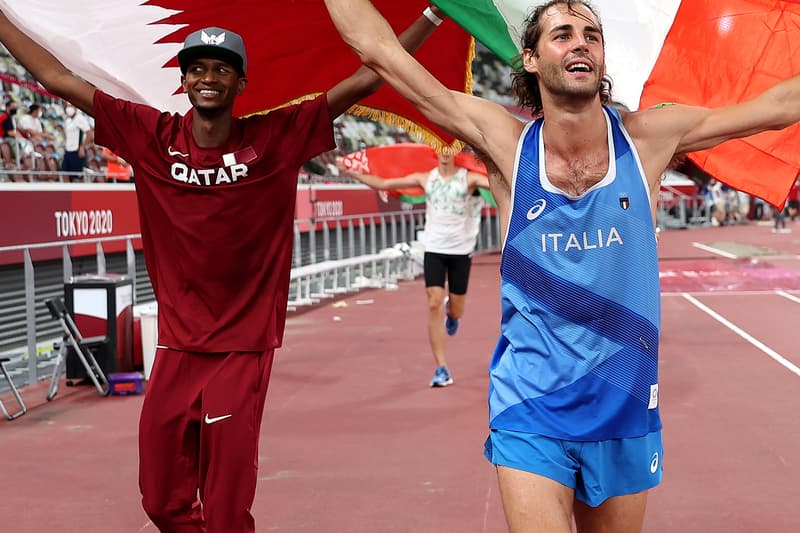 In a show of true sportsmanship, high jumpers Mutaz Essa Barshim of Qatar and Gianmarco Tamberi of Italy have decided to share gold.
Known for their friendship outside of the sport, both Olympians successfully cleared a 2.37-meter jump but missed the tie-breaking 2.39 meters bar. What happened next warmed the hearts of spectators on an international level. After a brief huddle, the two proceeded to ask the officials if they could tie for gold — which was confirmed possible. Embracing each other, the two went on to celebrate their shared victor with friends, family, coaches, and fans.
For Tamberi, this moment was extra special as he carried on to the track his cast from the career-threatening injury that sidelined him from Rio 2016. His cast read, "Road to Tokyo" with "2021" in place of a scratched-out "2020." "He's one of my best friends. Not only on the track but outside of the track. We're always together almost. True spirit, sportsmen spirit, coming here and delivering this message," Barshim told the Associated Press.
One commentator voiced, "Talk about Olympic spirit. The Olympic spirit is to build a peaceful and better world in the Olympic sphere which requires mutual understanding with the spirit of friendship, solidarity, and fair play. And we see this explained today so beautifully as they both get to share this gold medal moment."
NO ONE celebrates like the Italians do. ??? #TokyoOlympics pic.twitter.com/DcUcBFEZjE

— Peacock (@peacockTV) August 1, 2021
SHARING A GOLDEN MOMENT ?

Italy's Gianmarco Tamberi and Qatar's Mutaz Essa Barshim will share GOLD in high jump pic.twitter.com/MHBHqMlogC

— CBC Olympics (@CBCOlympics) August 1, 2021
In other sports news, Jamaica sweeps women's 100m sprint at Tokyo Olympics.