Taco Bell Is Now Testing White Hot Ranch Fries
Topped with a new sauce made of ghost peppers and buttermilk.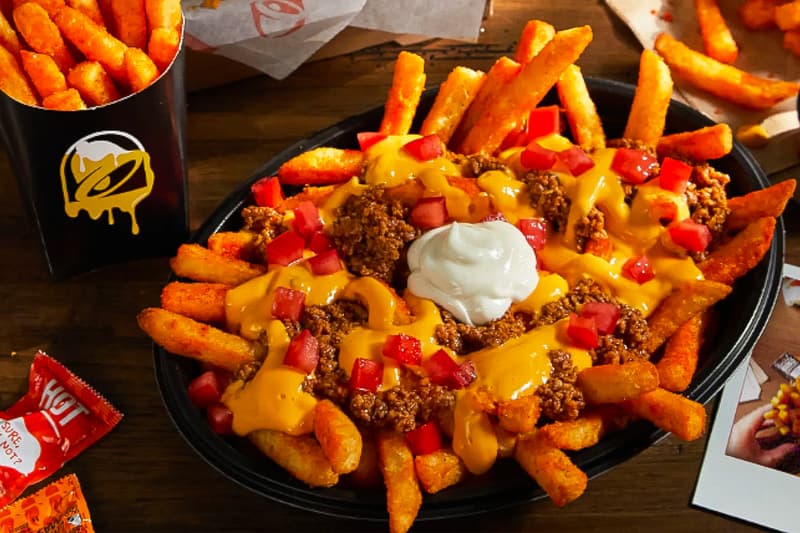 Following the return of its beloved Nacho Fries, Taco Bell is getting experimental with the re-release as they roll out a testing phase for the new White Hot Ranch Fries. While the Mexican fast-food chain has been having an issue coping with supply chain demands, possible new menu items are being rolled out in multiple cities across the United States.
Taco Bell recently dropped a taste test of its new Grilled Chicken Burritos in the city of Oklahoma as well as launching the 7-layer Loaded Taco Fries in Orlando, Florida. Its new menu item trial is headed for the Windy City as the Nacho Fries get an upgrade that boasts a spicy hot kick. The fries are topped with either seasoned beef or marinated steak, nacho cheese sauce, tomatoes, cheddar cheese, low-fat sour cream and capped with a generous glob of the new "White Hot Ranch Sauce," that's made from ghost peppers and buttermilk.
"The White Hot Ranch Fries can be ordered topped or in a burrito for $2.99 USD, and the Steak Hot Ranch Fries will be available for $3.49 USD," announced the Mexican chain giant.
If you happen to be in Chicago, join the testing phase of the White Hot Ranch Fries at participating Taco Bell branches.
Elsewhere in food, McDonald's Singapore readies Crispy Hainanese Chicken Burger.