SpaceX Installs 29 Engines on Massive 'Super Heavy' Booster for Starship's First Orbital Test Flight
The company's Starship launch tower in Texas has yet to receive FAA approval.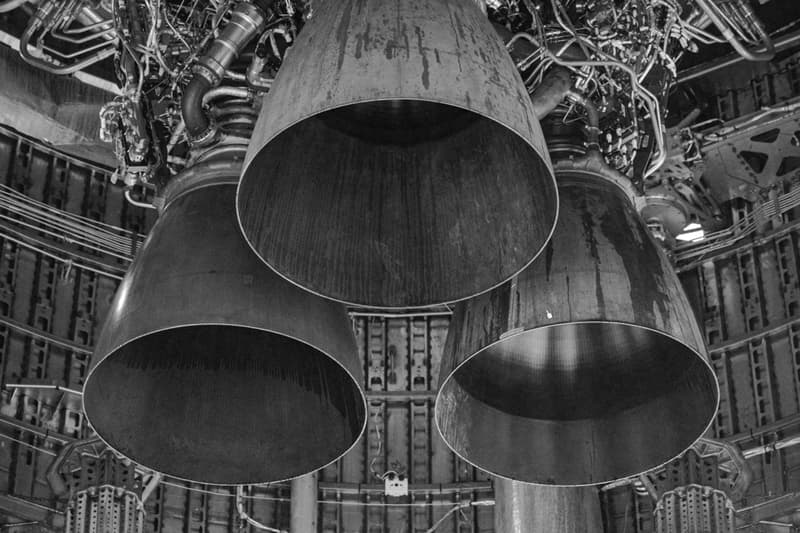 Elon Musk's SpaceX is gearing up to launch the first orbital flight test for Starship, the company's "full stack" deep-space transportation system, from the company's site in South Texas, near the Gulf Coast village of Boca Chica.
In order to provide a successful launch, SpaceX has created a massive booster, dubbed Super Heavy, that is equipped with enough power to launch the Starship prototype into orbit.
"29 Raptor engines and 4 grid fins have been installed on Super Heavy ahead of first orbital flight," the company tweeted on Monday along with two images.
29 Raptor engines and 4 grid fins have been installed on Super Heavy ahead of first orbital flight pic.twitter.com/XHkCZ9VYK4

— SpaceX (@SpaceX) August 3, 2021
Super Heavy will initially utilize 29 Raptors, though future iterations will be equipped with 32 of the engines, while Starship, the 165-foot-tall spacecraft, will hold an additional six Raptors.
To compare, for SpaceX's Falcon Heavy launches, the company enlists three Falcon 9 rockets, each with nine Merlin engines for a total of 27 individual power sources. Raptors, though, are crafted to supply more than double the amount of power of each Merlin engine, providing the Starship with more initial thrust than the company has seen before.
Raptors on Super Heavy pic.twitter.com/jJy1vftHNB

— Elon Musk (@elonmusk) August 2, 2021
SpaceX's first orbital test flight for Starpship will utilize the Super Heavy booster from Starbase to make a swift trip into orbit before attempting a soft landing in the Pacific Ocean, just off the coast of Hawaii. The booster will splash down in the Gulf of Mexico shortly after liftoff.
Though an official date has not yet been announced, SpaceX hopes to launch the uncrewed test flight before the end of 2021.
Earlier this year, however, the Federal Aviation Administration warned Musk's SpaceX that the company's launch tower construction for future Starship rocket launches is still unapproved. The company will need FAA approval to advance its rocket's testing.
Last week, NASA's Hubble Space Telescope discovered the first evidence of water vapor on Jupiter's moon Ganymede.