"Jurassic Park" Project in Komodo National Park Will Continue Despite UNESCO Warnings
Home to 5,700 giant lizards.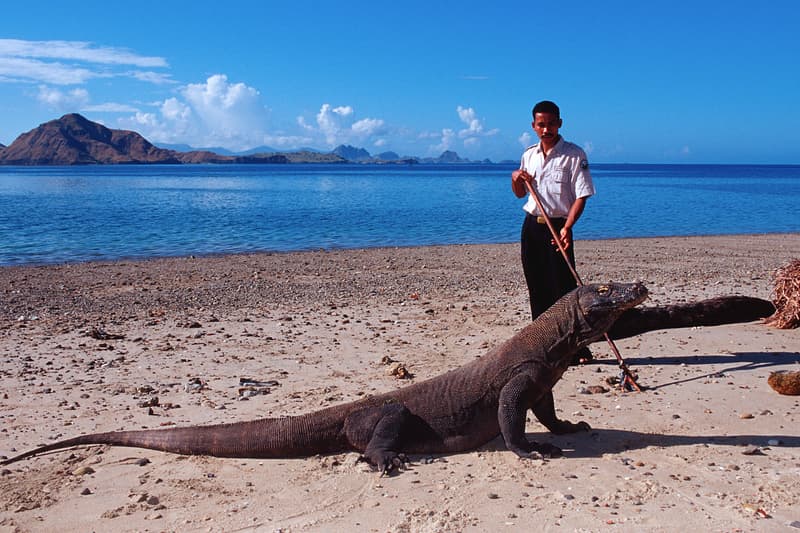 Despite UNESCO warnings, Indonesia's environment ministry announced that construction for the Komodo National Park tourism project will continue. The park spans across three volcanic islands in the Indonesian archipelago and is inhabited by around 5,700 Komodo dragons. The giant lizards can grow up to 10 feet long, have a poisonous bite, and exist nowhere else in the world.
The ongoing premium tourism project has been dubbed "Jurassic Park" in Indonesia after a campaign video featuring  Jurassic Park cinematic tracks were used in promotional campaigns and a photo of a Komodo Dragon blocking a construction truck went viral on social media. Both UNESCO and the Indonesian Forum for the Environment (WALHI) have expressed concerns over the potential impact on the region's pristine habitat and its human and dragon inhabitants.
A senior official at Indonesia's environment ministry told Reuters "this project will proceed…it's proven to have no impact." Exactly what is being built on the island of Rinca is still undisclosed.
Viral photo of Komodo dragon facing a truck sparks concerns about Indonesia's 'Jurassic Park' attraction https://t.co/a5ukovE9CR

— BBC News (World) (@BBCWorld) October 27, 2020
Tolong! Selamatkan Taman Nasional Komodo, Selamatkan Pariwisata Kita.

Ini video desain Bangunan Wisata Jurassic yg sdg dibangun di P Rinca skrg. (Perhatikan jg soudtrack-nya).

Apakah kita bisa dorong revisi desain ini, minimal bagian tengah yg mengurung Komodo itu? pic.twitter.com/NtOn5zmFM5

— Kawan Baik Komodo (@KawanBaikKomodo) October 10, 2020
Last lights on Padar Island. Komodo National Park, Indonesia pic.twitter.com/FXHPfeqDJi

— Sebastian (@Sebastian023456) January 10, 2021
Komodo National park was founded in 1980 to help in protecting the world's largest lizard, often called the Komodo dragon, and in the following year it was declared the UNESCO World Heritage Site. More: https://t.co/vJaqTM8og5#rintiskemajuan #kbrizagreb #Indonesia pic.twitter.com/MuzHS42ryS

— Indonesian Embassy Zagreb (@indonesiazagreb) July 23, 2020
In other travel news, Ace Hotel Brooklyn is now officially open.