Rick Ross Shows Off Massive Car Collection, Despite Not Having a Driver's License
Over 100 cars.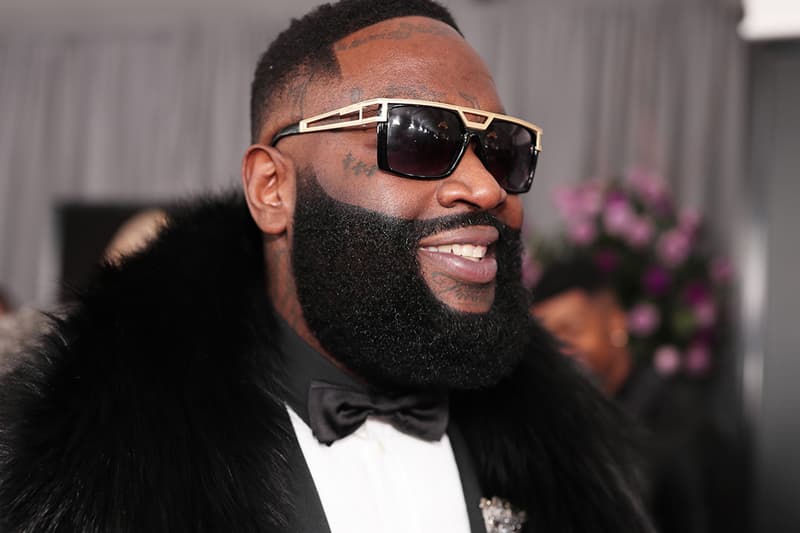 Rick Ross has recently unveiled his 100-plus collection of different luxury car models, however, the catch for the rapper is that he does not have a license to drive any of his autos.
The hip-hop artist took to Instagram Stories and asked himself, "Who own a hundred cars and don't have a driver's license?" In the video, Ross is seen shaking his head seemingly in disapproval of himself before sharing, "More importantly, I'm filling out every day for my driver's license and they ask me, 'Are you an organ donor? I said, 'Damn, if something was to happen to me and saw how good my heart was.' Don't let me die just to take my good heart."
For the longest time, Ross was a known luxury car collector. Earlier this summer, the rap mogul took to social media to flex his vintage car collection, showing off multiple rare 1957 Chevy Bel-Airs. In a recent episode on Jay Leno's Garage, he brought out his one-of-a-kind rocket red 1957 Chevy Bel-Air, impressing fellow car collector and former late-night host.
Although it comes as no surprise that Ross has an affinity for the lavish life, the rapper previously revealed in June, that he cut his own grass on his 200-plus acre land and even fly commercial to cut costs.
Take a look at a portion of his car collection below.
View this post on Instagram
View this post on Instagram
View this post on Instagram
View this post on Instagram
In other automotive news, Audi's 2022 Dakar Rally RSQ E-Tron off-roader might be its most monstrous EV racer yet.