Dover Street Market Paris Opens a Cobalt Blue Cafe Inside a 17th Century Mansion
In partnership with Crosby Studios.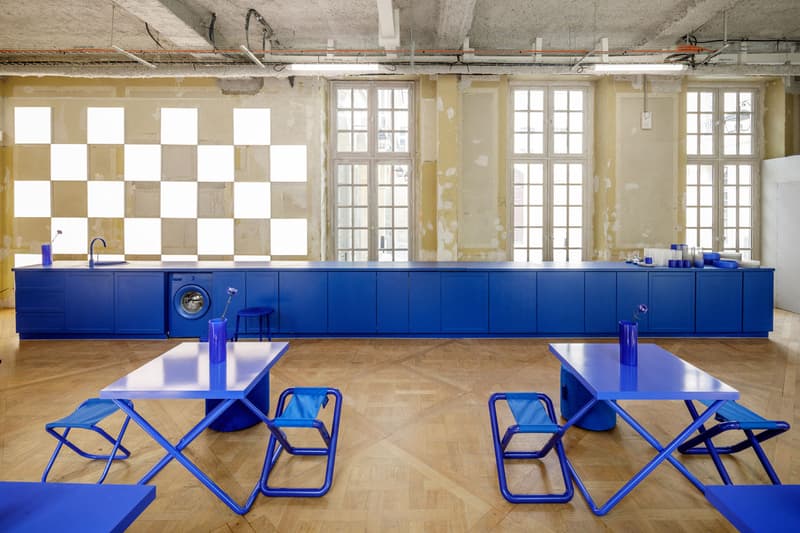 1 of 6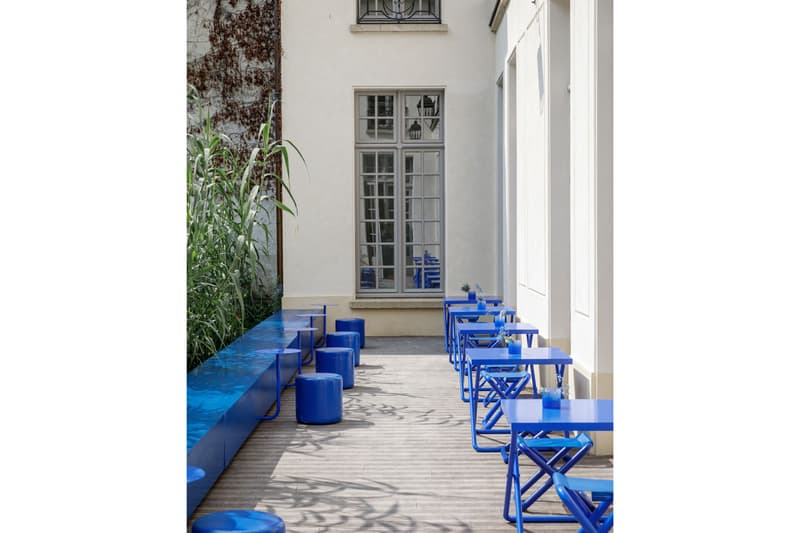 2 of 6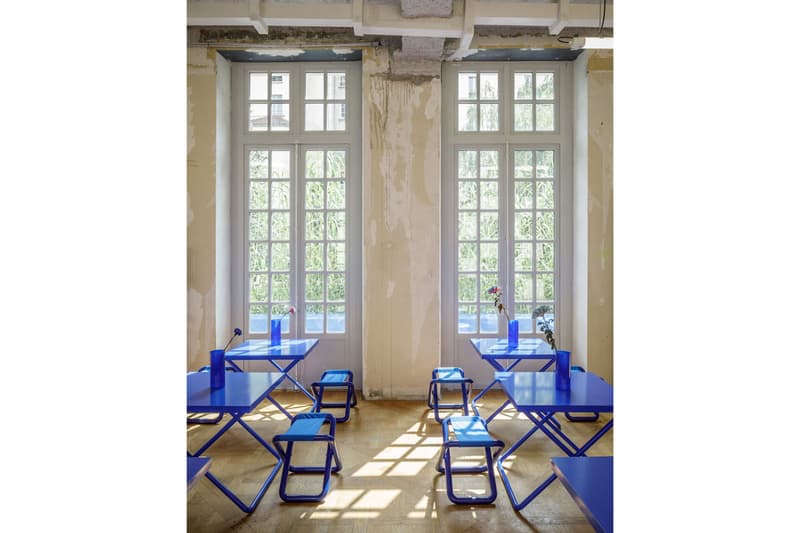 3 of 6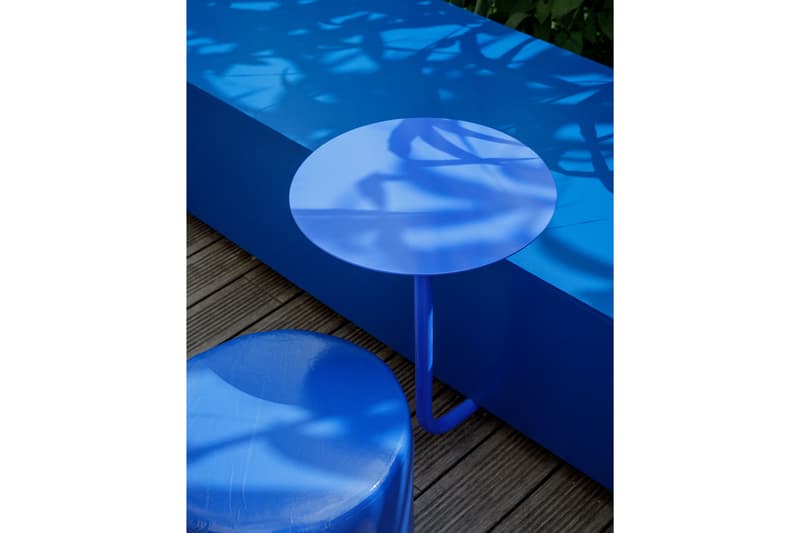 4 of 6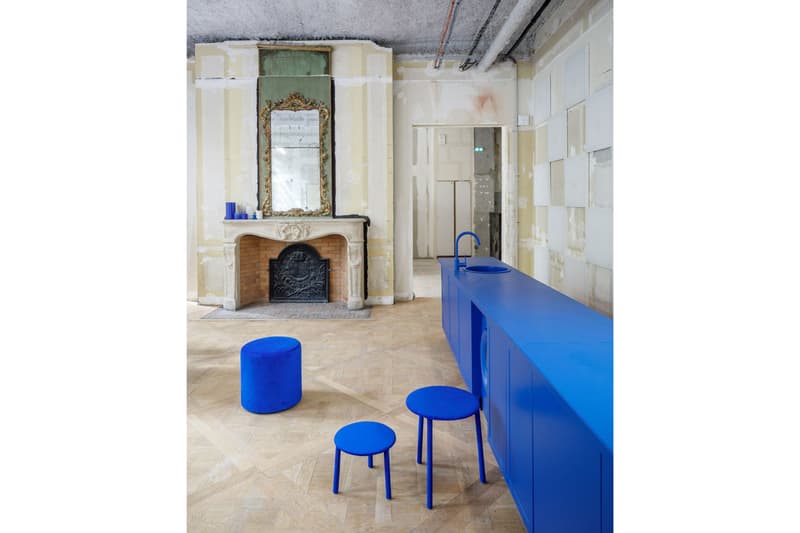 5 of 6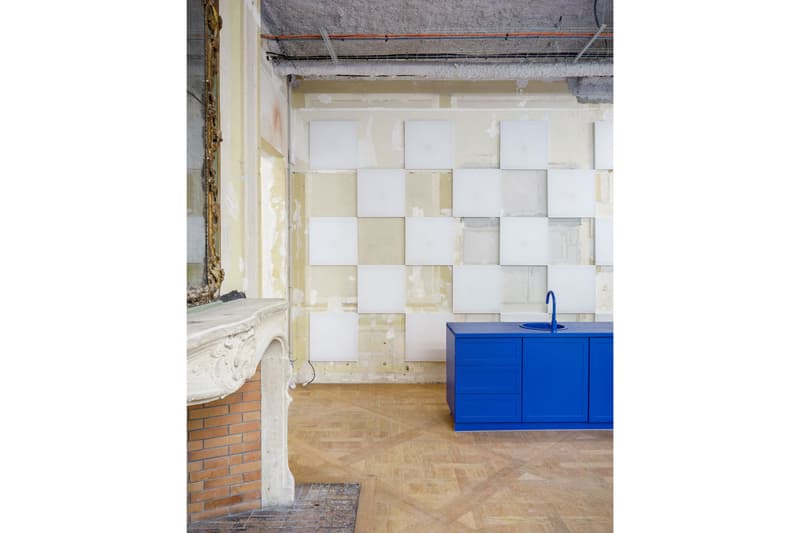 6 of 6
Dover Street Market Paris has enlisted Crosby Studios to open Crosby Café at 3537 — the Parisian retail company's latest incubator focused on the production of exhibitions, concerts, fairs and various other events — inside the 17th-century mansion and historic landmark, Hôtel de Coulanges.
Claiming the estate's foyer and terrace, which overlooks the Jardin des Rosiers Joseph Mignere, Crosby Café breeds new life to centuries-old architecture with contemporary furniture pieces by Crosby Studios Home in a cobalt blue hue. Upon entering the grand dining room, visitors will discover a statement-making, 9-meter-long kitchen island that commands one full side of the hall in the same tone, complemented by parallel dining table sets, consisting of folding tables, stools and poufs.
Though the set up feels like somewhat of an exhibition, each furniture piece is actually for sale, along with food from Rose Bakery and coffee from Ten Belles.
"The first time I entered Dover Street Market years ago, I experienced a new, unorthodox way of shopping that infused fashion with art," said Crosby Studios Founder and Principal Designer, Harry Nuriev, in a statement. "Paris is my power spot where I feel free, and I always knew I wanted to collaborate with Dover Street Market on something special. Crosby Café stems from 3537's mission as a platform for community exchange—a vision I share in my mixed-use concept spaces I create. Crosby Café is a place to enter an alternate reality within a traditional Parisian mansion where you can get inspired, enjoy a coffee, or hangout."
The first in a series of programs at 3537, Crosby Café will open its doors to the public on Saturday, July 3, and will remain open through the fall.
Hôtel de Coulanges
35-37 Rue des Francs Bourgeois
75004 Paris
France
Elsewhere, YouTube's new theater is set to be a 6,000-seat live entertainment complex in Hollywood.