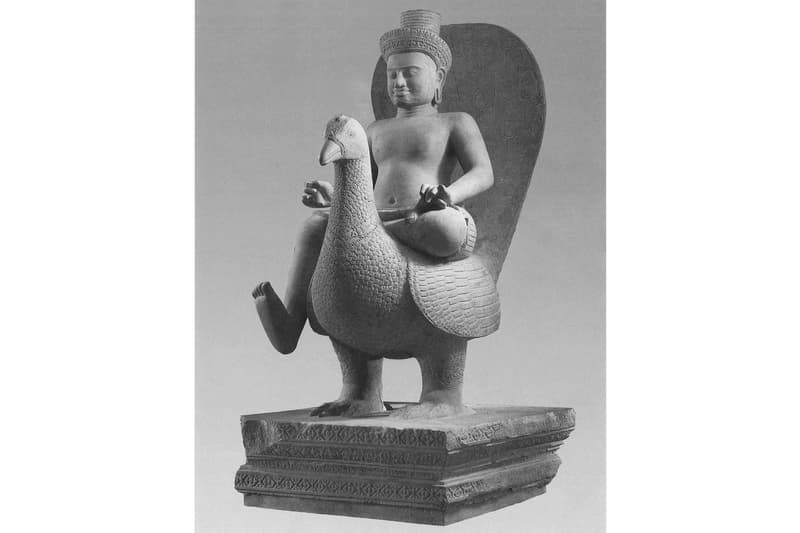 US Looks to Return a Priceless Cambodian Sculpture Stolen in 1997
A 10th Century artifact of the Hindu god of war, Skanda.
---
U.S. prosecutors look to repatriate a priceless 10th Century Cambodian sculpture, which was reportedly stolen in 1997. The statue depicts Skanda — the Hindu god of war riding on a peacock — a piece of history that is symbolic to the Cambodian people.
According to a report by The New York Times, the case was filed in Manhattan on Thursday and is directly related to the sculpture, which is in possession of the Department of Homeland Security. Prosecutors stated that the sculpture made its way to Douglas Latchford, who despite denying the claims, was accused of trafficking various types of stolen artifacts. Latchford passed away in 2020, and his daughter, Nawapan Kriangsak, looks to return over 100 stolen artifacts to the newly-expanding museum in Cambodia's capital city of Phnom Penh.
Attorney Audrey Strauss reiterates efforts felt across the global art community toward "ending the sale of illegally trafficked antiquities in the United States." Despite being linked to Latchford, investigators state that the Skanda sculpture was indeed first stolen by "Looter-1," a former member of the Khmer Rouge, who led over 400 members to steal valuable artifacts all across the country. The complaint traces back to an evening in 1997, where Looter-1 and a fellow member found the sculpture in a antechamber at Prasat Krachap — an ancient temple dating back to the Khmer Empire which ruled between 928 and 944 C.E. The sculpture was then transported toward the border of Thailand where it was later sold to Latchford, who was also known in the area as Pakpong Kriangsak.
Notably, Latchford was knighted in 2008 by the Cambodian government for donating money and antiquities, which included those of their cultural past. However, he was indicted 11 years later by a Manhattan grand jury on charges related to smuggling and conspiracy to loot Cambodian artifacts. After a conspicuous trail of sales across the world, the Skanda sculpture is now close to returning to its place of origin.
In related news, the Brooklyn Museum has also repatriated 1,300 pre-Columbian artifacts to Costa Rica.