Open Road: Jaguar F-PACE SVR
The model is more than a typical 'poser's chariot.'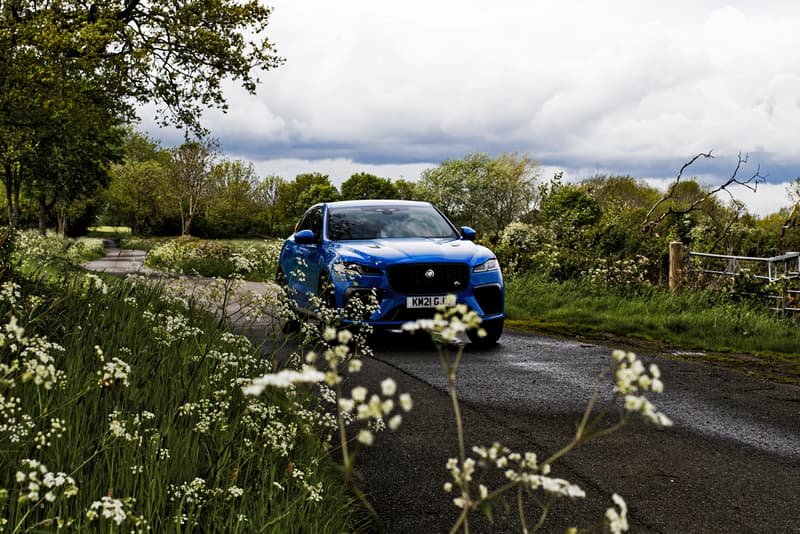 For car enthusiasts, driving is about more than just the technical specifics. Open Road explores not just what these cars do, but what they mean. Whether it's an old, new, or exotic model, HYPEBEAST is looking beyond the stats to unpack the simple pleasures of automotives.
---
On a typically rainy day in the English countryside in May, a Jaguar F-PACE SVR powered down a single-track lane tackling every twist, turn, bump, and leaf that fell into its path. A soundtrack of a grumbling and whining 550 BHP supercharged V8 (with the "make it louder" option obviously selected) woke up sleepy villages and demanded the attention of onlookers — how could you not stare at a "Velocity Blue" super-SUV riding on 21-inch rims thunder past? 
As you might be able to tell, the Jaguar F-PACE SVR — like other monstrously powerful SUVs — is anything but subtle. 
It's easy to rip into SUVs of this kind, and car journalists often do. They're driven by the "most annoying [people] on the road," reek of "entitlement," and are nothing more than "a symbol of excess" — and that's just from one report. Then there's the Chelsea Tractor attitude: the idea that people who own large SUVs with big engines are showing off their wealth as they charge through city centers, dominating the road and scaring away smaller motorists.
But the Jaguar F-PACE SVR is something different. It's a curious combination: a refined, British sensibility, juxtaposed with a style that, not so long ago, would be very un-Jag-like. And all at a price point sub-Bentley or Rolls-Royce. 
Jaguar is experiencing a second life, rejuvenated as though the marque's pulling a Benjamin Button. Its V8 SUVs and sports cars hit 0-62 MPH in under four seconds, have top speeds of around 180 MPH, bold colors, big red brakes, lots of tech inside-and-out, and yet, they wear a badge that says you're more refined than the likes of Mercedes-AMG G63, Porsche Cayenne, Audi RSQ8 or Lamborghini Urus owners. Indeed, the Jag's badge goes some way to redeeming the ostentatious presence of the F-PACE SVR: there's always a flat-capped gentleman nodding in appreciation as you drive past.
With all this in mind, it still begs the question: why would someone want this kind of car? This SUV handled roads like any other sports car, its weight leaning into corners confidently while steering felt direct and pointed, light yet responsive, all on sodden-wet tarmac. Driving anything other than an AWD SUV would be a far more daunting prospect.
Then there's the practicality: seating for five, with room for a dog in the boot and a whole load of shopping, coupled with leg room and space either side of each passenger, all packaged in a car that thinks it's a supercar.
But beyond that, with an SUV, there's a sense of gravitas. You have to treat a car of this size and with this much power with as much respect as the lightest, quickest sports cars. 
Yet, the Jaguar F-PACE SVR seems to encourage you to drive it fast, it's eagerly awaiting for you to drop the gears on the flappy paddles behind the steering wheel, kick it into sports mode where it's biased to the rear wheels (again, very un-SUV-like), and give it the full boot.