Everything the Savvy Sneaker Reseller Needs to Know About Upcoming Nike Dunk Drops
The first installment of The Resell Report.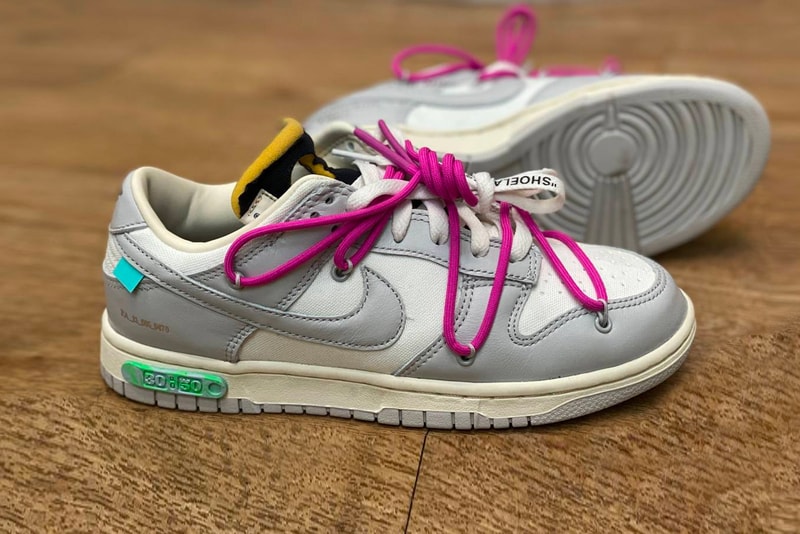 eBay, the O.G. of online sneaker resale, is here to give sneakerheads the heads up on how to score with this summer's big drops. In the coming weeks, HYPEBEAST and eBay will break down the most anticipated colorways for the biggest silhouettes. This week: it's all about the Nike Dunk.
Dunks never die. They multiply. As the name suggests, the Nike Dunk was originally designed as a basketball shoe. As His Airness made Jordans the biggest shoe on earth, the humble Dunk fell out of favor. Skaters brought the shoe back to life in the early '00s, but through releases like the now-legendary "Dunkles," the retro leathers became the canvas for another culture: sneakerheads.
The Dunk is the archetypal collector's shoe. Beloved for its simplicity but embraced for its quirks, the Nike Dunk crosses cultures, giving everyone who loves sneakers — skaters, ballers, fashion killers — one thing they can agree on. The Dunk is also the canvas of some of the biggest come-ups in recent memory: the "Chunky Dunky" ($100 USD retail) now goes for over £1100 GBP (approximately $1550 USD).
This summer is packed with major Dunk releases. If you're reselling (or just copping an extra pair), here's what you need to know.
Piet Parra x Nike SB Dunk Low "Multi"
The latest installment of Parra x Nike is due out later this summer, and it's sure to be a hit. Swathed in the Dutch artist's iconic color blocking, this pop art-inspired skate shoe contrasts print panels with a clean tan nubuck. The duo's first Dunk collab (2019's "Quad Swoosh") resells at £320 (approximately $450 USD), a premium of 220% over its £100 retail. Because of this colorway's versatility, we're expecting similarly strong performance.
UK resellers should keep in mind that Parra has a huge fanbase on the continent. Better yet, the artist's long relationship with Nike has made Parra projects of all stripes into collectibles for those deep in the game. "Collectors love this shoe," says Zach Whitford, a procurement specialist for Glausangeles. "I've already had hella requests."
Virgil Abloh x Nike Dunk Low "The 50"
The Dunk that needs no introduction, Virgil's latest project with Nike is a colossal collab that questions the very idea of "limited edition." 
As the name suggests, "The 50" consists of fifty different Dunk Low colorways. Two of them (01/50 and 50/50) are wholly different. The rest, as the jazz aficionado Abloh might phrase it, are variations on a theme.
Betting which of "The 50" will fetch the highest resale is a punter's game. For resellers, what's more important is simply copping one. Not that it'll be an easy task — Virgil Abloh x Nike projects draw huge demand and command high resale values. But given the sheer volume of colorways, it's not hard to imagine an easier hunt than 2019's Virgil Dunk releases.
Color Skates x Nike Dunk High "Kebab and Destroy"
Dunks are Dunks because they connect. Some of the biggest releases in recent memory — "Chunky Dunky," "Grateful Dead," "TurDUNKen" — have brought an irreverent lens to the things and moments that matter to culture.
For UK heads, "Kebab and Destroy" might be the top.
Due out later this summer from Greece's Color Skates, the Kebab Highs reinterpret the beloved street food into a mix of textures, prints, and just straight drip. There's even a graphic kebab insole.
"I love when skate shops get the opportunity to create their own flavors and get away with it," says Konrad Zawojski, a long-time Dunk collector whose personal rotation includes the ultra-rare Teen Wolf from 2009. "I'm a sucker for heel tags, and the Armenian representation is crucial, especially in these times."
Cult status is never guaranteed. But, since wolfing a kebab is as much a part of street culture as hitting ramps, UK fans could do well to follow Color Skates on IG. We're predicting a similar reception to the "Cali" Highs based on inventive colorway and storytelling alone.
For any secondary marketplace, the ability to build trust between buyers and sellers is of prime importance. To ensure this runs smoothly, eBay has launched its latest Authenticity Guarantee — an initiative independently authenticating the products sold through the peer-to-peer site, beginning with sneakers. As well as intricately certifying each product, eBay has introduced only 5% seller fees for sneakers sold through the program. Be sure to look out for the next installment of eBay's The Reseller Report released in the coming weeks.
eBay has also enlisted renowned sneakerheads from across the UK to share their thoughts on the latest initiative as well as the significance the platform holds in their careers. See Kish Kash provide some insight into his sneaker collection and what authenticity means to him.