Danish Soccer Player Christian Eriksen Collapses During Denmark-Finland UEFA Match
The game was temporarily suspended.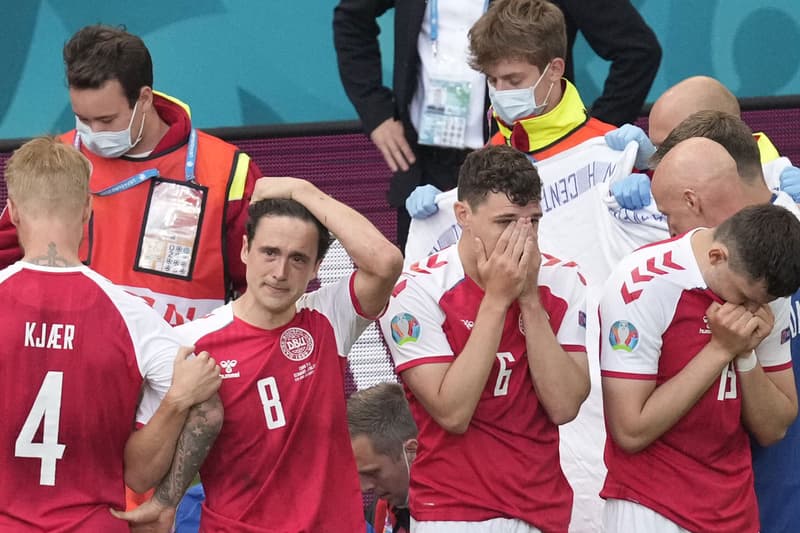 Denmark midfielder Christian Eriksen collapsed in Copenhagen's Parken Stadium during a Euro 2020 opener against Finland on Saturday.
Video shows Eriksen getting hit by a ball and collapsing. According to ESPN, his teammates Martin Braithwaite and Thomas Delaney rushed to his aid, with medics performing CPR shortly after.
The Union of European Football Associations (UEFA) tweeted about the incident, saying that the game had been suspended due to a medical emergency.
The match has been suspended due to a medical emergency which involved Denmark's Christian Eriksen. The player in now in hospital and in a stable condition.

UEFA wishes Christian Eriksen a full and speedy recovery and wishes to thank both teams for their exemplary attitude.

— UEFA (@UEFA) June 12, 2021
The UEFA said that Erisken was transferred to a hospital and was in stable condition. The sports body later said that the last five minutes of the first half would resume play, followed by the second half.
UEFA President President Aleksander Čeferin wished Eriksen a "speedy recovery" in a statement posted to Twitter.
"Moments like this put everything in life into perspective. I wish Christian a full and speedy recovery and pray his family has strength and faith," he said. "At these times, the unity of the football family is so strong and he and his family carry with them the good wishes and prayers of everyone. I heard of fans of both teams chanting his name. Football is beautiful and Christian plays it beautifully."
Ultimately, Finland took the points at the end of the match, winning 1-0. Eriksen was named the Star of the Match.
"Football is a beautiful game and Christian plays it beautifully," says UEFA President Aleksander Čeferin.

Tonight's Star of the Match is Christian Eriksen. Wishing you a speedy recovery, Christian. #EURO2020 pic.twitter.com/gJPa7P2nAx

— UEFA EURO 2020 (@EURO2020) June 12, 2021
In other sports news, here are the top ten players to watch at Euro 2020.