Snapchat's New Finance Game Allows Users To Practice Trading Virtual Stocks
StockStars hands players a $1 million USD virtual portfolio to manage.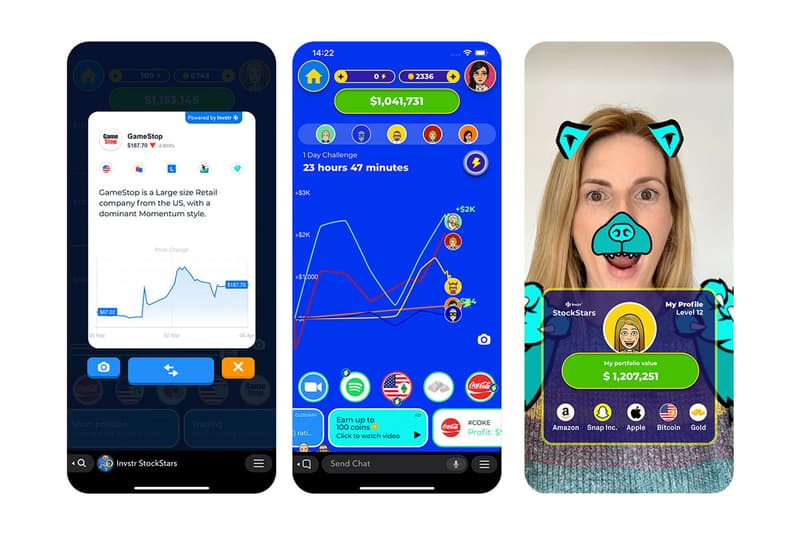 Snapchat's latest in-app game is aimed at helping young users become more financially savvy.
Last July, the social media platform launched Snap Minis — a series of mini apps from outside companies that are built into the Snapchat ecosystem. Now, Snapchat is introducing the latest addition to the Minis repertoire called StockStars, an educational finance game that allows users to practice trading virtual stocks.
Created by investment app Invstr, StockStars provides its gamers with a virtual $1 million USD portfolio to manage in a simulated market that uses real-time data. In the game, users can buy and sell stocks as well as trade cryptocurrency, like they would in the real world. Additionally, players can challenge their friends to 1-minute, 1-day, and 5-day trading challenges to see who can amass the most profit in a given time period. Aside from the gaming aspect, the Mini also offers helpful educational resources that explain industry-level lingo through an exclusive glossary curated for Snapchat.
The StockStars Mini game is available now in the Snapchat app through the chats or search feature. StockStars is the app's first financial education experience and joins Snap Mini's growing portfolio alongside several other educational tools including BallotReady, which provides voters with informed guides ahead of elections and Headspace, which offers meditation techniques and mental fitness courses.
In other Snap news, the brand is releasing AR smart glasses and a selfie drone.