You Can Now Buy Milk Bar Ice Cream Pints at Your Local Grocery Store
Cool down with flavors like Birthday Cake, Cereal Milk, Cornflake Chocolate Chip Marshmallow and Milk Bar Pie.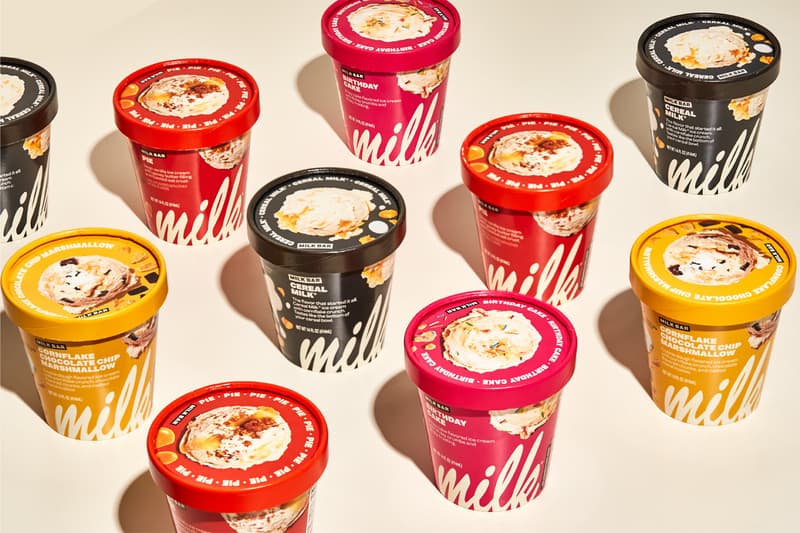 Milk Bar is back with a range of delectable summer-ready desserts, launching its new line of ice cream pints that are set to be available at all Whole Foods locations starting in June. The new product will slowly roll out to other grocery stores nationwide throughout the season.
Milk Bar first entered grocery stores in April 2020 with its iconic soft-baked cookies and the cult-favorite Truffle Crumb Cakes. The launch marks the first time the dessert company will offer ice cream outside of their bakeries, long known for adding their own twist on the classic frozen treat.
The brand is set to debut four flavors including Birthday Cake, Cornflake Chocolate Chip Marshmallow, Milk Bar Pie and of course, their staple familiar-yet-unexpected Cereal Milk. Taking inspiration from their original recipes, founder and chef Christina Tosi and her team have reimagined the flavors into ice cream form.
Birthday Cake brings speckles of fun to the palette while paying homage to one of Milk Bar's signature cakes. Cereal Milk is a cousin to the bakery-favorite soft serve offering, combining the salty-sweet cornflake crunch with the creamy, cool base. The Cornflake Chocolate Chip Marshmallow is an ode to Milk Bar's bestselling cookie, combining the indulgent flavors of cornflake crunch, chocolate chunks and gooey marshmallow swirls with cookie dough ice cream. The Milk Bar Pie which reimagines the brand's signature pie, rounds out the ice cream range with a deep vanilla swirled with gooey butter filling and toasted oat crumble.
The flavors hit Whole Foods across the country starting June 1 and will be available in additional retailers and online at Milk Bar Store later this summer.
View this post on Instagram
In other F&B news, HUMAN MADE has upgraded its Kyoto flagship store with an exclusive Blue Bottle cafe.