Designers Reflect on Men in Dresses
"There isn't anything to understand."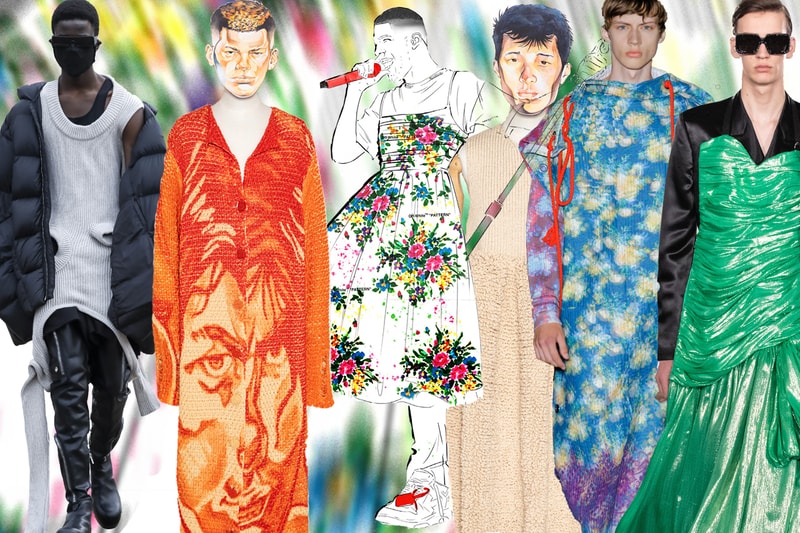 When Kid Cudi appeared in an Off-White™ dress on SNL last month, he set Twitter (and the HYPEBEAST comment section) alight. The response was sharply polarized: to some, he was creating space to discuss new gender norms, while for others it seemed like nothing more than a publicity stunt. At the time, Cudi himself explained that it was an ode to Kurt Cobain, who in the '90s said "there's nothing more comfortable than a cozy flower pattern," in reference to the dresses he wore when performing or during his cover shoot for The Face, 1993.
It's a pattern that seems to repeat itself every time: male celebrity wears "feminine" garment, commentators go wild, endless thinkpieces (like this one, admittedly) are published. Just think of Andre 3000, or Dennis Rodman, or the furor around Kanye West's Givenchy skirt during "Watch the Throne".
So why did it still get people talking? HYPEBEAST spoke to a cross-section of designers to find out. 
Virgil Abloh, who designed Cudi's dress, was surprised by the reaction. "Outfit choices should not have limitations," he said. "'Masculinity' and 'femininity' are a strange paradox as they've been put in place by society as a differentiation of what is the essence of a man from a woman, vice versa; yet can be harmoniously expressed by any gender."
"If you can comprehend that these traits, masculinity and femininity, are not restrictions or determining factors of one's gender and rather exploration and celebration of freewill and expression of self — you are not only understanding why a 'male-presenting person is wearing a dress,' but achieving growth towards society as a whole," he added. 
Daniel Fletcher, whose work frequently includes gender-fluid garments and cuts (most notably seen in his Pre-Spring '21 "Summer Nights" collection or SS20's "Hopelessly Devoted" collection), agrees that it's a conversation that's become a little rote. "I think early in my career I was trying to push the feminine edge of my menswear," he says, "but now it's all just one collection that references both men's and women's historical garments and mashes them together. I appreciate that's not for everyone, but I'm fine with that. Ultimately I just want to make clothes that make people feel good. It's for you, not for anyone else, and completely irrelevant of gender."
The likes of Abloh and Fletcher are worlds apart, but their message is shared — they're not saying it's for you, per se, it's for those who want it. Or, more simply put by Stefan Cooke and his design partner Jake Burt, "There isn't anything to understand. People need to understand it is just a style." 
Jonathan Anderson, who presented a series of men's dresses in his FW20 LOEWE menswear collection, said at the time that he was channeling the "Playful, optimistic, pretty boys." Now, he tells us, "I think [if] you are wearing the dress as an act of publicity, I struggle with that. Some people's lives are about stepping out in the way that they want to. When it's used for publicity I find it very complicated." Fletcher agrees, adding, "I am really pleased to see these men wearing dresses but it's not a new thing, in particular, gender non-conforming and Queer men have been doing this for a long time but not being a cis, heterosexual male celebrity, they were getting beaten in the streets for it. Let's not forget that."
Lada Komarova of Delada — which has included gender-fluid looks in its unisex collections since day one — agrees that the hype around dressers like Cudi and Harry Styles is rather selective. "Most popular media sources applaud their fashion expression and creative style," she says. "This is great! However, we can't lose sight of how much conversation still needs to happen around queer expression in fashion. Transgender, non-binary, and LGBTQ+ community members, whose experience in their expression is not commended by many, can't lose sight of the violence they face in comparison to the praise of a cis male (especially if he is well known in the mainstream media)." 
Anderson (and many others in this piece) have a long history of playing with gender norms. Anderson's eponymous label's FW13 collection, which he called his "second real menswear collection," caused pearl-clutching outrage among the more conservative press at the time, in its offering of frilly skirt-like shorts, off the shoulder tops that suggested corsets, and knee-high boots. "When I started JW Anderson I felt like a lot of the people around me were wearing whatever they wanted without thinking about it being for a man or a woman. That's the kind of future I have always wanted, and I think these days we do have more choice and we can go into a store and shop in whatever section we choose and not be worried about if it's right or wrong, without any boundaries or bias. I think that's how I approach design as well." He added, "I think what's most important is that people, no matter what their gender presentation, feel comfortable wearing clothing that makes them feel good about themselves."
As Komarova puts it, "I like to think of dresses more structurally rather than symbolically. A dress symbolizes nothing more than just a garment, and its associations can be formal or informal rather than gender-specific… The dress is a garment which I feel holds cultural significance globally both in the present day and in the past that exists outside of gender binaries and stereotypes." 
Speaking of structure, there's much more that goes into a dress for a man than what you may think — it's not as simple as a man wearing a "woman's" dress. "From my experience, I find that male customers are more inclined to buy a dress that has heavier fabric," says Komarova. "I often choose fabrics that are less transparent and also always make matching bottoms so that the customer can also cover their legs if they wish." And if you did want to wear a "woman's" dress, Fletcher says, "Ultimately it's just fabrics sewn together, I don't know who decided that had to be gendered: a shirt is a shirt, a dress is a dress, why does it matter who wears it?"
For those who are open to change — as Cooke and Burt quip, "Straight guys will probably turn up at the party about 20 years too late," — it's about removing the stereotypes attached to dresses, regardless of sexual orientation or gender identity. Stefan Cooke admits that it "usually uses male-presenting models in our show and the gender fluidity comes from the customer which we love." It is down to the wearer to interpret their look and feel the "personal empowerment [and] free expression of one's self," according to Abloh, that a dress — or what's deemed non-conformist clothing — can provide. No matter how much we try to destigmatize men wearing dresses, there will always be an unfortunate battle with those who won't understand, and many who are victimized for their self-expression. 
But there's reason to be hopeful. "Our generation, now, is incredibly accepting of change. The overall reactions I've observed from Cudi and I's creation were beautiful — reassurance that there is forward movement in society, embracing individuality and straying from the stagnant ideal of gender norms," says Abloh. 
"It is, again, a huge factor in generating positive changes upon assumed 'norms' of an outdated system in which governs society," adds Abloh. "Gender norms and racial freedoms are amongst those most urgent to be tended to. Not only will this institute change in gender norms — but breed creativity."