Neurologist Who Died from COVID-19 Leaves Family With $20 Million USD Worth of Sports Cards
Including a 1933 PSA 9 Babe Ruth Goudey and a near-perfect 1952 Mickey Mantle.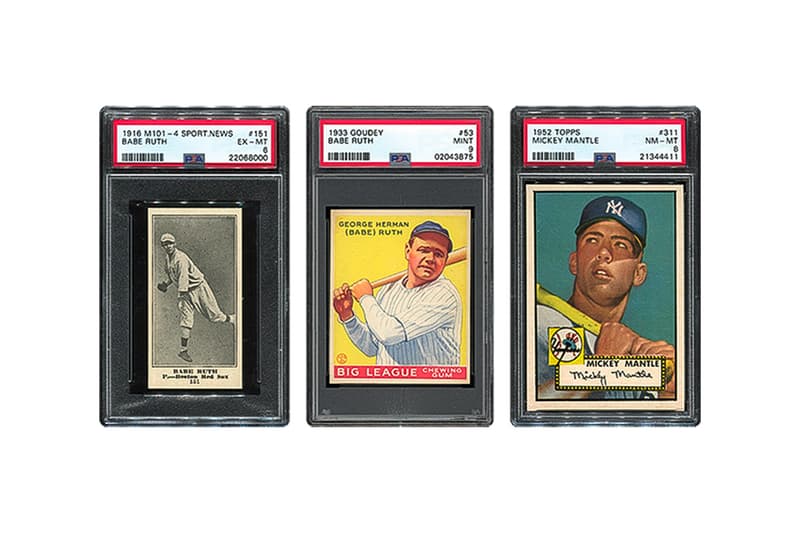 Memory Lane Inc. has just announced a massive treasure trove of collectible baseball cards. Estimated to be valued at over $20 million USD, the collection belonged to the late Dr. Thomas Newman of Florida who sadly died at the age of 73 due to complications with COVID-19.
Collecting baseball cards as early as 12 years old, Newman was truly passionate and devoted to his hobby — reignited in his adult years in the '80s when he set out to replace his treasured childhood cards his mother threw out. JP Cohen, President of Memory Lane Auctions, describes Newman's interest in sports collectibles as "unquenchable" and that the neurologist would turn down offers ten times what he paid for. "If Dr. Newman paid $500 USD for a card he really wanted and a week later someone offered him $5,000, he'd turn it down," explains Cohen.
"No one enjoyed collecting more than Tom," said his widow, Nancy Newman. "He jokingly called his cards his 'paper babies,' and spent almost every day attending to his collection in one way or another. It gave him such pleasure. The only reason he would ever sell a card was if he had acquired the same card in a higher grade."
In his collection of Ty Cobb, Lou Gehrig, Honus Wagner, Ted Williams, and Cy Young cards, lots like the 1933 PSA 9 Babe Ruth Goudey card and a near-perfect 1952 PSA 8 Mickey Mantle rookie card are sure to break records at the auction. Both these cards are estimated to sell in the millions.
The Dr. Newman estate public online auction will take place from June 21 to July 10 on Memory Lane Inc.
In other trading card news, a 1933 Babe Ruth Goudey card sells for $400,000 USD on eBay.